By Dejan Kovacevic | Trib Total Media
Morning, Lunatics …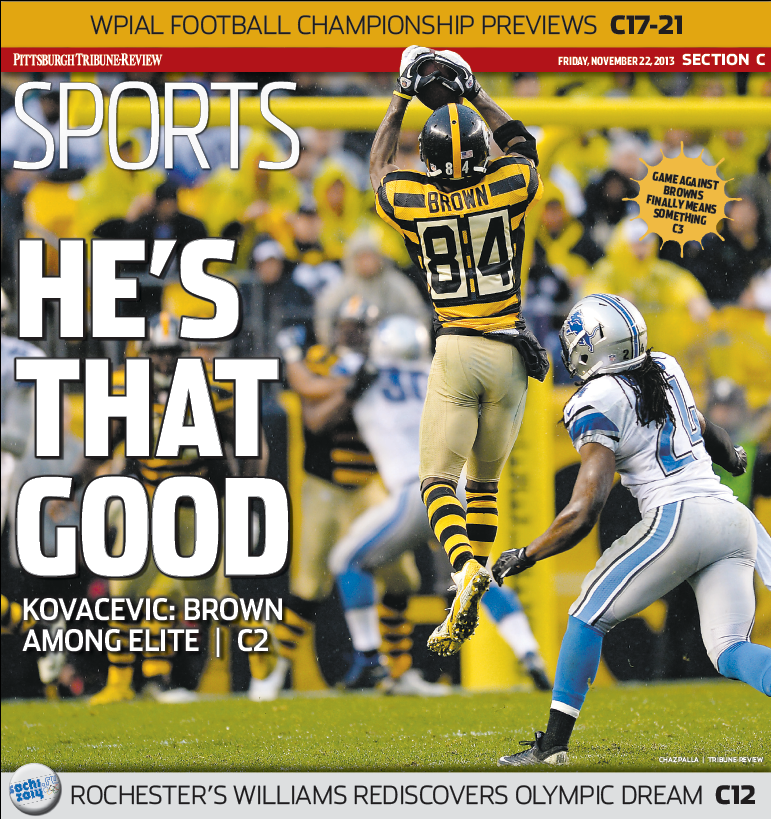 >> The Friday column celebrates the truly special season Antonio Brown is having. And it celebrates in whatever manner fits best, as you'll find out.
On that note, let me throw a question your way: If you take Hines Ward and Louis Lipps out of the equation, who was the Steelers' best wide receiver between the Lynn Swann/John Stallworth era and now?
I know my choice, but let's hear yours.
Meaningful football between the Steelers and Browns? Been a while, but it's back. Alan Robinson reports.
Here's how Ryan Clark feels about it …
Matt Spaeth took a big step forward. Mark Kaboly reports. That shouldn't be underestimated. Spaeth is no star, but he's one of the better blocking tight ends in football and could make a difference.
Why was the NFL alone in taking heat for playing after JFK's death 50 years ago this very day? Robinson looks back.
Here's our full Steelers coverage, including a bunch of injury updates.
Here's Browns news from the Cleveland Plain Dealer.
Here are official game highlights from NFL.com.
>> Jeff Zatkoff hasn't been needed much, which has been a blessing for the Penguins. Josh Yohe reports in advance of tonight's visit from the Islanders.
Here's our full Penguins coverage.
Here's Islanders news from Newsday.
Here are official game highlights from NHL.com.
>> Lauryn Williams is back for another Olympics, only this time it's the winter edition as part of the bobsled team. Karen Price reports, and I look forward to covering Lauryn yet again in Sochi.
>> The Pirates have inquired on Lance Berkman, who might be retiring. Travis Sawchik reports.
>> I'll visit with TribLIVE Radio at 11:30 a.m. And the weekly chat will follow shortly thereafter at noon, right here on the blog.