By Dejan Kovacevic | Trib Total Media
Morning, Lunatics …
>> The TribLIVE Radio show today — 2-3 p.m. — will feature live special guest Jim Ferry of Duquesne, whose team will tip off against Pitt in the City Game this weekend … and will be a robust underdog, if only because of what we're seeing from the Panthers in the early going.
Call me at 412-320-7925 or email sportstalk@tribweb.com
To listen, just click on the link above. If you're mobile, try the TribLIVE Radio app.
>> Jamie Dixon's Panthers look for real, don't they? Kevin Gorman reports from Brooklyn on a stirring rout of Stanford to win the Progressive Classic.
All I'll add is that, in a talk I had with Cam Wright last week, I asked where his team will find its offensive identity without a true go-to guy. His response: "Our defense."
>> The Penguins and Leafs face off tonight in front of what will be the 300th consecutive sellout in Pittsburgh. Rob Rossi authors a commemorative page for that in today's Trib.
Here's our full Penguins coverage.
Here's Leafs news from the Toronto Star.
Here are official game highlights from NHL.com.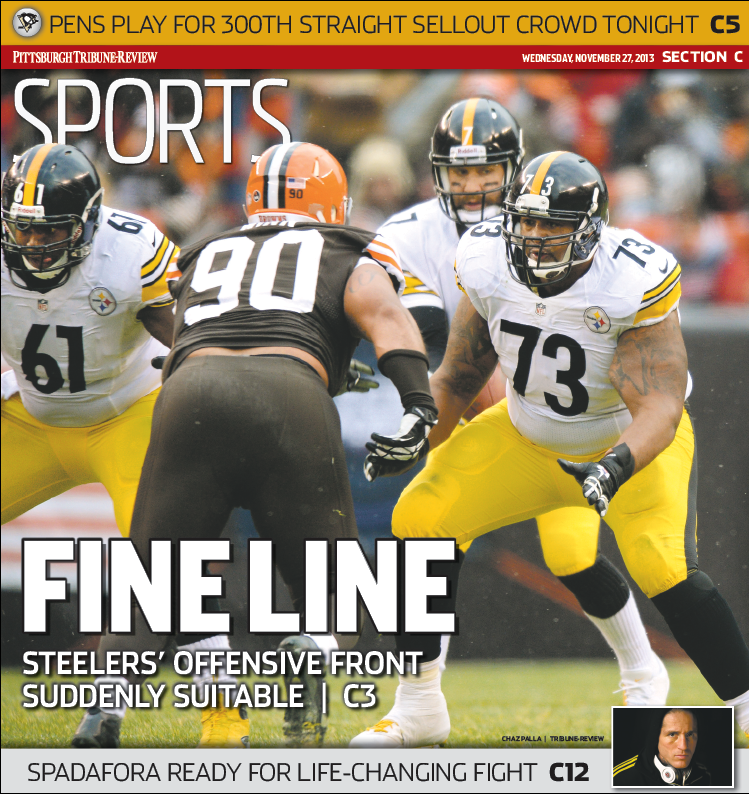 >> The Steelers' O-line is jellin' like Magellan, by Alan Robinson.
>> Ben Roethlisberer was right about all those rookie QBs. A column by Joe Starkey.
>> Le'Veon Bell is revving it up, by Mark Kaboly.
Here's our full Steelers coverage.
Here's Ravens news from the Baltimore Sun.
Here are official game highlights from NFL.com.
The quarterback spoke to a dozen or so of us over there …
Random randomness from the scene: Really healthy feel to the locker room. If you want an example, here's what a softly smiling Troy Polamalu told me as the locker room session closed: "Steelers and Ravens, brother. Everything is good. This is how it's supposed to be." … When I tweeted that, prominent NFL agent Ralph Cindrich replied with this: "Sounds like what you would hear from two old fighters getting ready to get it on again. Nothing slows it." Awesome. … One of my favorite things about Jason Worilds: Anytime someone asks him a question about playing well, he opens his answer with, "Thank you. I appreciate that." … Worilds knows he's playing well, make no mistake about that. … I was most moved by Ben's praise for Kelvin Beachum at left tackle, especially in the context that Beachum continues to learn the position on the job. "I'm not going to say I'm surprised by Kelvin because that would suggest I didn't have high expectations for him. But he's doing the job. Cleveland called a corner blitz Sunday, and he picked it up like it was nothing." … Really looking forward to this game. Not going to lie.
>> The Riverhounds continued to make offseason splashes by announcing an eye-opening partnership with the MLS powerhouse Houston Dynamo. Matt Grubba reports.
Here's some of my talk yesterday with Chris Canetti, the Dynamo's president, discussing Pittsburgh's possible MLS future …
Random randomness from the event: The thing I found out at this press conference that struck me the most was that the Dynamo approached MLS in search of an affiliate, and it was MLS' first recommendation to approach the Riverhounds. Someone's paying attention. … Expect to see upgrades to still-new Highmark Stadium in the very near future. Not an expansion, just some practical stuff but highly visible. … You know those black nets over by the train-track side? You won't see those when the season starts. Tuffy Schallenberger, the owner, wants them down. … Justin Evans has to coach at least half of an entirely new starting lineup next season, what with two other major offseason additions plus the four MLS guys coming from Houston. But, as he put it, "That's a nice problem to have." … In addition to the Dynamo possibly coming to Pittsburgh for a friendly during the World Cup break, Riverhounds CEO Jason Kutney says don't be surprised to see Highmark Stadium opened up for outdoor viewing parties for the U.S. matches. Here's one small vote in favor. … Readers will ask on occasion why I cover the Riverhounds and not any other second-tier team in the area. Days like yesterday are why. These guys are serious.
>> Here are this week's three write-your-own-column winners …
Dennis Hollibaugh writes: If the Steelers did not want LaMarr Woodley to be their starting left outside linebacker, they would not have restructured his contract before the season adding more dead weight to the remainder of his contract; but they can want someone else to play the position Thursday night against the Ravens. Woodley is dealing with an injury and was unable to play this past Sunday. Even if he can go four days later, Worilds was  ready to go on Sunday, and go he did. Worilds will not be limited in practice, and will not need to get back up to speed. If Woodley is healthy, let him dress while starting Worilds on a short leash. If he struggles, Woodley is still the next best option, not to mention the long-term plan. If Worilds does not struggle however, Woodley could find himself going the way of Willie Colon in 2014.
Ron Bilak writes: Kris Letang, eight years, $58 million, age 26. Much like the Penguins, the parts of the player do not match or exceed his current play. Letang has incredible skating ability and can play a physical game. However, he is not a power-play QB, like Gonchar before him. To pay what the Pens paid, he should be the best power-play QB. He is not. Paul Martin is. His passes sometimes make you scratch your head. He should be part of a shutdown pair. He is not. The solution is not a trade. It is finding the right assistant coach to use the extreme talent he possesses. The organization should find a former player who can reinvent Letang. Another coach doesn't hurt the cap. A player not playing to abilities does.
JAL writes: Can anything realistically revive hoops on the Bluff? The answer is yes. College basketball is cluttered with teams that came from nowhere to become successful. Butler has half as many students as Duquesne but had a great run in basketball. In Duquesne's own conference, George Mason and Old Dominion have had some excellent seasons. Reviving Duquesne requires a good coaching staff that recognizes the type of athletes that make a good team. Ron Everhart had them moving in the right direction with an NIT appearance, a couple of CBI appearances, and a career record of 99-89. He was the only coach with a winning record since Mike Rice back in 1978-1982. We will never know if Everhart could have taken them a step further but his term shows that the right coach can revive the program. It will take a couple of years to see if Jim Ferry can move the program up the ladder.
>> Hope you have a chance to check out the show. If not, as always, I'll have the podcast posted here on the blog shortly afterward.
I'll also be at Penguins-Leafs tonight, then it's off to Baltimore first thing Thanksgiving morning.