By Dejan Kovacevic | Trib Total Media
Morning, Lunatics …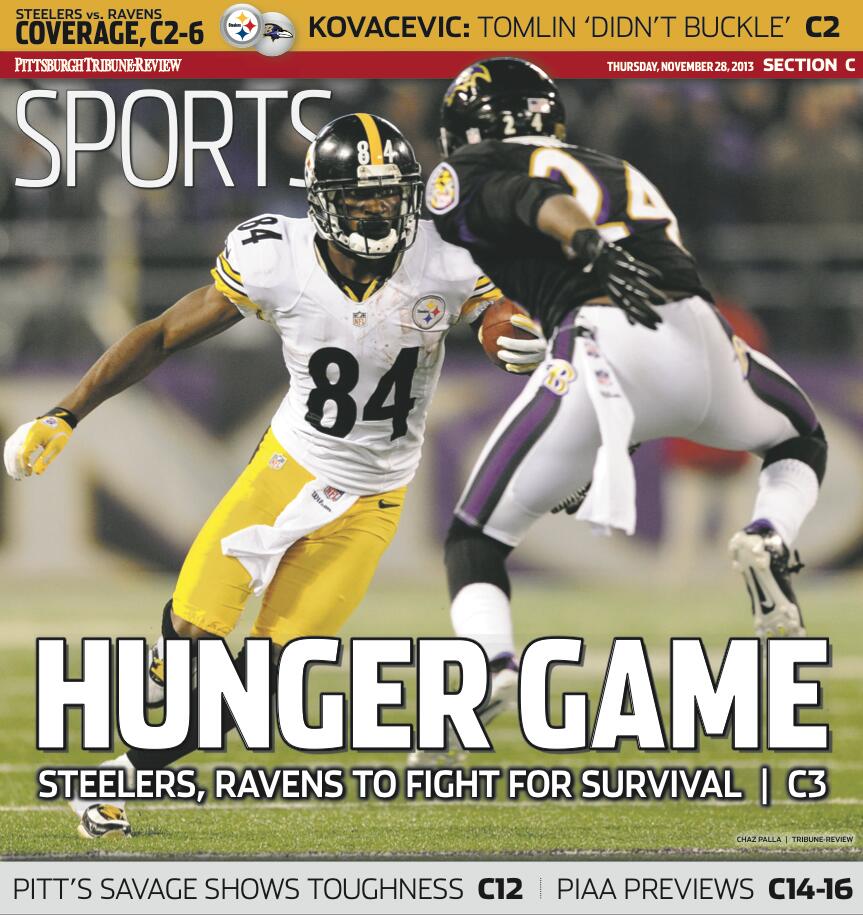 >> The Thanksgiving Day column is one I really enjoyed writing and, even moreso, researching. My deep thanks to the several Steelers who were generous with their time and thoughts. It's never taken for granted.
So much on the line tonight in Baltimore, by Alan Robinson.
Ben Roethlisberer and Troy Polamalu are rightly honored, by Robinson.
A couple minutes with Le'Veon Bell …
Here's our full Steelers coverage.
Here's Ravens news from the Baltimore Sun.
Here are official game highlights from NFL.com.
>> Evgeni Malkin is really good. Rob Rossi reports from Consol.
The loss of Paul Martin, as we just saw, will be huge, by Rossi.
Random randomness from the scene: I was up there, too, and I was no different than anyone else at the 300th consecutive sellout in that I was blown away by Malkin. You can say that's expected, but the fact is that level of effort combined with that skill … that's extraordinary. It should never be taken for granted. … Kris Letang is an absolute mess right now. I'm not going to pile on, but that's got to change. If he can't figure it out himself, then it's incumbent on the coaching staff to help or even to take over. The investment is too large in this player, and yes, the talent level is too high for this to be happening. … James Neal's shot has gone to some other level, hasn't it? … Nice to see actual production from the third line, not just Brandon Sutter but also newcomers Chris Conner and Andrew Ebbett. Can't say it'll hold up, but it already is well more than what any of their predecessors had contributed. … I'm choosing to stay skeptical about Simon Despres, based on precedent. This effort was passable. That's it. We'll see. … Someone needs to sit for Robert Bortuzzo. Take your pick of anyone but Olli Maatta. … Great atmosphere in that building. Really fun. Crazy how that happens when there's lots of offense. … At the same time, who will remember that the Leafs had zero shots in the third period or overtime? That's crazier still.
Here's our full Penguins coverage.
Here's Leafs news from the Toronto Star. They'll take this one well up there.
Here are official game highlights from NHL.com.
Oh, and here's one especially amazing highlight, courtesy of a handheld video of Malkin's decisive shootout goal sent to me last night by reader Bryan Mathews …
Neat, huh?
>> Tom Savage has shown terrific toughness for the Pitt football team, by Jerry DiPaola.
>> Mike Hull has done the same at Penn State, by Chris Adamski.
>> The Dukes lose Micah Mason at a lousy time, by Chris Harlan.
>> We're driving over to Baltimore early in the morning, and it's going to be a pretty long night in covering the big game.
Should be terrific, though. Seriously looking forward to this one.
Happy Thanksgiving to you and yours, my friends.