By Dejan Kovacevic | Trib Total Media
BALTIMORE – Morning, Lunatics …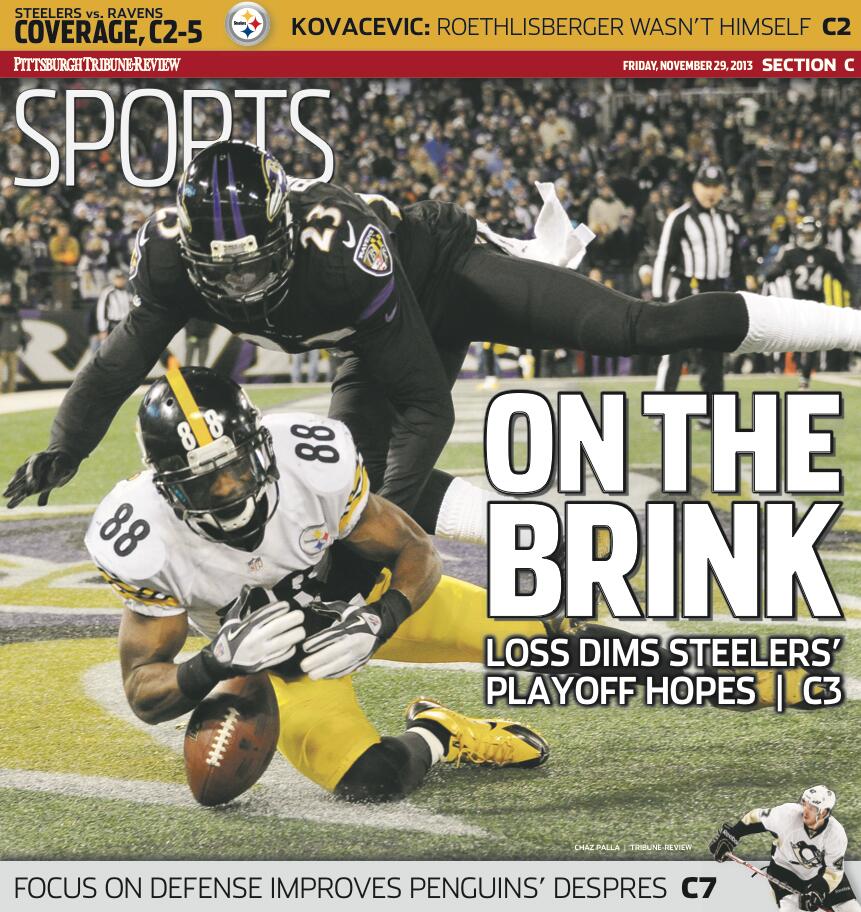 >> The Friday column looks anew at Ben Roethlisberger and Todd Haley and, yes, I wish the topic would go away, too, but it doesn't. It keeps coming up without any help from anyone on the outside.
The game story, by Alan Robinson.
Game breakdown, by Mark Kaboly.
News and notes, by Ralph Paulk.
Here's a bit of what Roethlisberger had to say afterward …
And Emmanuel Sanders …
And Antonio Brown …
Here's our full Steelers coverage.
Here's Ravens news from the Baltimore Sun.
Here are official game highlights from NFL.com.
Random randomness from the scene: Ben is a smart enough guy to know what he's saying. He considers his answers carefully, rarely flat-out misspeaks. Just something to consider when reading the column. … Sanders genuinely didn't think he had other drops in the game. I kid you not. Markus Wheaton needs to at least get involved soon. … The special teams have been awful under Danny Smith. That's generally not great for job security. … It's not just Ike Taylor getting torched out there. Really isn't. But there also can't be any doubt anymore that he's not the same player. Wasn't so long ago teams wouldn't even throw his way. Tim Tebow changed that. … Did Mike Tomlin interfere? I don't know. That's kind of a tall order when looking the other way at the Jumbotron. … All those offensive linemen down. Four in total. Wow. Good time for a 10-day break. … Jason Worilds was spectacular yet again. No way — none — he won't stay on the left side now, regardless of LaMarr Woodley's status. … One important point not to be forgotten here: This is one of those 50/50 games that even a good team can lose. The problem with this team is that they blew games against the Titans, Raiders and Vikings, and now these are all do-or-die.
Finally on the NFL front, here's our Steelers photo gallery by Chaz Palla and Chris Horner, including this Horner shot of Tomlin's accidental-or-not sidestep of Jacoby Jones …
>> Reconstructing Simon Despres, by Josh Yohe in Tampa, where the Penguins will open a weekend Florida set with a matinee today.
Here's our full Penguins coverage.
Here's Lightning news from the Tampa Tribune.
Here are official game highlights from NHL.com.
>> Jason Hendricks talks about his passion for Pitt football, by Jerry DiPaola. The Panthers have their Heinz Field finale today against Miami.
>> Penn State's run defense braces for Wisconsin, by Chris Adamski.
>> I'll cover the City Game tomorrow for the Sunday column. Hope you had a wonderful holiday with family and friends. I'm looking forward to doing exactly that on a one-day delay with my own today! Because of that — and the drive home from Baltimore — there will be no chat this week.