By Dejan Kovacevic | Trib Total Media
Morning, Lunatics …
>> The Monday column applauds the Pitt basketball team's 7-0 start by way of asking a question: Is it possible they benefited from Steven Adams leaving?
Would love to hear your views on this.
Here's freshman forward Michael Young yesterday after practice when I asked how this group's come together …
This column was intended, by the way, as a companion to the Sunday column on Duquesne and Jim Ferry that I hope you had a chance to catch.
It would be amazing for the city to have two top programs, not one.
Random randomness from the scene: Pitt's got a challenge in Penn State tomorrow night, beyond the fact that the visiting Nittany Lions are 6-2 in the early going. Penn State's ranked 10th in the nation in assists-to-turnovers, compared to Pitt's fifth, which means the standard steal count might be an issue for the Panthers. "That's what you have when facing an experienced team, and Penn State is that," Jamie Dixon replied when I brought that up yesterday after practice. "You can kind of say that about our team, too, at least in terms of maturity." … The height of Pitt's guards is prompting all kinds of new wrinkles to Dixon's plan. "We like to get after the ball, no question," Durand Johnson said. "We all feel like we can do more than just shoot." … Remember Ryan Luther, the 6-8 guard out of Hampton, who at the last minute picked Pitt over Duquesne and other schools that had been on him for months? Well, Dixon tells me Luther is 6-9 now and "still growing," which has the Pitt staff giddy. They really like him. … That game tomorrow will be on ESPNU, as well as the online ESPN3. … Nothing quite like walking the wrong way through the tunnel when a Suzie McConnell-Serio team just has a tough loss. Wow, did the Pitt women take losing to Buffalo hard. And really, they should have. Suzie has plenty of work ahead. She was left quite a mess by Agnus Berenato.
Also, Lamar Patterson is profiled today by our Pitt hoops beat writer Kevin Gorman, and by our sports cover designer Frank Verdecchia …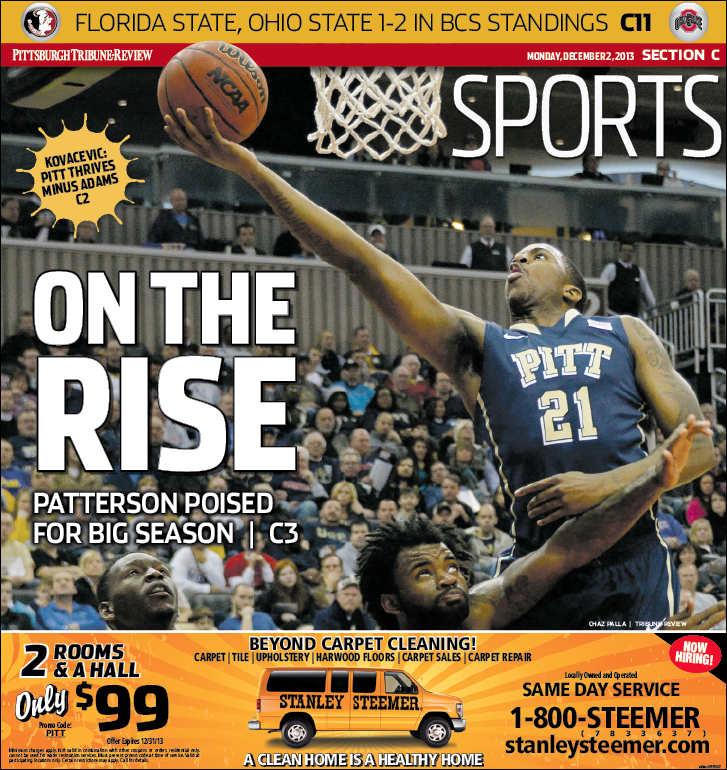 >> The Mike Tomlin sideline saga is covered by Alan Robinson.
I've already expressed how little I think about that as an issue, but I still had a bit of fun by asking Dixon — who practically lives in the field of play with all his time on the actual court — what he thought about it.
Here's our weekly Steelers Film Session, by Mark Kaboly.
Here's our full Steelers coverage.
Here's Dolphins news from the Miami Herald.
Here are official game highlights from NFL.com.
>> The Penguins might not have a checking line, but they've still managed to keep their emotions in check, writes Josh Yohe in Sunrise.
Chris Kunitz in Sochi? Rob Rossi thinks so.
Here's our full Penguins coverage.
Here's Islanders news from Newsday.
Here are official game highlights from NHL.com.
>> Christian Hackenberg is Penn State football, by Chris Adamski. What a performance Saturday in Madison, for the freshman QB and by the indomitable Bill O'Brien.
>> Pitt's bowl hopes are examined on Jerry DiPaola's blog.
>> Michael McKenry hopes to return to the Pirates, by Travis Sawchik.
>> Back to the dentist for me today. If I emerge alive, I'll give a shout.