By Dejan Kovacevic | Trib Total Media
Morning, Lunatics …
>> The Tuesday write-your-own-column feature poses the following three questions for your consideration:
1. Would you consider Mike Tomlin's sideline affair to be embarrassing for the Steelers, regardless of the NFL's punishment?
2. Is Jeff Zatkoff to be taken seriously as an NHL backup behind Marc-Andre Fleury?
3. Bill O'Brien's second season at Penn State ended with a bang in Madison to finish 7-5 overall, 4-4 in the Big Ten. Can that be considered an overall success?
To repeat the rules: Please submit all entries down below in the comments section. If it's your first time here, it might take a bit to post, but it will. Choose only one topic, and limit the entry to 100 words. No more than that. Yes, that forces you to be tight, but anybody who's ever done this job knows that's by far the hardest part of it.
One winner for each category will be published in tomorrow's Morning Java. If you want your name attached to it, by all means include that in the entry.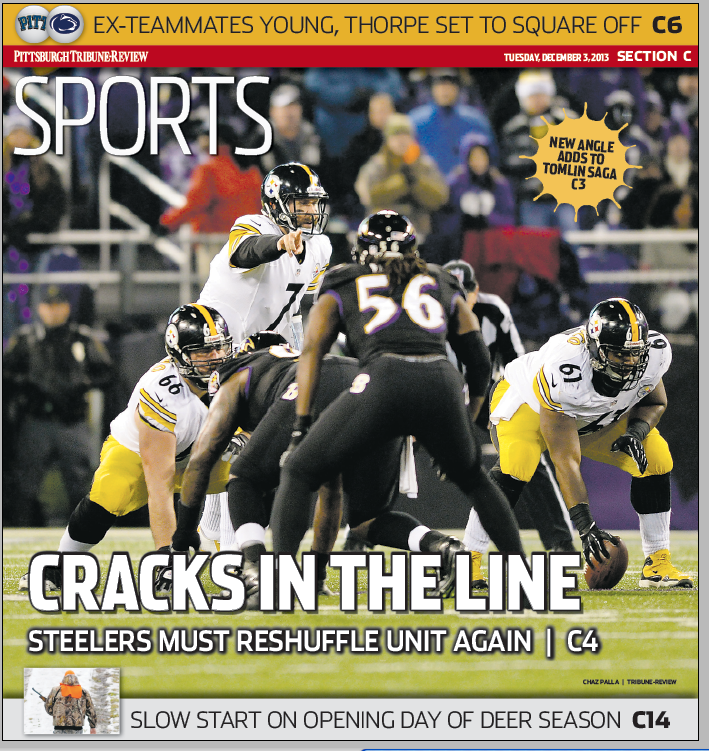 >> The Tomlin sideline saga is covered by Alan Robinson.
The O-line needs more bandages, please, by Mark Kaboly.
Here's our full Steelers coverage.
Here's Dolphins news from the Miami Herald.
Here are official game highlights from NFL.com.
And here's what the cast of WPXI-TV's Subway Final Word had to say about Tomlin, as well as the Steelers' playoff hopes …
>> The Penguins talk Zatkoff, by Chris Adamski. They'll play tonight on Long Island.
Here's our full Penguins coverage.
Here's Islanders news from Newsday.
Here are official game highlights from NHL.com. including every single Metro Division team going down … again.
>> Pitt and Penn State tip off tonight at the Pete for the first time in what seems like eons. Kevin Gorman covers.
Below are a couple questions I had for Jamie Dixon on this topic …
>> Three quality all-ACC honors for Pitt football, by Jerry DiPaola.
>> The Pirates switch backup catchers, by Travis Sawchik.
>> Back to the dentist for me today. And yeah, I know I wrote that in yesterday's entry, but I showed up at the office all ready to be drilled and filled, and I was politely reminded my appointment was for Tuesday, not Monday.
(Groan)
Let me know how the Tomlin goes. I'll be focused on more needling matters.