By Dejan Kovacevic | Trib Total Media
Morning, Lunatics …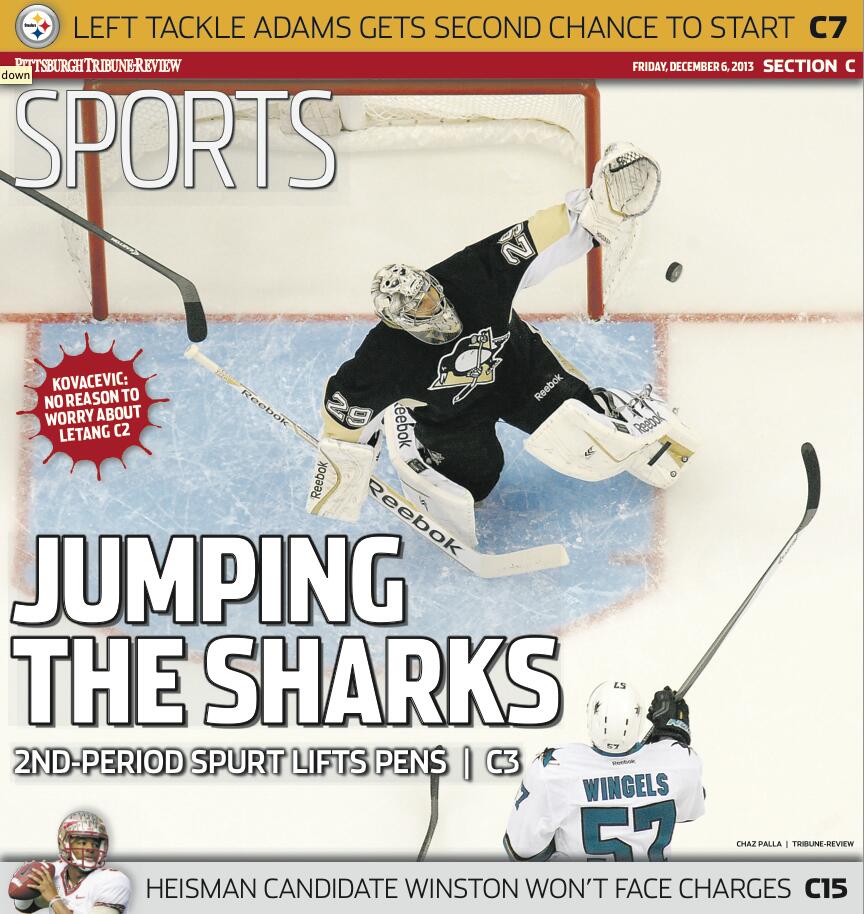 >> The Friday column from Consol ambitiously tries to figure out what's wrong with Kris Letang. And what to do about it.
Part of our talk yesterday …
Chris Kunitz keeps building a case for Sochi with two more goals to sink a sizzling San Jose team, even with Evgeni Malkin out. Rob Rossi has the game story.
Here's a couple Qs I had for Jayson Megna about his ridiculous short-side shot over Antti Niemi …
Random randomness from the scene: You'd almost never know the Penguins beat the Sharks by four, so complimentary were the victors. "That's one really good hockey team over there," Sidney Crosby told me. "They just keep coming at you in waves." … Crosby was still better than anyone on the San Jose side, nothing three assists and apparently doing a lot more. "There are so many things that Sid does that people don't see, little things," Kunitz said. "He did it all tonight. He dominated out there." … Joe Vitale helped one goal with a hard center drive, another with a screen. No points for that, but teammates notice … There's no way Olli Maatta is really 19, is there? How diligent are the birth records in Finland? … Marc-Andre Fleury was really sharp against a team that never stopped coming. Shouldn't be overlooked. … I won't expound on this, but let's just say the Penguins saw something in Niemi early on they felt they could exploit. … This Robert Bortuzzo thing is getting silly. Kid needs to play. … The Penguins' brief tribute to Tyler Kennedy was just right. A goal, a lifting of the Cup and a thank-you message. Fans seemed to appreciate it, and Kennedy definitely did when responding to the applause by raising his stick on the San Jose bench. Nice touch. That's how Pittsburgh should welcome back its champions. … James Harrison, anyone?
Here's our full Penguins coverage.
Here's Sharks news from the San Jose Mercury News.
Here are official game highlights from NHL.com.
And our Penguins photo gallery by Chaz Palla, including this shot of Letang and Fleury stuffing a John McCarthy wrap attempt …
>> The Steelers aren't the only ones impressed by Le'Veon Bell, by Alan Robinson.
Uh-oh. Mike Adams will be back at left tackle. Mark Kaboly reports.
Here's our full Steelers coverage.
Here's Dolphins news from the Miami Herald.
Here are official game highlights from NFL.com.
>> Pitt has Loyola Marymount tonight at the Pete. John Harris previews.
>> The weekly chat will begin at 11:30 a.m. — a half-hour earlier than usual — because of an interview I've got set up at Steelers HQ. It'll happen right here on the blog, as always, and you can post questions in the chat field as soon as you see the post.