By Dejan Kovacevic | Trib Total Media
Morning, Lunatics …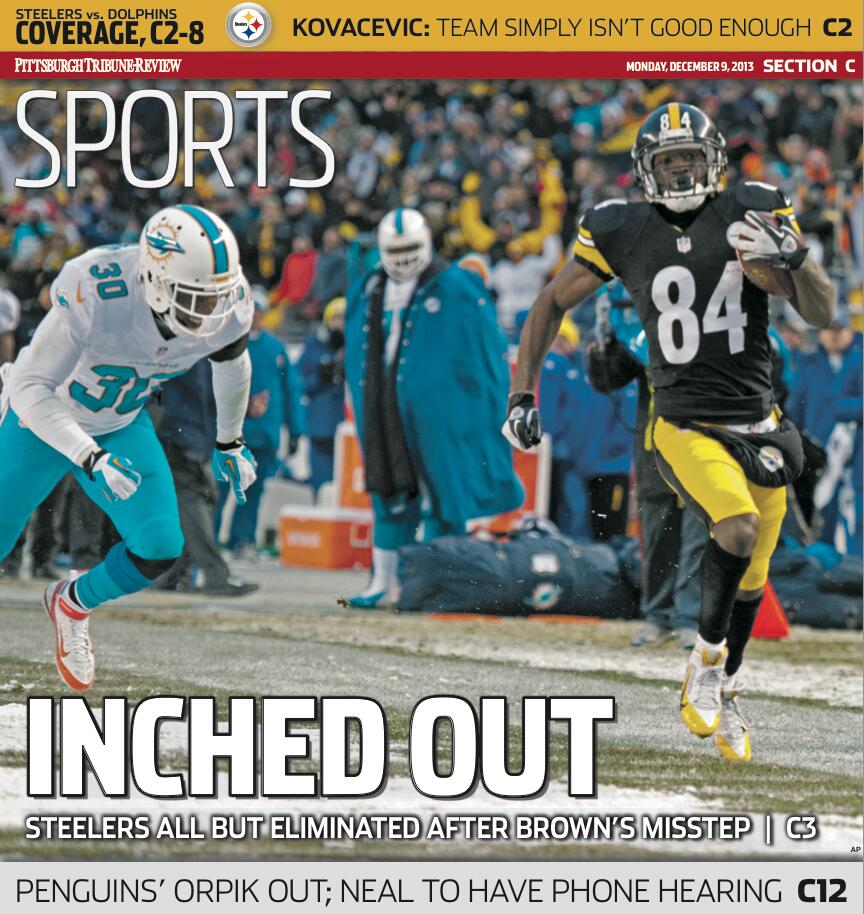 >> The Monday column from Heinz Field is critical of the Steelers' loss. Yesterday and, really, all season since that's now lost, too.
Here's some of what a visibly displeased Ben Roethlisberger had to say …
And what a doggedly determined Cam Heyward had to say …
Random randomness from the scene: In the precise moment Antonio Brown burst from the Dolphins' defense for that dazzling 43-yard touchdown, I unleashed my inner Mike Tomlin and looked the other way toward Heinz Field's JumboTron. Not to get a better view of the play but, rather, to count the number of fans who'd walk out even while hearing the remaining crowd cheer. The count was eight. They paused, looked up at the board to see AB's highlight, and walked right out. The Steelers trailed by three with an entire half remaining, and they walked right out. … Roughly 13,000 didn't even bother showing. The NFL does attendance by actual turnstile count, and that was 52,489 with a capacity of 65,500. … Roethlisberger rang all the usual alarm bells, unwittingly or not, with this response when asked why the Steelers curiously got away from running the ball in the second half: "No idea. Coach Haley's over there. You can probably ask him. Whether it's scheme, I don't know. There was no particular reason. We just tried to move the ball, and I thought we did a good job passing it there, too." And people think the media keep that narrative alive. … Heyward was outstanding. Again. He had 10 tackles, one for a loss, with a QB hit and pass defensed. He also slammed bodies to the ground. He played like a Steeler. … Credit to Tomlin — and I mean this — for starting Jason Worilds on the left side. I don't care if it's a no-brainer, it still isn't easy to bump a $61.5 million player out of position. Even if that player, LaMarr Woodley, isn't earning a fraction of that money. … Quote of the day, predictably, from Ryan Clark: "If you out yourself in a position where Marcus Gilbert has the ball in his hands to win the game, a lot didn't go right." … Call me nuts, but I'm starting to think Danny Smith isn't the answer as special teams coach. … Of all the zillion things I've written about the Steelers this calendar year, nothing was more wrong than counting out Jerricho Cotchery. Big mistake. Will never happen again. … If Emmanuel Sanders had a tenth of Cotchery's fortitude and smarts, he'd be a Pro Bowl performer. … Impossible to see snow at Heinz Field and not think of Jerome Bettis vs. Brian Urlacher, one of the great moments at the place. … No setting in local sports moves me like snow at Heinz. So very us. Maybe someday it'll matter again.
>> The game story assesses the ugly aftermath, by Alan Robinson.
AB's almost-amazing finish, by Mark Kaboly.
Defense? What defense? Ralph Paulk asks the athletes.
Mike Wallace was mostly nondescript, by Bill West.
A draft pick will be lost for the Tomlin incident, by Robinson. When exactly the NFL will stop hiding that fact and avoiding the blowback — or whatever other motivation they might have — is unclear.
Here's our full Steelers coverage, including key plays, game balls and more.
Here's Dolphins news from the Miami Herald.
Here are official game highlights from NFL.com.
Finally, here's our Steelers photo gallery by Chaz Palla and Chris Horner, which includes this snow-capped beauty by Horner of Charles Clay eluding Troy Polamalu and Cortez Allen on the Dolphins' deciding touchdown …
>> The latest on Brooks Orpik and all that stuff, by Rob Rossi.
Here's our full Penguins coverage, including a look at tonight's visit from the Blue Jackets.
Here's Blue Jackets news from the Columbus Dispatch.
Here are official game highlights from NHL.com.
>> If you missed it, the Sunday column reached across a few thousand miles to touch base with the Pirates' Mark Melancon on his latest global journey, this to South Africa.
>> If you missed it, Part II, WPXI-TV's Subway Final Word very late last night covered a veritable smorgasbord of sporting fare with Rossi, Mark Madden, Alby Oxenreiter and myself.
>> I'll check in with TribLIVE Radio at 11:30 a.m. today, then have the next couple days off. That link I always provide for our station puts you one click away from listening. No signup, login, registration, nothing. Just the best no-nonsense, no-frills sports talk in the city.