By Dejan Kovacevic | Trib Total Media
Morning, Lunatics …
>> The TribLIVE Radio show today — 2-3 p.m. — will feature Pitt's Aaron Donald, calling in from Houston as part of his weeklong trophy tour that already tallied the Nagurski Award as college football's top defensive player.
Can there be any doubt now that he'll be a first-round pick in the NFL draft?
Call me at 412-320-7925 or email sportstalk@tribweb.com
To listen, just click on the link above. If you're mobile, try the TribLIVE Radio app.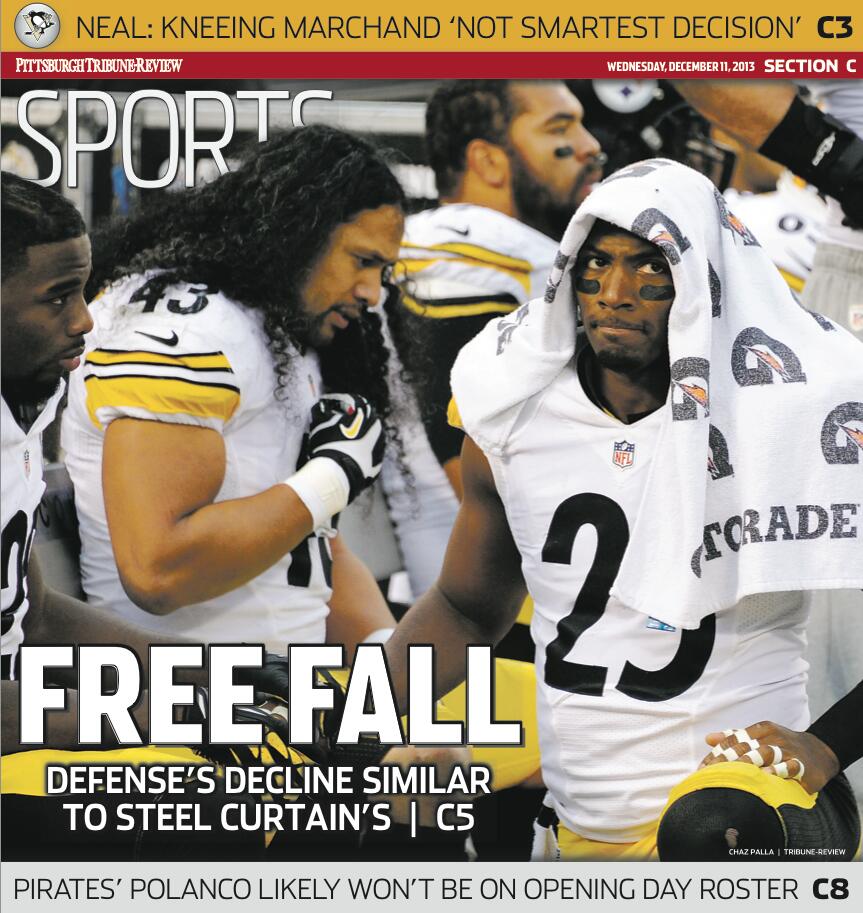 >> Mike Tomlin won't be adopting any rebuilding mode in the Steelers' final three games, Alan Robinson writes, but he is open to a new defensive sub-package that keeps all three outside linebackers on the field. That could be interesting, especially if one among them — say, LaMarr Woodley — looks comfortable in there.
The rapid decline of the defense, by Robinson.
Woodley is OK with the right side, by Ralph Paulk.
Here's our full Steelers coverage.
Here's Bengals news from the Cincinnati Enquirer.
Here are official game highlights from NFL.com.
On his TribLIVE Radio show, Ike Taylor talked about frustration …
>> The Penguins have today completely off, as they don't hit the ice in anger again until Friday against the Devils.
Yesterday, James Neal spoke apologetically of his knee-to-head hit on Brad Marchand, Rob Rossi reports. Here's the full audio of Neal's session.
The NHL is stuck in the Stone Age, per Joe Starkey's Wednesday column.
Here's our full Penguins coverage.
Here's Devils news from the Newark Star-Ledger.
Here are official game highlights from NHL.com.
Our panel on WPXI-TV's Subway Final Word addressed the Shawn Thornton assault on Brooks Orpik, the hearing for which is now scheduled for Friday …
>> The Pirates weren't moved to move on the second day of the Winter Meetings. Rob Biertempfel and Travis Sawchik are covering the event in Lake Buena Vista.
>> The three winners of this week's write-your-own-mini-column contest …
Sarah: What is appropriate punishment for Shawn Thorton?
The better questions are: Does the NHL wish to be taken seriously? Or is it happy to continue as the laughing-stock of professional sports? An embarrassment, a "garage league," proud of a gangland mentality, now being sued for negligence in protecting players from concussion?
Should Bettman suddenly get wise: Thornton's out of the game for a year. Loss of pay. Counseling. Also heavy fines and a suspension for Claude Julien, who repeatedly sent Thornton over the boards to confront Orpik. Julien directs his team in the worst kind of embellishment, faux victimhood and thug/retribution mentality.
Marlon: Here's a vote for the beautiful and graceful and violent sport of ice hockey.
Let's save maybe more than a few brains from felony assault and neurological cell death.
Let's maybe prevent suicides and early dementia and rescue the sport from stone age concussion-mongers and voyeurs.
Hard legal hits within play are OK. Fighting, assaults, willful blows to the head, etc—banned.
Neal—25 games.
Thornton—1 year.
Major meaningful fines and penalties to the teams of offending players.
Eric Bowser: If I had the power of judge and jury, Thornton's conduct skating across the ice, slew footing an unsuspecting Orpik, horse-collar him to the ice, throw an elbow punch, and then punch an unconscious player on the ice is unforgiveable.
Todd Bertuzzi was suspended 13 regular season games and 7 playoff games for his criminal actions against Steve Moore. I would argue what Thornton did was worse by the accumulations of all his actions.
I would ask, would you feel bad for a drunk driver that killed a family but had a reputation for doing good things in the community?
>> I'll be with the Steelers early today, then back to the North Shore to do the show. Would love to have you aboard.