By Dejan Kovacevic | Trib Total Media
Morning, Lunatics …
>> The Thursday column celebrates Pitt's Aaron Donald and yet another major national honor, even as it wonders why the biggest honor of all is completely out of reach.
And here's my extended interview with Donald on TribLIVE Radio yesterday …
My sincere thanks to E.J. Borghetti, the Panthers' beyond-compare SID, for an extra effort to arrange the Donald interview. And to the great Bill Fralic for his generous time last night.
Here's news coverage of the Lombardi Award by Jerry DiPaola, who is headed down to Florida today for the final two awards Donald could claim.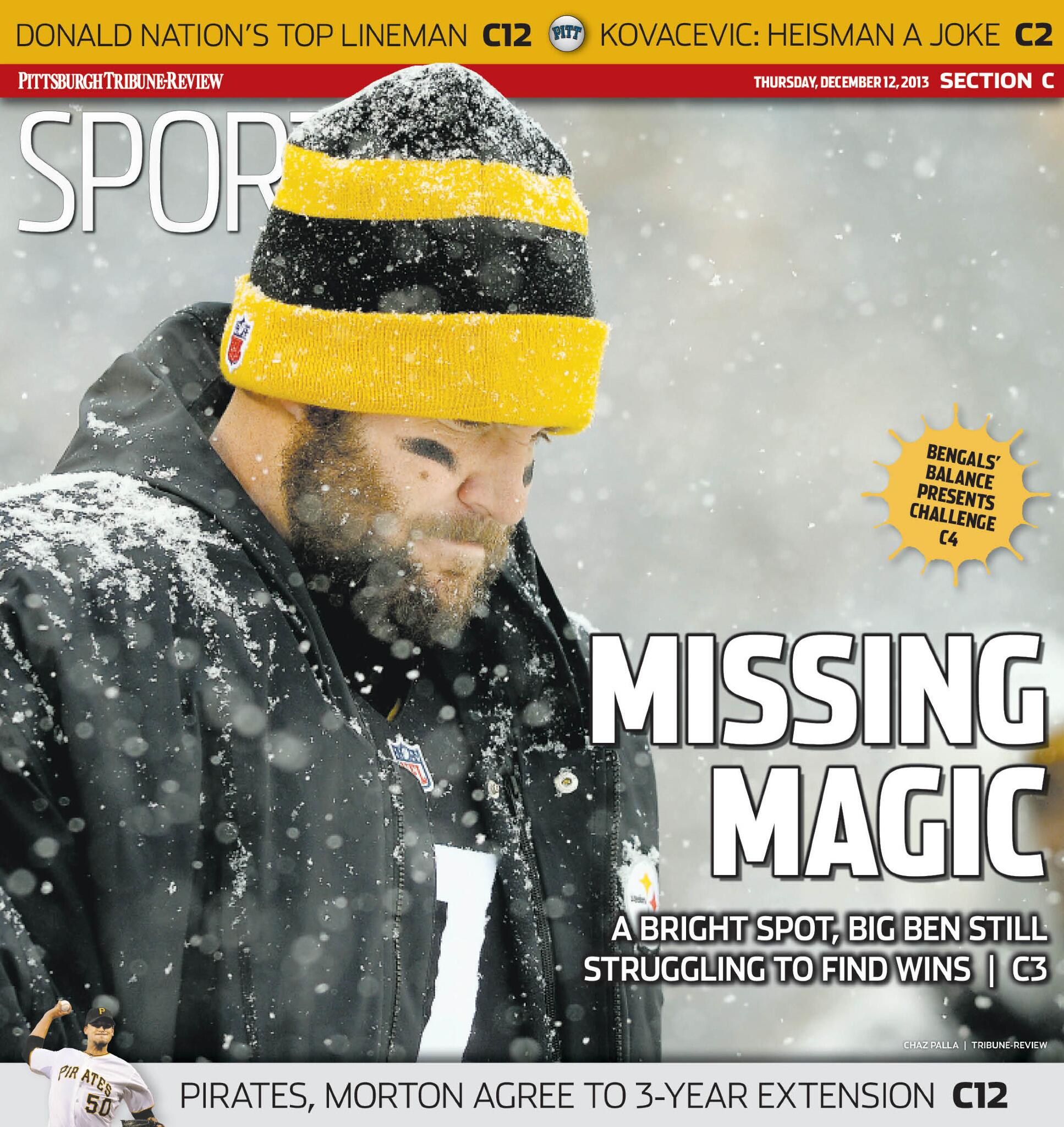 >> Ben Roethlisberger looks and sounds like a man ticked off about losing but also prepared to do something about it. Alan Robinson reports, and Matt Rosenberg designs that strong front page up there for you.
See for yourself right here …
The Bengals' balanced offense poses a problem, by Ralph Paulk.
Here's our full Steelers coverage.
Here's Bengals news from the Cincinnati Enquirer.
Here are official game highlights from NFL.com.
>> Brandon Sutter is doing pretty well for a center so light on the wings. Josh Yohe reports. The club is back on the ice this morning in advance of tomorrow's visit from the Devils.
Here's our full Penguins coverage.
Here's Devils news from the Newark Star-Ledger.
Here are official game highlights from NHL.com.
>> The Pirates extended Charlie Morton and acquired Edinson Volquez on the third day of the Winter Meetings. Rob Biertempfel and Travis Sawchik are covering the event in Lake Buena Vista.
My views on Morton can be heard on the radio show podcast. It's about 25 minutes from the start. As for Volquez, he's an OK gamble. Still has the stuff, as evidenced by a consistent K rate. The numbers obviously aren't great, especially for Petco Park, but … low cost, low risk.
To translate for Pirates bloggers: These moves, when duly appreciated as a whole, are brilliant. Beyond brilliant, really. What we're witnessing here is the very essence of take-charge, smart, innovative management. A triumph of mind over matter. An affirmation of the intellectual and objective over the old and staid ways of the other 29 franchises.
Hope that meets the bar.
>> Duquesne gets dunked by Penn State at Consol, by Chris Harlan.
>> I'll check in with TribLIVE Radio at 11:30 a.m. From there, I've got one more — and final — visit to the dentist this afternoon, after which I'll work on a Friday column about the Penguins.