By Dejan Kovacevic | Trib Total Media
HERSHEY, Pa. — Morning, Lunatics …
>> Driving over to New York, where I'll cover back-to-back Pittsburgh sporting events at Madison Square Garden. The first column will be off Pitt-Cincinnati tonight, the next off Penguins-Rangers tomorrow night. The first will run in Wednesday's paper, the next in Thursday's.
That will knock both my TribLIVE Radio show and the weekly chat out of the equation, but I think it's a good trade. Besides, I'll still be checking in with TLR daily at 11:30 a.m.
After that, it's back home briefly, then off to the Frozen Tundra for Steelers-Packers this weekend.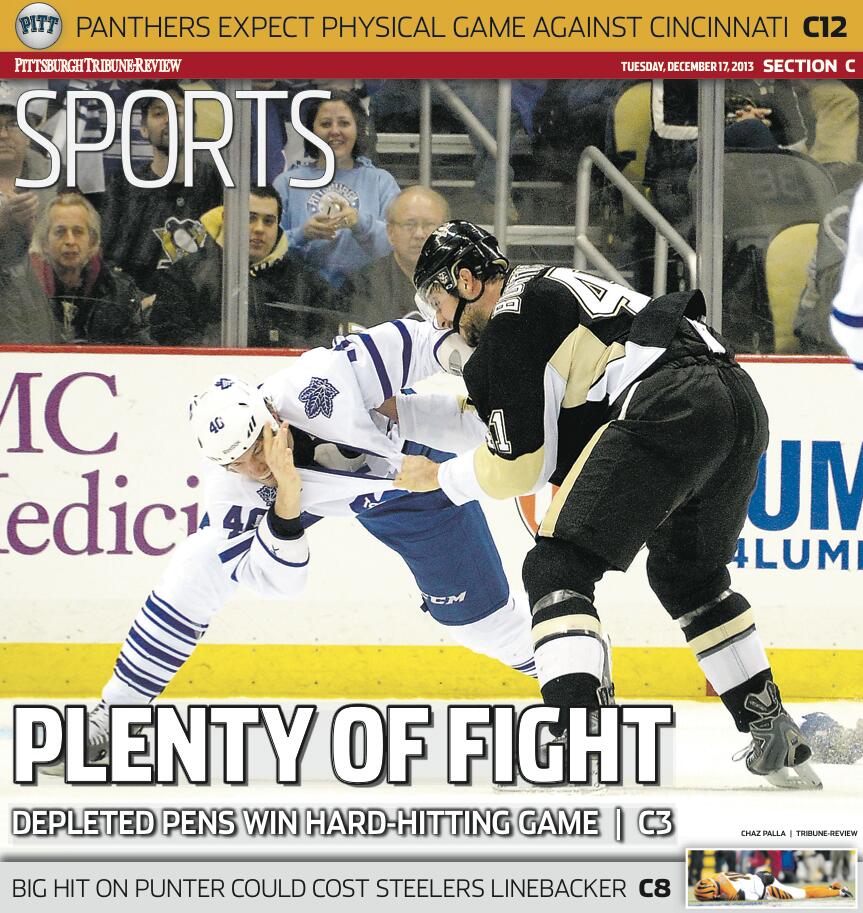 >> The Penguins go all-young out of necessity and still stick it to the Maple Leafs. Josh Yohe reports from Consol.
Shawn Thornton, all-around swell guy and genuinely remorseful and all that other hooey, is appealing his suspension. Rob Rossi has that and the latest on Deryk Engelland.
The panel on WPXI-TV's Subway Final Word weighed in on Engelland …
Here's our full Penguins coverage.
Here's Maple Leafs news from the Toronto Star.
Here are official game highlights from NHL.com.
>> The Steelers forge ahead with the final two games and only the most microscopic of playoff hopes, by Alan Robinson.
Le'Veon Bell is leading a revved up running game, by Robinson.
Terence Garvin could pay for breaking the jaw of the Bengals' punter, by Robinson.
The weekly Steelers Film Session, by Mark Kaboly.
Here's our full Steelers coverage.
Here's Packers news from the Green Bay Press-Gazette.
Here are official game highlights from NFL.com.
>> Pitt faces a legit test in the 7-2 Bearcats, by Kevin Gorman.
>> First stop: Hershey's Chocolate World for the factory tour this morning. If you haven't been, it's well worth your trip and not at all expensive.