By Dejan Kovacevic | Trib Total Media
Morning, Lunatics …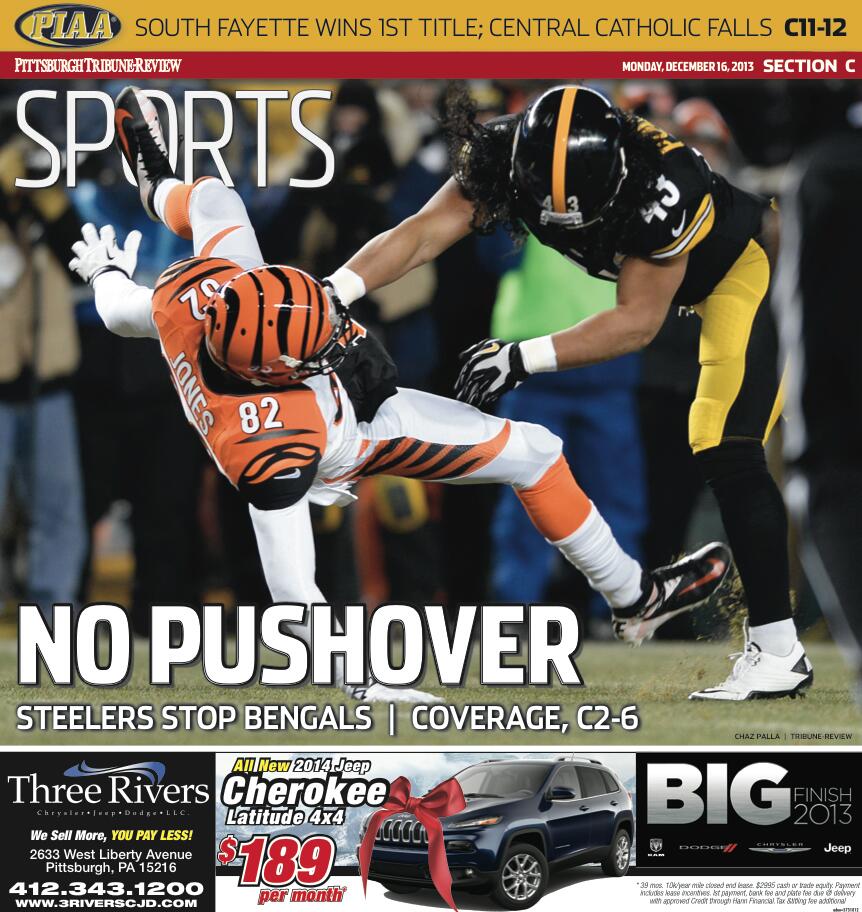 >> The Monday column blankets the Steelers' c-c-c-cold crushing of the Bengals on an icy Sunday night, and it does so by — to borrow Mike Tomlin's most commonly used word of the postgame press conference — appreciating it for what it was.
Here's some of what Ben Roethlisberger had to say …
And Ramon Foster …
Random randomness from the scene: Bizarre watching Terence Garvin draw a huge crowd of media afterward, most of whom doubtless never heard of him until he crashed into Cincinnati punter Kevin Huber and cracked his jaw. "I'm just looking for a white shirt," Garvin insisted. But that was missing the point and so was the questioning about whether a punter is fair game. (He is.) The real issue if is the hit was legal. It wasn't. Garvin led with his helmet and crushed Huber in his. He'll pay for that. … It paid off handsomely, but I still hated Mike Tomlin's early decision to punt from fairly well into Cincinnati territory. … Shaun Suisham is money. Forty-five yards with a powerful wind? No biggie. Kicks it a little to the right, ball goes straight through and into the first row of end-zone seats. Catch that? … Tomlin keeps Le'Veon Bell on edge an awful lot, and I'm talking about off the field. … The Bengals are nothing special. Andy Dalton Is considerably less than that. One and done. … I love how much Antonio Brown loves what Antonio Brown does. Pure joy. He can dance all he wants. … What Kelvin Beachum did to stay in that game was stirring. Could barely pick himself up after some plays, due to that knee he wrenched early. Had a hard time keeping up with the huddle after big plays. Small wonder his teammates feel as they do about him. He might not be a prototype left tackle, but he's a football player. … Players estimated the offense went about three-quarters no-huddle. … About time the Steelers allowed Troy Polamalu to get off the line and back to playing safety. He seemed to note that himself by saying his shoulders didn't hurt by game' end. … Next week, finally (for me), Lambeau. Can't wait. Major check mark.
The game story, by beat writer Alan Robinson.
The breakdown, by Mark Kaboly.
News and notes, by Ralph Paulk.
The Bengals' side, by Matt Grubba.
Here's our full Steelers coverage.
Here's Bengals news from the Cincinnati Enquirer.
Here are official game highlights from NFL.com.
Here's our Steelers photo gallery, by Chaz Palla and Chris Horner, of which I'll cull this rather powerful shot of Antonio Brown's 67-yard punt return from Palla …
>> The Penguins' injury mess is treated by Rob Rossi as the Penguins hit the ice anew this morning in preparation for the Maple Leafs tonight.
Here's our full Penguins coverage.
Here's Maple Leafs news from the Toronto Star.
Here are official game highlights from NHL.com, including one serious collapse by the Flyers that has to be seen to be believed.
>> Merry Christmas, Charlie Morton, by Travis Sawchik.
>> Congrats to South Fayette and North Catholic, PIAA football champions.
>> I'll check in with TribLIVE Radio at 11:30 a.m., and then it's off to … well, I'll wait until tomorrow to share that. Should be fun.