By Dejan Kovacevic | Trib Total Media
HARRISBURG – Morning, Lunatics …
>> There will be no chat this week because of the travel home from New York. Apologies for that. Tried to make it work. Just not practical.
I will, however, check in with TribLIVE Radio at 11:30 a.m.
After the Trib's excellent Christmas bash tonight at the North Shore offices, I'll pack up again tomorrow for the flight to Green Bay. And I'd be holding back if I didn't admit to you right here that I'm looking forward to seeing Lambeau for the first time like … well, a kid on Christmas morning. Never been, always wanted to.
Oh, and I did I mention it's supposed to be crazy cold?
Anyway, the combined fall of the Steelers and Packers is columnist Joe Starkey's topic for the day.
Anyone seen Markus Wheaton? Alan Robinson puts out the APB.
Ramon Foster is Mr. Reliable, by Ralph Paulk.
Here's our full Steelers coverage, including the Wisconsin snow forecast.
Here's Packers news from the Green Bay Press-Gazette.
Here are official game highlights from NFL.com.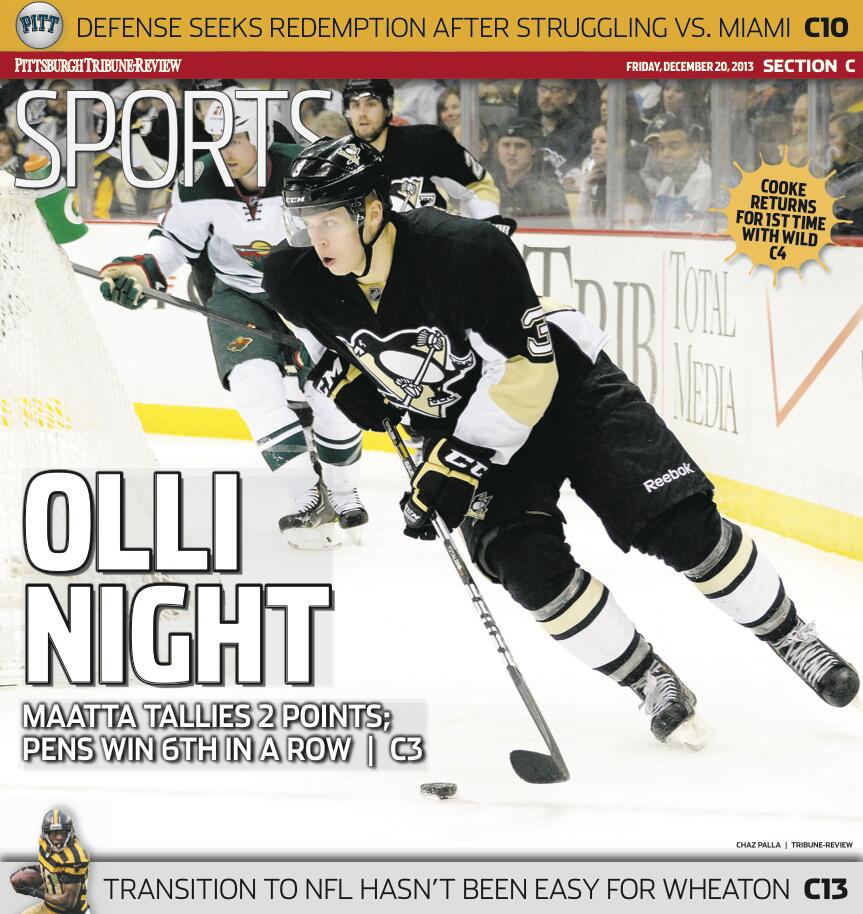 >> The Penguins take the NHL lead in Ws by burying the Wild for a sixth consecutive victory. Josh Yohe reports from Consol.
Old friend Matt Cooke talks NHL violence, by Chris Adamski.
Here's our full Penguins coverage.
Here's Wild news from the Saint Paul Pioneer Press.
Here are official game highlights from NHL.com.
And in the spirit of all these young defensemen shining of late, here's a bonus find for the morning: Jim Kubus, the Trib's deputy managing editor for design, passed along this remarkable image of Ulf Samuelsson holding up a 9-month-old Philip Samuelsson during the 1992 Stanley Cup parade at Three Rivers.
>> Pitt football misses out on another elite local talent, this from my alma mater, Jerry DiPaola reports. You have to wonder at which point this becomes a trend.
>> After the Green Bay game, I'll be taking Christmas week off. There will, however, be a Monday edition of Morning Java.