By Dejan Kovacevic | Trib Total Media
GREEN BAY, Wis. – Morning, Lunatics …
>> The Monday column from Lambeau Field comes in praise of the victors, no matter how much an unfortunately large segment of the Nation seems determined to pan it.
Here's some of what Ben Roethlisberger had to say afterward …
And Mike Tomlin …
Random randomness from the scene: Cool to hear Brett Keisel convey how he told all the defensive linemen to soak up every bit of the Lambeau experience: "It was awesome, a game to remember. It'll be a game I can tell my kids about. Playing against this team, in this place, it's a really good feeling." … So, kickers and punters are considered 'defenseless' but in this game alone recorded three tackles and a completed pass by Mat McBriar. When the latter was asked about the hit he took to make that sharp throw, he shrugged" "I knew that all along. I don't really have any protection out there, so it's just one of those things." Funny, but these guys sound like football players to me. … I didn't get a good vibe from Emmanuel Sanders about his injury. … Bell had a wonderful game on the ground but simply can't drop both passes sent his way. … Anyone notice who saved that last Green Bay kickoff return from being a TD? Yep, Shamarko Thomas. He's next. … Good on Larry Foote for making this trip and most trips, despite being on IR. Not everyone does. He was only one who came here. … Really stark to hear Tomlin say the refs 'blew it.' But one would strongly suspect he'll get away with it fine-free. Because, you know, the refs did blow it. … While still on the field, Roethlisberger gave the game's final ball to Keisel after his late sack and fumble recovery played such a big role. "I really enjoyed watching him walk off the field with that under his arm," Ben said. … Man, what a terrible time for Jarvis Jones to get sick, as he did at the team hotel overnight. Not blaming him, obviously. Just underscoring how unfortunate that was. … First time at Lambeau. Great check mark. Really was. I can't think of a more powerful statement about the inherent fairness of the NFL and a salary cap than having an iconic, vibrant franchise based in a town of 104,000. Anyone who ever talks about stars needing to be in big markets for big visibility, toss the names of Reggie White, Brett Favre and Aaron Rodgers at them.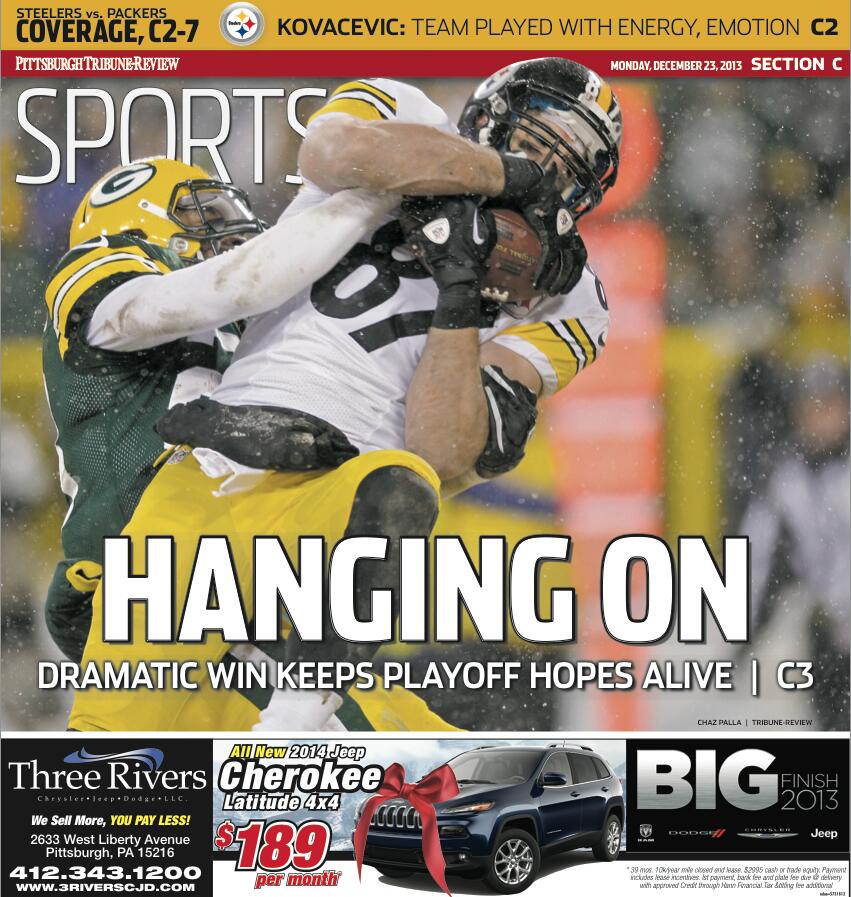 The game story, by Alan Robinson.
Le'Veon Bell's big day, by Ralph Paulk.
Here's our full Steelers coverage.
Here's Packers news from the Green Bay Press-Gazette.
Here are official game highlights from NFL.com.
And if you missed it, the Sunday column was on LaMarr Woodley. And Robinson had a terrific interview with Todd Haley.
Finally, here's our Steelers photo gallery by a well-bundled-up Chaz Palla, including the beauty below of Matt Spaeth celebrating his TD. He froze for these, so give him a click!
>> The Penguins are in Ottawa tonight, then get a badly needed three-day break. At least as badly needed as anything can be for a team that never loses anymore.
Looking ahead to that game, through the prism of Matt Niskanen's recent excellence, is Josh Yohe.
The rookies are holding up, by resident stats maven David Golebiewski.
Here's our full Penguins coverage.
Here's Senators news from the Ottawa Citizen.
Here are official game highlights from NHL.com.
>> Pitt could use better shooting from James Robinson. Kevin Gorman reports.
I harp on this every time I cover the Panthers and, honestly, I wonder if the kid won't just end up being one of those distribution-only point guards. No harm in that.
>> I'll be taking this week off and return, of course, for the Steelers' finale with the Browns next Sunday.
I'd like to take this opportunity to wish you, the readers of the column and this blog and whatever other stuff I happen to churn out somewhere, the most joyous of holiday seasons. It really is the greatest time of year. Hug the ones you love. Live every minute of it.
And thank you so, so much for reading. I know I can be difficult at times. I hear that from some of those people I hug, too. But I think we're all in the same category as Pittsburghers who are passionate about sports not just as entertainment but as our way of life. It's what we do.
Merry Christmas!