By Dejan Kovacevic | Trib Total Media
Morning, Lunatics …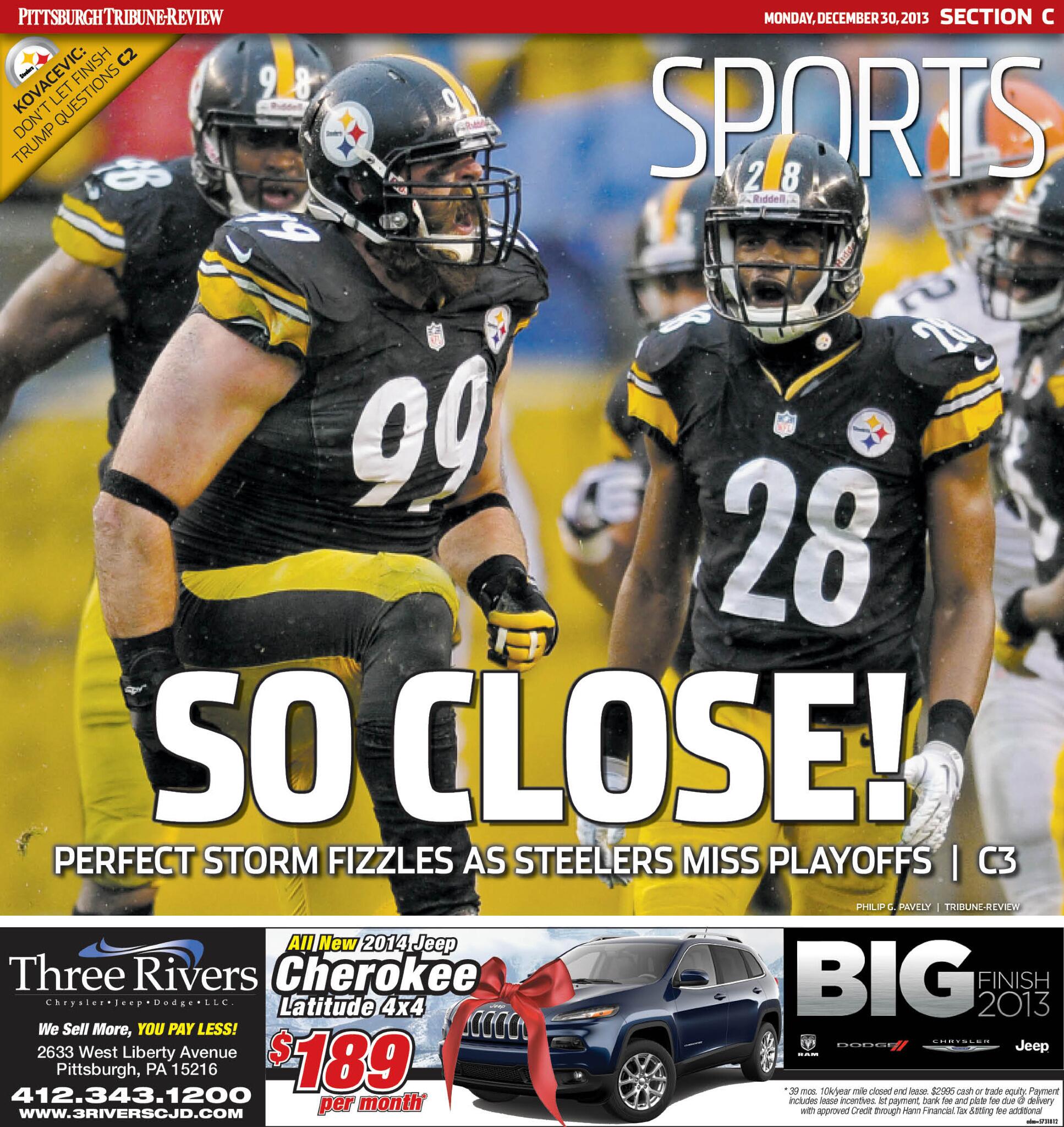 >> The Monday column from Heinz Field compiles a list of possible targets for blame … then throws it all out.
Here's some of what Ben Roethlisberger had to say afterward …
And Brett Keisel, that man pictured prominently above …
And Emmanuel Sanders …
Random randomness from the scene: Without my pushing much at all, Ike Taylor told me he recently approached the coaches about switching to safety next season. Funny, but I thought the question might offend him. Didn't at all. "We'll see how it goes. It was one small talk, that's all," Ike said. The move has worked for many, particularly toward prolonging careers, but Ike's lack of hands and bulk would be a concern. … Had the Steelers gotten the shutout — "We really wanted that goose egg," Keisel said — it would have been their first since Christmas Eve 2011 against the Rams. … There was real pride in that locker room, but kind of in the form of vindication. Not of any outside criticism, but more for their own notion that they always were better than their first half. "This should have been the start," Ramon Foster told me. "This is how it should have been all along." … Keisel, Sanders and Ryan Clark sounded close to resigned they wouldn't be wanted back, but I was most moved by Troy Polamalu's striking reluctance to really say much of anything regarding whether or not he'll keep playing at all. This was about it: "It sure would be nice if Kansas City wins." Ummm … You'll hear all kinds of complaining about the Chiefs-Chargers finish, many of them legit, some of them from the Steelers' players. But I can tell you that their attitude immediately after their game was best summarized by Ben when asked about the chance they'd miss the playoffs: "Obviously, it would be disappointing, bit it's nobody's fault but ours. We got ourselves in a deep hole early." … Sorry, but I can't get worked up over officials blowing a couple of calls out in San Diego. Refs miss calls. You wish they wouldn't. You hope there's a constant effort to improve the knowledge and awareness of all involved. But getting all worked up over a missed overloaded-to-one-side formation that's essentially a new rule … to me, that's reaching. The fumble wasn't the easiest call. The field goal alignment was tougher than that. Should they get it right? Sure. Cause for outrage? Eh. … I enjoyed covering this season and would have welcomed seeing it go longer. I probably enjoyed this experience more than any through 2013. I'll have more on that on the blog tomorrow.
The game story wonders what might have come next, by Alan Robinson.
The elder statesmen ponder the end, by Ralph Paulk.
Jarvis Jones finally comes alive, by Mark Kaboly.
All the 2014 opponents are now known, by Robinson. The rumor is confirmed, by the way: Browns are on there twice.
If it's the final Sunday of the season, the Browns must have fired their coach. Gary Horvath reports on Rob Chudzinski
Here's our full Steelers coverage.
Here's Browns news from the Cleveland Plain Dealer.
Here are official game highlights from NFL.com.
Finally, here's our Steelers photo gallery by Chaz Palla and Chris Horner, including this Palla beauty below of Lawrence Timmons adding to Jason Campbell's career-long misery …
>> The Penguins got a five-point masterstroke from James Neal to beat the Blue Jackets. Rob Rossi reports from Columbus.
Here's our full Penguins coverage.
Here's Blue Jackets news from the Columbus Dispatch.
Here are official game highlights from NHL.com.
>> Pitt beats Duquesne in women's basketball, which is a really, really big deal within that community, unlike the actual City Game. And not just because Suzie-McConnell-Serio looks good after crossing town, as Karen Price reports from the Pete.
One thing I'd like to see is a doubleheader for the next City Game, where the women's game is the opener. Surprised they haven't already done this.
>> I'll visit with TribLIVE Radio at 11:30 a.m. today, live from Steelers HQ on the South Side. Right after that, I'll cover Mike Tomlin's press conference — which you can hear live on the same feed — and have a special Tuesday column on that topic.