By Dejan Kovacevic | Trib Total Media
Morning, Lunatics …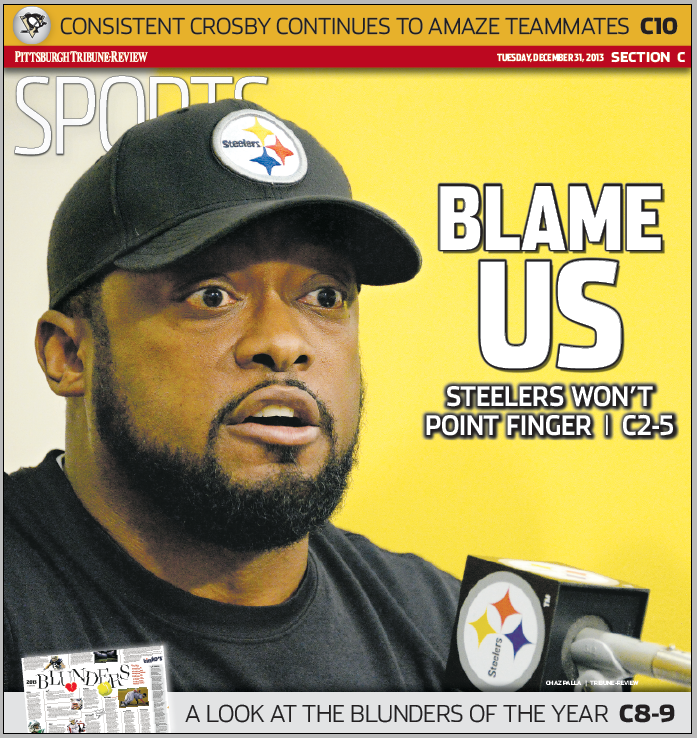 >> The Tuesday column from the Steelers' breakup day lists a slew of questions and issues Mike Tomlin must tackle this offseason. And to his credit, he's not starting out by pretending he's got all the answers.
Would love to hear your thoughts on the many open-ended items in this piece.
Moving on, just for fun and only here on the blog, here's my choice for most improved player on and off the field, David DeCastro, along with part of our talk yesterday …
Yeah, Cam Heyward and Jason Worilds made leaps. Not taking that away. I'm just partial in this case to a second-year guy having to step up so much with all the O-line injuries around him. And, as you can see from the clip above, he's really opened up, too. Good speaker.
Random randomness from the scene: Don't expect too many surprises among those players you think won't be back. Guys like Ryan Clark, Ziggy Hood, Emmanuel Sanders all made it very clear they've had exactly zero contact with the Steelers to this point about sticking. …  I swear I'm not trying to stir something up, but I couldn't help but notice how Tomlin described Worilds' inactive status for the Browns game thusly: "We couldn't get Jason Worilds to a level of comfort prior to the game to be able to play effectively." All I'll add is that Worilds had a rib injury, and it's common in the NFL to play through those by one means or another. … Marcus Gilbert did something really stupid by tweeting right after Chiefs-Chargers that Kansas City kicker Ryan Succop was 'shaving points.' I asked Gilbert why he'd write that, and he replied he was 'just joking.' Something tells me the league office might not be laughing. … A couple of the guys on injured reserve were claiming there's a rule that they couldn't give interviews. Well, there is, but I hear it came from Tomlin about a month ago. And with all due respect to the coach, he isn't allowed to be making such across-the-board rules. Those things are to be negotiated between the NFL, the union and the Pro Football Writers of America. … Funny, but there was no such rule until LaMarr Woodley went on IR. … Tomlin was asked to whom he is accountable: "The Rooneys." … The near-universal sentiment that what happened in San Diego shouldn't have mattered when Clark was asked how it felt to finish one ref's call short of the playoffs: "How about one more win for the Pittsburgh Steelers?" Yep. Way too much fuss over the refs. Mistakes are made in the spur of the moment. Big flipping deal. … I tried to process that the Steelers carried two players on their 53-man roster who didn't participate in a single play: Bruce Gradkowski and Landry Jones. Nice work if you can get it. … Cam, on 2014: "I want playoffs, and I want the Super Bowl. That's what my career is about."
The poor start buried the Steelers, by beat man Alan Robinson.
The San Diego refs didn't help, by Robinson.
The final Steelers Film Session freeze-frames on Todd Haley, by Mark Kaboly.
Here's our full Steelers coverage.
And before I sign off this portion of the blog for the winter, I'd like to take the opportunity here to say THANK YOU to Steelers fans for your voluminous, passionate and phenomenally widespread feedback. It was a bizarre season, to put it mildly, but from the military men and women who reached out when we were in London to the tailgaters who invited me to a BBQ in the Oakland lots, I was humbled beyond words that you'd trust what I write about your favorite team. Even when we didn't agree.
This guy in London was my favorite …
I'll tell you this, too: I enjoyed nothing more in 2013 than covering the Steelers. I'd set my mind on giving the NFL that much extra this year, in particular getting to know Ben Roethlisberger, Troy Polamalu and other key figures better, and feeling like that's begun to be achieved represented by far my own high mark of the year. And I say that in the context of having also tremendously enjoyed covering the Penguins' run to the Eastern final, everything related to experiencing more of Jamie Dixon and Pitt basketball, and the essential birth of professional soccer in our city limits.
This particular year, for me, nothing topped the Steelers.
So thank you and happy new year to the fans, to the Steelers' many bloggers and fan clubs who reached out — a new one just yesterday from Mexico — and to the team itself, particularly Burt Lauten, Nate LoCascio and Ryan Scarpino of their media office.
Only 4 1/2 months until OTAs, right?
>> The Penguins and Devils have a New Year's Eve matinee in fabulous Newark, pictured above. Send cards and flowers to Josh Yohe for drawing that especially short straw.
Here's our full Penguins coverage, including interesting stuff on the possibility of resting Olli Maatta.
Here's Devils news from the Ottawa Citizen.
Here are official game highlights from NHL.com.
>> Pitt closes its pre-ACC slate with Albany and a New Year's Eve matinee of their own at the Pete. Kevin Gorman reports.
>> The latest on Bill O'Brien, by Chris Adamski.
>> The Pirates make a minor trade, by Travis Sawchik.
>> There will be no TribLIVE Radio show this week because of New Year's Day, but it'll return Jan. 8.