By Dejan Kovacevic | Trib Total Media
Morning, Lunatics …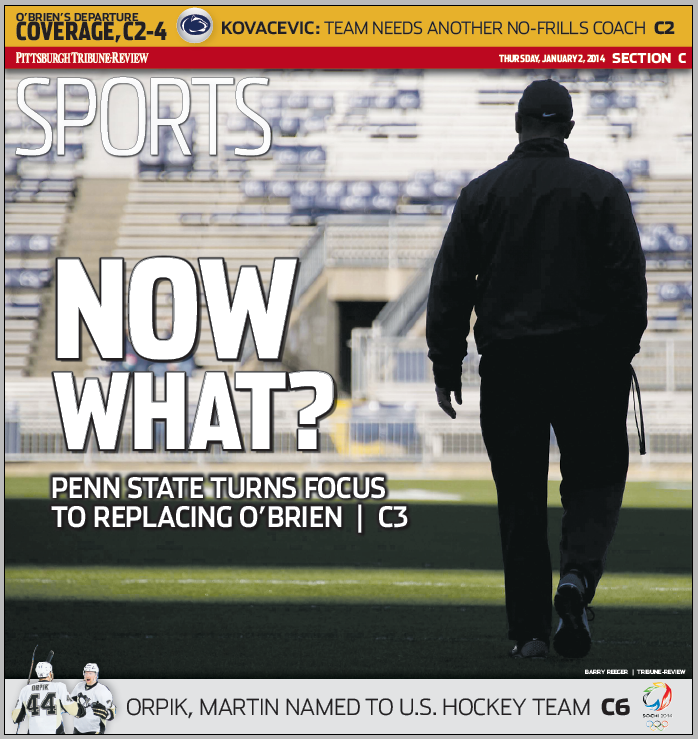 >> The Thursday column is about Bill O'Brien, a breakfast we once had in Indianapolis and why nothing ever mattered to the guy while at Penn State beyond football.
Here's our news coverage of O'Brien's departure situation, by Penn State beat man Chris Adamski.
The Penn State community bids farewell, by Bob Cohn.
How this affects Christian Hackenberg, by Adamski.
Here's Texans news from the Houston Chronicle. The formal announcement is expected today from O'Brien's new NFL employer.
And here, for the record, was my first column on O'Brien from the breakfast cited above, as well as a September column from State College. Pretty easy to see I've liked the guy from Day 1.
>> The Winter Classic at the Big House made for a visual delight on TV, including the wonderful National Anthem performed above, but the biggest news came after the Leafs' shootout victory, when Team USA for Sochi was announced.

Brooks Orpik and Paul Martin made the cut, as Rob Rossi reports. But a local hopeful, Brandon Saad of the Blackhawks via Gibsonia, did not. Josh Yohe has the latter.
Brianne McLaughlin of Robert Morris made it on the women's side for a second consecutive Olympics. Rossi has that.
All that I'll add here — and, obviously, there will be a lot more as we get closer to Russia — is that it's evident this is being built into a Dan Bylsma-type team. That means speed, speed, speed. Some extraordinary insight is available through this super-long article by ESPN's Scott Burnside, who was embedded for four months with Team USA's decision-makers, and speed is cited throughout.
The two most obvious snubs are Bobby Ryan of the Senators and Keith Yandle of the Coyotes, but neither offends me much. I'll assume Blake Wheeler of the Jets was the last forward to make it — he started off slowly in Winnipeg — but I've long loved size, speed and hands. He'll be perfect for the big rink. And Yandle … well, read that embedded stuff and you'll see David Poile, Ray Shero, Brian Burke and company just flat-out didn't like him. I like the choice of the Capitals' John Carlson for the blue line instead. Very solid shutdown guy, a bit younger than most at 24, maybe a better overall fit.
Overall outlook?
Ask me after we see how Jonathan Quick comes along health-wise with the Kings. That kid can win any tournament, almost by himself.
Here's our full Penguins coverage.
Here's Rangers news from the New York Post.
Here are official game highlights from NHL.com, including tons of extras available from Ann Arbor. Can't say enough about what a great idea these outdoor games have been.
>> Pitt and hot-shooting Cam Wright brace for their ACC opener at N.C. State, by Kevin Gorman. I'll be flying to Raleigh this weekend to cover that game for a Sunday column.
>> More no-huddle wins over Ben Roethlisberger, by Alan Robinson.
Here's our full Steelers coverage.
Here are official game highlights from NFL.com.
>> I'll check in with TribLIVE Radio at 11:30 a.m. It's the easiest station in the world to find. One click on that link, and we're there.