By Dejan Kovacevic | Trib Total Media
Morning, Lunatics …
>> The Monday column from Consol is about Pittsburgh's best team. Again. In fact, the Penguins are Pittsburgh's best team so often and on so many different levels that it's easy to take them for granted. Or even act spoiled about it.
A hearty thanks to Matt Niskanen for opening up on a topic most athletes won't touch.
Also, I asked James Neal about the difference in this team …
Random blogginess from the scene: If Canada doesn't take Neal and Chris Kunitz, they're just being stupid and stubborn. There's no way anyone with any hockey acumen could be watching these two — and weighing the importance of Sidney Crosby to the process — and not thinking these two are essential for Sochi. We'll find out tomorrow. … The column only glances at this, but Ray Shero and Dan Bylsma both need to figure out what to do with Simon Despres and Robert Bortuzzo. And I don't mean just keep scratching them. The defense the Penguins put out there against Winnipeg was old and slow. It was rusty, too, in fairness. As Rob Scuderi told me after the game, "It takes timing, and that doesn't happen right away." He motioned over to Kris Letang. "That's my partner over there, and we've played six periods together all season now." He's right. But that doesn't solve the Despres/Bortuzzo issue. Management needs to figure it out sooner rather than later. … Getting all my negative out of the way here, is anyone else noticing that Craig Adams isn't performing at the level he's set for himself in previous years? Just saying. … Olli Maatta is just wonderful. Been a while since I've mentioned it. Did you see the soccer back-heel to Niskanen? Come on. … Marc-Andre Fleury gave up five goals, and that never looks good, but I saw nothing remotely shaky in his play. … These matinee starts are great for deadlines, but … ah, never mind. They're great for deadlines. … I can't stand the PA announcing at Consol. Sorry. It's actually getting worse, with all kinds of cutesy "welcome back" and "how about that" thrown into actual in-game announcements. All of the local PA announcers for all three teams have set a far higher standard than that. It's embarrassing. If it happened in another NHL rink, I'd rip it. No reason not to do so here. … Tons of Winnipeg stuff at the bottom.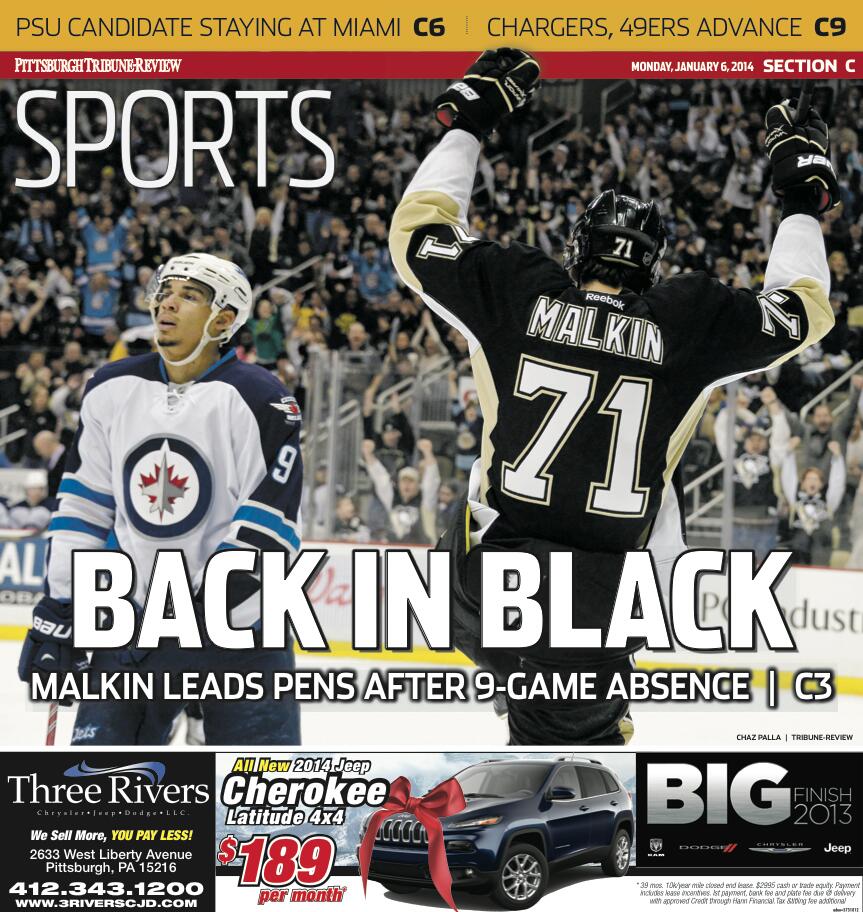 The game story by Rob Rossi focuses on Evgeni Malkin's brilliance.
Here's our full Penguins coverage.
Here's Jets news from the Winnipeg Free Press.
Here are official game highlights from NHL.com.
>> Pitt hoops has already gone to the ACC, but now the ACC comes to the Pete with Maryland here tonight. One longer-term issue: How will Talib Zanna hold up? Kevin Gorman examines.
>> A four-star wide receiver recruit picks Pitt, Jerry DiPaola reports. Adonis Jennings could make for quite the bookend to Tyler Boyd.
So, we already knew Bobby Engram can recruit. Anyone on the defensive side?
>> Wonderful insight on Penn State's coaching search, by Bob Cohn.
>> What happened to the Steelers' defense? Alan Robinson revisits.
>> I'll check in with TribLIVE Radio at 11:30 a.m. It's the easiest station in the world to find. One click on that link, and we're there.
>> Also, if you missed us late last night, here are all four segments of WPXI-TV's Subway Final Word with Rossi, Bill Phillips and myself.
>> OK, keeping this out of the way of anyone who might be offended by a local guy writing about the Jets, here's an item I promised my many friends in Manitoba:
It was one game. I watch a good bit of Jets through GameCenter, but it's hardly like seeing them regularly.
The Penguins see them even less, I'm sure, in spite of all the filmwork that goes into preparing for a game.
So let's start with that for context.
The Jets look to me like a team going absolutely nowhere. Not their roster. Not their system. It just isn't happening.
There are four very good forwards on the team: Evander Kane, Blake Wheeler, Andrew Ladd and Mark Scheifele. There's a very promising defenseman in Jacob Trouba, who rebounded nicely from minus-3 in Boston to a strong game here. And I know that, in addition to Scheifele and Trouba, there are other good prospects on the way, notably Josh Morrissey.
But what you've got is an age gap that's way too big between the current core and that next wave, and either no inclination or no means to add to the current core.
That's a mess.
I respect that True North wanted to keep the Thrashers' more experienced guys on the roster to ice a competitive team right off the bat. Made absolutely perfect sense. The people of Winnipeg know their pucks and, even with the delirium that followed the return of the franchise, they'd want to see a real NHL product, not just have an NHL franchise. It was the right thing to do.
But I've seen this situation before, including with local teams I've covered, and this is the point where you push the plunger. You blow it up. Doesn't mean you give guys away. As I wrote above, there are real assets. Kane and Wheeler should bring back one real-live young player and a first-round pick, maybe more. Even Dustin Byfuglien, for all his warts, can bring back something meaningful. Not everyone has that power-play rifle at the point. It's possible, as I'm sure you've read, that the Penguins will be among the teams interested in Kane but especially Wheeler. They love Wheeler.
So do it. Send it to kingdom come and build around Scheifele, Trouba and the next generation.
If not, you'll forever be the Flames, perpetually flailing away at mediocrity.
Now, about that system … and this is the real reason I'm writing this.
I have only ever heard the Penguins speak derisively of another team's system once in recent years, and that was right after Buffalo passed through with the laughably-over-his-head Ron Rolston at the helm. The Sabres were flat-out clueless. Just humiliating. And it wasn't long, of course, before Rolston got canned.
I heard much the same yesterday about the Jets. One player said they have "no structure." Another said they had "no real plan for what they're doing." Yet another called them "really just a strange team." All concerned, it should be noted, praised the talented individuals on the Winnipeg roster. It was hard not to be impressed with some of them on this day alone. But the focus clearly was aimed at Claude Noel's system or, if he has a system, the evident failure to execute it.
If it's a bad system — and again, I'm not going to claim to know — that's just sad. But it does say something, I think, that an opponent would have such observations while at the same time respecting the talent at hand and having zero ax to grind. It's not like the teams are rivals.
You do with that what you want. I know True North felt an obligation to a lot of the Moose people, and maybe that's what brought Noel into the picture more than anything. Or, for all I know, it could be that Noel is some brilliant tactician whose team just had a lousy Sunday after playing in Boston on a Saturday.
But I'm not inclined to ignore those observations from veteran players when they sounded so strikingly similar to that following the Buffalo mess.
Long-time readers know of my attachment to Winnipeg the city. I don't extend that to the Jets any more than I do any other sports team. That's not how this job works. But I can say that I'd love to see hockey succeed there on multiple levels, in part because it would make such a powerful statement for hockey in Canada's heartland, the salary cap and so much more.
It sure looks from this faraway vantage point like the real work has yet to begin.