By Dejan Kovacevic | Trib Total Media
Morning, Lunatics …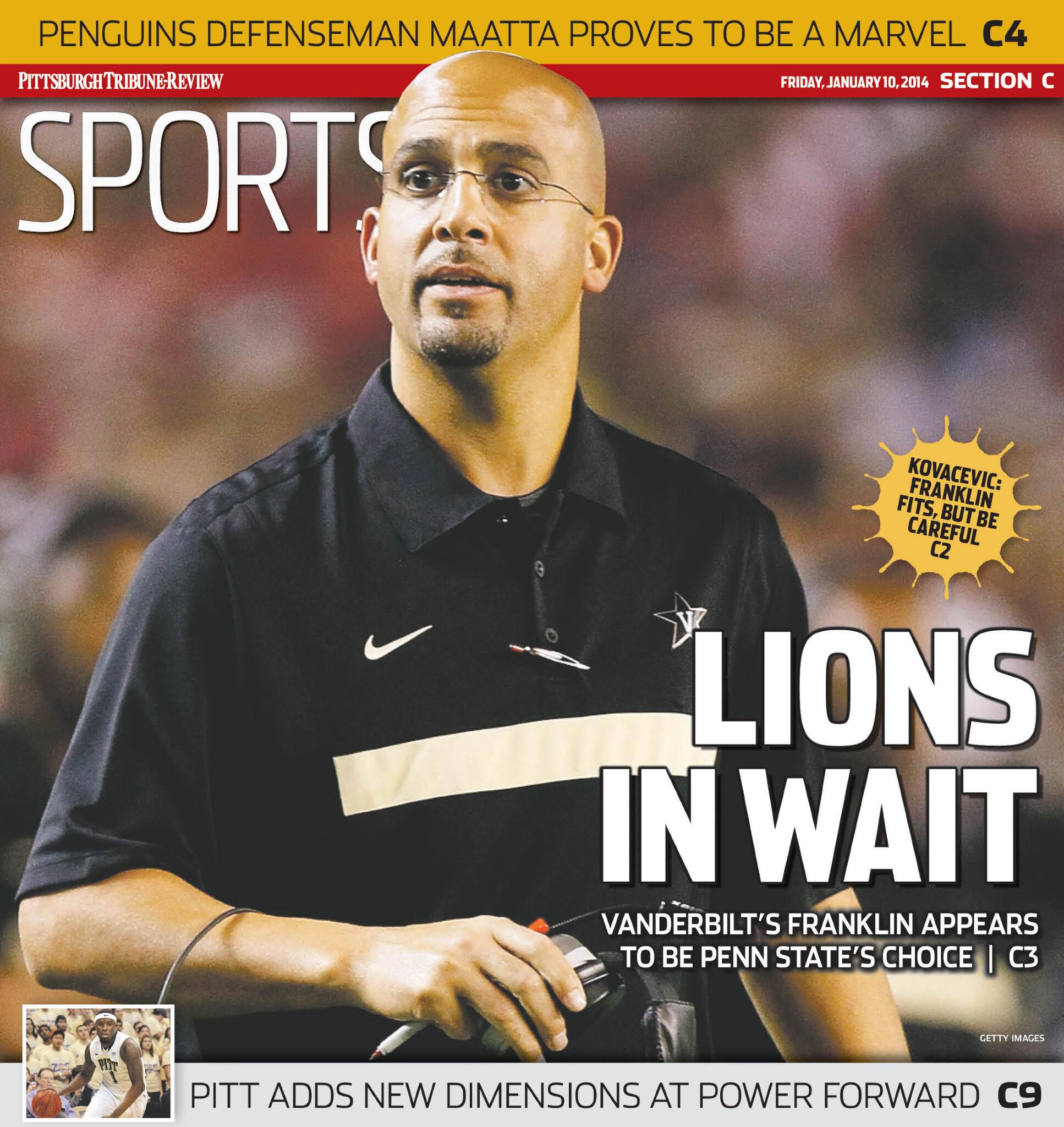 >> The Friday column expresses at least a measure of reservation about James Franklin at Penn State, but not enough to call against his becoming coach.
How do you feel about Franklin, the baggage he'd bring and what it might mean for the Nittany Lions?
News coverage of the coaching search is by beat man Chris Adamski. And until there's a resolution to this process, which actually has been very quick but still seems so long, that's the file that will keep getting updated on our site. >> The Pro Football Hall of Fame reduced its field to 15, again including Jerome Bettis. Alan Robinson reports.
And unlike one its Hall of Fame peers, it did so without a national outcry of angst and navel-gazing by its voters. It just did the job.
Anyway, if you look over that list, Bettis looks like he's at least got a shot at one of the five inductee spots. Myself, I'd take Michael Strahan, Walter Jones, Charles Haley, Derrick Brooks and … well, either Bettis or Marvin Harrison. That's not an attempt to identify who I'd want in but, rather, who I think will get in, and it really isn't easy.
The catch is, Canton likes players to stand in line by position, if you will. In other words, if you're a receiver, you wait your turn for the receivers ahead of you to get in, barring someone exceptional. That's one reason I like Jerome's chance. He's the No. 6 rusher of all time, and the only backs in history among the top 11 who aren't in the Hall are Bettis and LaDainian Tomlinson, who isn't eligible yet. Well, L.T. will get in, and so will Jerome. Just a matter of time.
But hey, never mind all that. Who wants to talk about the potential inductees when we can put on a witch hunt for that one nutcase who dared to turn in a ballot we didn't like?
Here's the Pro Football Hall of Fame's official page.
And for more Steelers, Robinson has an insightful blog item about Ben Roethlisberger's contract status.
>> Really enjoyed the underlying tale of this Olli Maatta feature by Josh Yohe, who's with the Penguins in Edmonton for their faceoff tonight with the Oilers.
Here's our full Penguins coverage.
Here's Oilers news from the Edmonton Journal.
Here are official game highlights from NHL.com.
>> Pitt's young power forwards prepare for Wake Forest at the Pete tomorrow. Kevin Gorman reports.
>> The Pirates' minicamp ended yesterday morning, but Rob Biertempfel and Chris Horner filed one final video from Bradenton about minor-league depth …
>> I'll check in with TribLIVE Radio at 11:30 a.m. And at noon, we'll do our weekly chat right here on this blog. As always, as soon as you see the post, you can submit entries in the chat field. (Not the comments section, please.)