By Dejan Kovacevic | Trib Total Media
Morning, Lunatics …
>> Spent much of Monday in planning meetings for the Olympics and Bradenton and NCAAs and Winnipeg and beyond. Some might be surprised at how far out a lot of stuff has to get set up, especially as it relates to travel and other logistics.
And that's not even mentioning Stanley Cup playoffs, which in the past have eaten up April and May.
I'll share our Olympic plans with you in this space a week from today.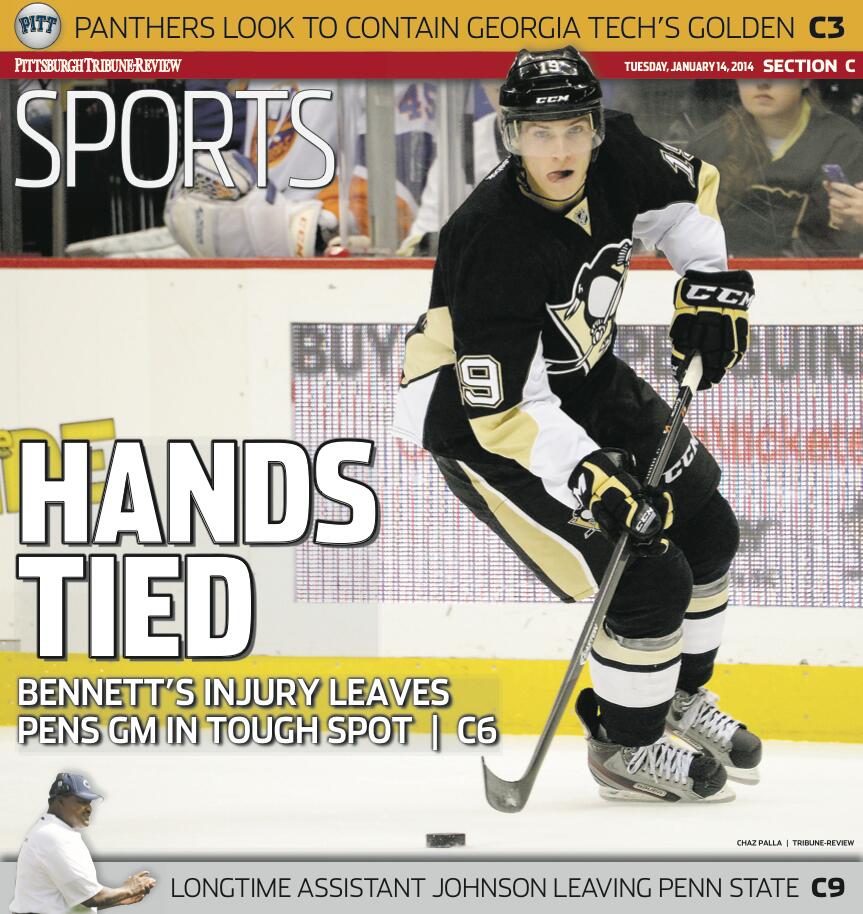 >> Speaking of long roads ahead, Beau Bennett's long-term injury has put the Penguins in quite the quandary, Rob Rossi reports.
Here's our full Penguins coverage.
Here's Capitals news from the Washington Post.
Here are official game highlights from NHL.com, including the Jets' rousing debut under Paul Maurice. Sometimes it really is the coaching. We'll see in this case.
>> Pitt tips off against Georgia Tech tonight in Atlanta. Kevin Gorman will be there.
>> Antonio Brown makes All-AFC, by Alan Robinson.
Here are official game highlights from NFL.com.
>> Clint Hurdle talks Pirates with the fans. Travis Sawchik crashes the party.

>> Larry Johnson Jr. leaves Penn State football. Chris Adamski spoke with him.
More on Penn State from John Fedko and John Steigerwald, head-to-head on TribLIVE Radio yesterday …
>> Best wishes to my man Radio Wave, who bid us farewell in the comments here yesterday. I won't find words to tell you how much I've appreciated his contributions over the years — always critical in the very best sense of the term — as well as the work he did with our tech people to help others like him who have to work a little harder to connect with the Internet world. He's been tremendous. He'll be missed.
>> I'll be back with the TribLIVE Radio show tomorrow, as well as day-long coverage of Penguins-Capitals over at Consol.