By Dejan Kovacevic | Trib Total Media
Morning, Lunatics …
>> The TribLIVE Radio show today — 2-3 p.m. — will feature you. Again. We opened last week's show with a ton of calls, and really good ones at that. That's how I'd like to get started every week, by hearing from you and having a conversation about any topic at all.
So do it. Call me at 412-320-7925.
Feel free to email sportstalk@tribweb.com if you can't call. But I'd really rather hear from you.
At 2:30, we'll tackle the topic of Pitt football recruiting and how it might respond to James Franklin throwing down the dominate-the-state gauntlet the other day at Penn State. Our Pitt football beat writer, Jerry DiPaola, will visit in studio to discuss.
I'll also catch you up on the latest from Consol after covering the Penguins-Capitals morning skate.
And, of course, more wit and wisdom from our @SuckMeter.
To listen, just click on the link up top. If you're mobile, try the TribLIVE Radio app.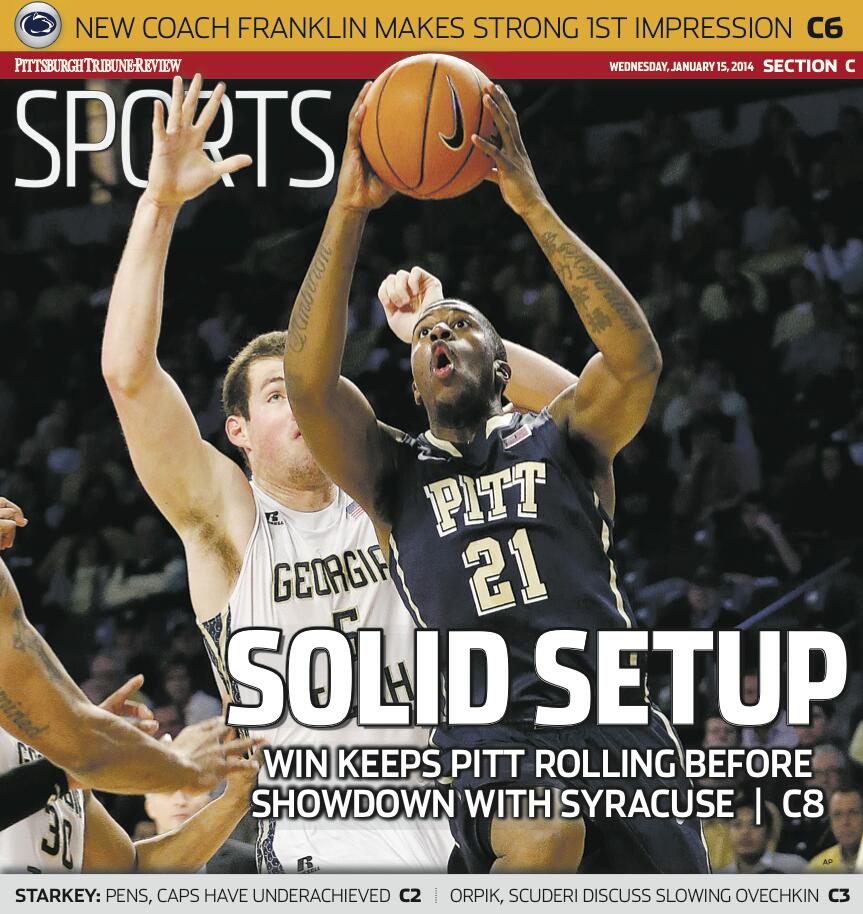 >> Pitt shakes off a sluggish first half to shoot down Georgia Tech. Kevin Gorman reports from Atlanta. The Panthers had to be just delighted to see James Robinson, in particular, step up as he did.
That said, no one player will replace Durand Johnson, by Gorman.
Here's our full Pitt coverage.
>> The Penguins face off against Alexander Ovechkin and the Capitals tonight at Consol, and Rob Rossi breaks down how a defense schemes to shut Ovi down.
What happened to those classic Pens-Caps matchups? Columnist Joe Starkey asks.
Here's our full Penguins coverage.
Here's Capitals news from the Washington Post, including coverage of their lost last night to the Sharks by shootout.
Here are official game highlights from NHL.com.
>> Penn State players love Franklin, by Chris Adamski.
Also, Bill O'Brien rejects the notion that the Paterno Wackos drove him out of Happy Valley. Which I found curious considering I can't recall that case ever really having been made. Unless I missed something.
>> The Steelers' local TV ratings were down but still great, by Alan Robinson.
Also from Robinson on the Steel Mill blog, a contractual quandary involving Cam Heyward.
Interesting stuff yesterday from Ike Taylor on learning about the media by being part of TribLIVE Radio for so long …
Here are official game highlights from NFL.com.
>> The Pirates will invite top pitching prospect Jameson Taillon to the big-league camp in spring training, by Rob Biertempfel. Main goal with such moves always is to keep that pitcher near Ray Searage for as long as possible.
>> Hope to hear from you on the show. The Thursday column will be off Penguins-Capitals.