By Dejan Kovacevic | Trib Total Media
Morning, Lunatics …
>> The Friday column visits with Jamie Dixon and the Panthers before their trip to face No. 2 Syracuse tomorrow, and it comes an odd conclusion about a team that can't shoot.
Here's a video of Dixon and Cam Wright talking about unselfishness …
Random blogginess from the scene: Dixon isn't exactly the boastful sort, but neither is he timid about what he's done at Pitt. Raise any kind of topic about the program in general, and he'll proudly roll through a litany of numbers to back all the winning he's done. Here, check this out from last night after the practice, the topic being Pitt and Syracuse entering the ACC on top: "I think when they brought our schools in, they wanted the best they could get." It's a fine line, but one he walks well. … This was cool, too, on if Dixon ever ribs Jim Boeheim about his outstanding record against the Orange — 10-4 overall, 5-1 at the Carrier Dome — over the years: "When I'm around Coach Boeheim, he does most of the talking, and I'll just listen. My dad told me a long time ago you learn a lot more that way, and Coach Boeheim has done a lot of winning." … Wright was so adamant that no Pitt players are looking ahead to all the drama of Duke and North Carolina over the next month that he insisted: "Honestly, I have no idea even what our schedule is, what the dates are. I just ask when the next game is." … Fun matchup for me Saturday will be Talib Zanna against Rakeem Christmas, who's got an inch and about 15 pounds — maybe more based on what I saw last season — on Zanna. Zanna's been more athletic against bigger men this season and, in that sense, he's been Pitt's toughest player. But it'll still be a challenge to get all the offensive boards Pitt's been getting. … Watch for Josh Newkirk to get a little more time than usual. If James Robinson is busy tracking point guard Tyler Ennis — and he should be — Newkirk might be asked to contribute more even as they share the floor.
Here's the Trib's Pitt page for more.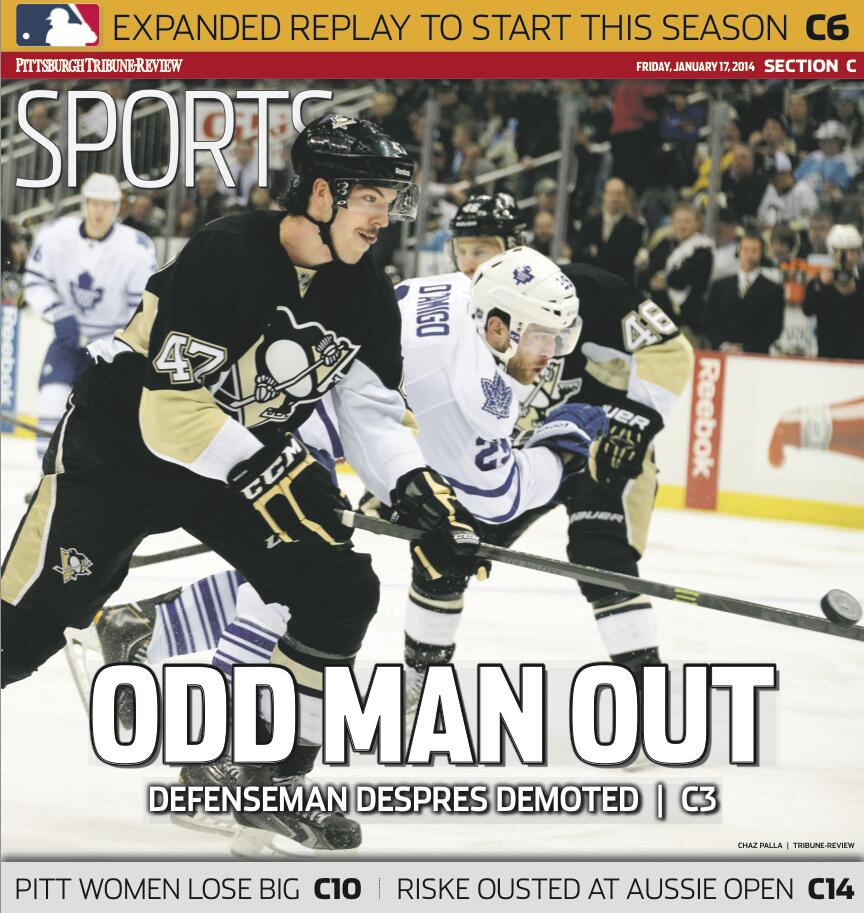 >> Simon Despres is back in Wilkes-Barre for a reason, Rob Rossi reports.
And if any of you happened to catch that little hint I dropped here on the blog yesterday, you won't be surprised by any of what he said to me hours before that demotion …
I taped that interview for a Monday column I'm writing on the Penguins' defense, but it was nullified by the demotion, so there it is. Again, I stress, it was done before the demotion at the Wednesday morning skate.
Here's our full Penguins coverage.
Here's Panthers news from the Fort Lauderdale Sun-Sentinel.
Here are official game highlights from NHL.com, including one of the most unreal saves ever, courtesy of the Preds' Carter Hutton …
>> I'll check in with TribLIVE Radio. at 11:30 a.m., and shortly thereafter we'll do the weekly chat at noon right here on this blog.