By Dejan Kovacevic | Trib Total Media
Morning, Lunatics …
>> The Thursday column is about Curtis Bray. He's a name all of Western Pennsylvania should have gotten to know, but his career was cut short and, yesterday, tragically, his life.
The news obituary is by Jerry DiPaola.
And here is the news coverage of the Ames Tribune, hometown newspaper of Iowa State.
My deepest condolences to the Bray family as well as his extended family and friends at Gateway High School, Pitt and beyond.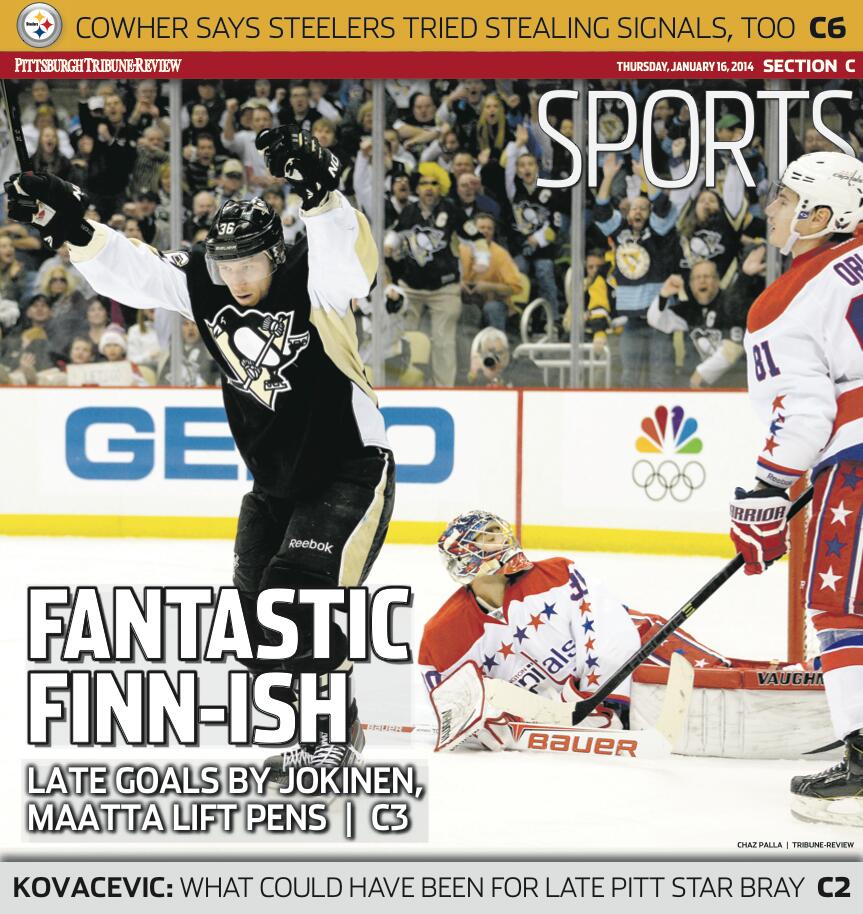 >> Olli Maatta is fantastic.
Hate to be a broken record on this, a broken record on this, a broken record on this, but this extraordinary 19-year-old's confidence is almost an exact match for his skill level. We saw it again last night with two spectacular dekes that savaged diving Washington defenders, one of which netted the late winning goal.
The game story covers that, by Josh Yohe.
I tweeted right after the first of those two moves that it reminded me of Nicklas Lidstrom, the Red Wings' all-time great, but I wanted to check with Maatta himself …
Random blogginess from the scene: I ran the move past Sidney Crosby, too, and this was his assessment: "The thing is, when he does it, he can swing really wide with that long stick. It really changes the lane." … Crosby had one assist and four shots — both terribly ordinary numbers for him — but his overall game was just wonderful. Made plays all over the ice, most of which didn't bear fruit through no fault of his own. … How about Alexander Ovechkin slashing Evgeni Malkin near the hands in the third period? I mean, seriously, these two talk openly about looking forward to being teammates in three weeks with the Olympics being on their home soil, and nothing stops them from going at each other. And be very sure Malkin would do likewise. … Strong overall showing from Taylor Pyatt, and not just in his critical role on both Maatta plays with a goal and a screen, respectively. He was tough all over. I'm told the coaching staff also liked his work in Calgary the previous game. … Simon Despres wants to play. Badly. … Kris Letang is … ah, I don't even know how to finish that sentence anymore. You saw it. … It took a while, but Brandon Sutter gradually got more comfortable with Crosby and Chris Kunitz. His style really doesn't match up. When he's on the right side, he's all up and down like a winger from the 1970s. That's not a knack. It's just his style. Crosby and Kunitz like to criss-cross all over the rink. We'll see. … The Capitals look really stupid having about a third of their team wearing numbers in the 80s and 90s. Seriously, Jay Beagle at No. 83? … Loudest standing O of the year went to … Dan Bylsma? You bet. Place was rocking as he was recognized for being the Penguins' all-time winningest coach. Best of all was the cutaway to Eddie Johnston up in the box, giving the thumbs up and getting a roar of his own. … Your hockey team is 20-3 on home ice. Grasp that.
Malkin, Ovechkin, Sochi and more, by Rob Rossi.
Here's our full Penguins coverage.
Here's Capitals news from the Washington Post.
Here are official game highlights from NHL.com.
>> Eyebrow-raising remarks about Spygate from Bill Cowher, by Alan Robinson.
Art Rooney II just keeps talking and talking. Robinson keeps listening and, in this case, underscoring the strongest remarks to date about Troy Polamalu's immediate future.
>> Duquesne takes on another tough foe, takes down another loss to St. Joe's, by Aaron Bracy in Philadelphia.
>> Pitt's shown some character in Durand Johnson's absence, by Kevin Gorman.
>> Christian Hackenberg reaffirms his commitment to Penn State, by Chris Adamski.
>> I'll be hanging around Pitt hoops today, but only after the usual 11:30 a.m. check-in with TribLIVE Radio.