By Dejan Kovacevic | Trib Total Media
Morning, Lunatics …
>> The Monday column is something I haven't tried before, basically a stream of random thoughts triggered by one thing. It's strange. If you really, really hate it, I probably won't do it again.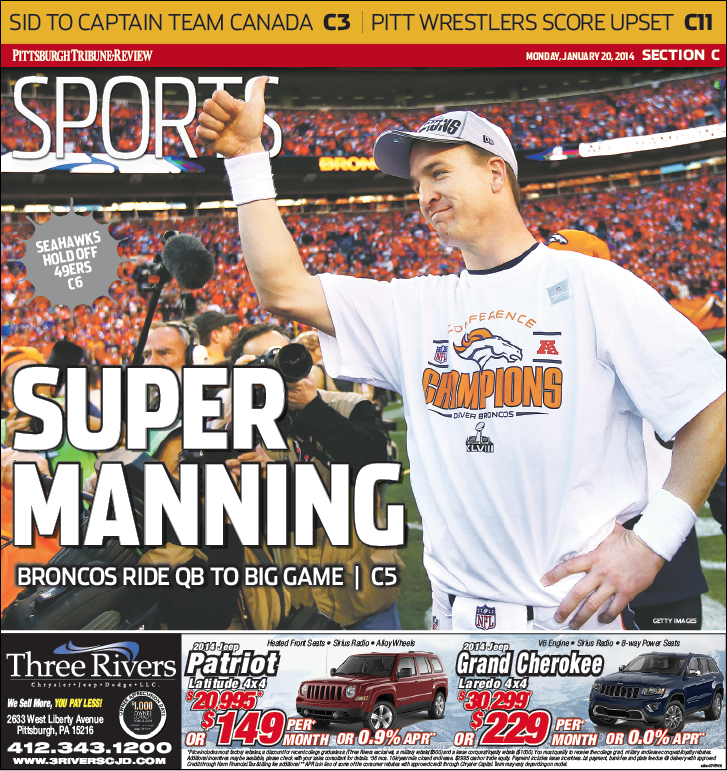 >> It'll be Broncos and Seahawks in the Super Bowl, you might have heard.
I had Denver and San Francisco, which very nearly came about, but there can't be any doubt these were the two most expected outcomes not just leading into these NFL championship games but, really, for a big chunk of the season.
Good. That's how it should be. Cinderella stories can be fun in any sport, but I prefer mine in the early rounds. When it comes down to the greatest American sporting event of all, I'll take the two best.
All kinds of narratives are bound to emerge — or enlarge, as I'm sure will be the case with Richard Sherman's shenanigans last night — but I can't envision anything superseding the matchup of Peyton Manning vs. the NFL's No. 1 pass defense when talking actual football. And yeah, Sherman will be part of that, too.
If only this game would get a little publicity, maybe more people would pay attention.
On the home front, the Steelers' offense should stay stable, by Alan Robinson.
Also, could wide receiver be a first-round option?
Here are official game highlights from NFL.com.
>> Sidney Crosby will be Canada's captain in Sochi, by Rob Rossi.
Also, if you missed it Sunday, Rossi had an in-depth look at Marc-Andre Fleury.
Here's our full Penguins coverage., including all you need to know about tonight's visit from Florida.
Here's Panthers news from the Fort Lauderdale Sun-Sentinel.
Here are official game highlights from NHL.com.
>> Lauryn Williams, pictured above with bobsled partner Jamie Greubel, joins the seven Penguins as representing Pittsburgh in  Sochi. She'll also be among only 10 U.S. Olympians in history to compete in both the Summer and Winter Games, this time in the bobsled. If she medals, she'll be among a group of six at most.
Not bad for an undersized sprinter out of Rochester, Beaver County. Here's a recent Trib piece by Karen Price on her background.
I covered Lauryn's first Games in Athens, where she won silver in the 100 meters, and look forward to the surprising sequel.
Here's the official USA Bobsled and Skeleton page, and here's Lauryn's official Twitter account.
>> Pitt looks at life after Syracuse, by Kevin Gorman.
Here's our full Pitt coverage.
>> James Franklin is leaving gauntlets everywhere he goes. Now, he's hired Terry Smith of Gateway and Penn State fame. Few collegiate coaches would know Western Pennsylvania better. Chris Adamski reports.
>> I'll check in with TribLIVE Radio. at 11:30 a.m.
Oh, and if you missed last night's Subway Final Word, I was joined by Robinson, Mark Madden and Bill Phillips to discuss lots of the above.