By Dejan Kovacevic | Trib Total Media
Morning, Lunatics …
>> Off on Tuesdays, as always, so I'll just get out of the way here …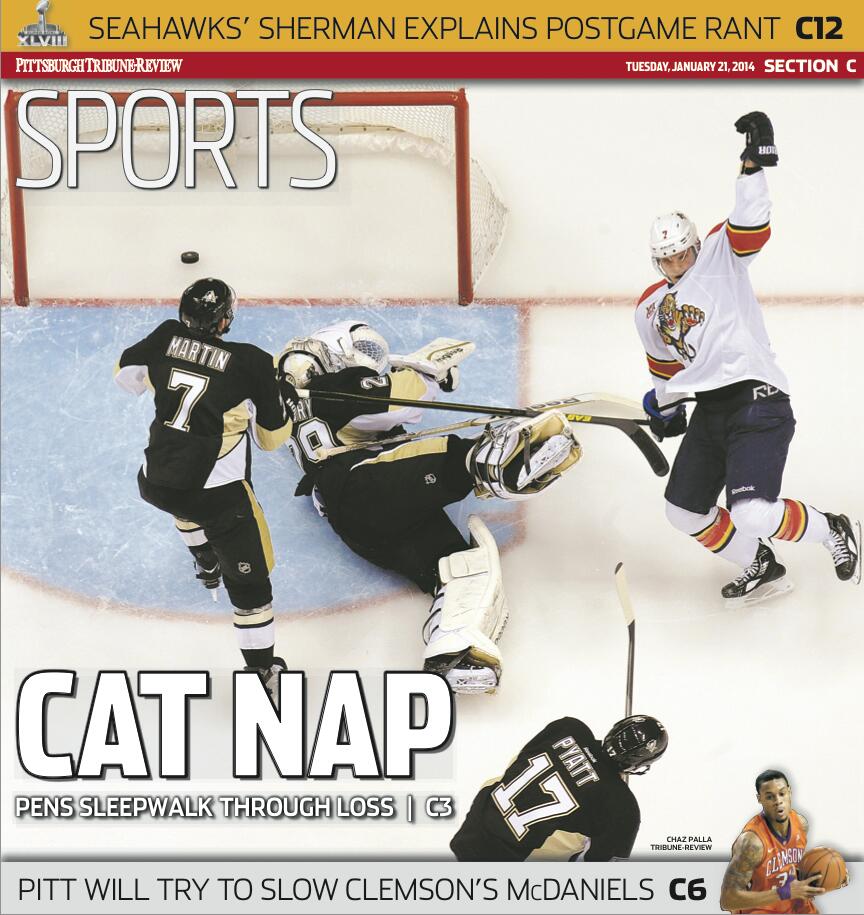 >> The Penguins' 13-game home winning streak went thud with a dud against Florida, by Rob Rossi. And really, isn't that how most of the really streaks wind up, or is that just my imagination?
Here's our full Penguins coverage., including all you need to know about tonight's visit from Florida.
Here's our photo gallery from Consol, by Chaz Palla and Chris Horner.
Here's Panthers news from the Miami Herald.
Here are official game highlights from NHL.com.
And completely as an oh-by-the-way, here's a talk I had with Robert Bortuzzo about the organization's remarkable depth on defense …
>> The NHL is run by cowards.
The John Tortorella punishment sounds about right. He had no business being where he was at that time. I get that.
But to me, the bigger issue remains that the Flames institutionally initiated a line brawl at the opening faceoff, and all that came down was a $25,000 fine for Bob Hartley. As if the head coach came up with this one unilaterally. It's a joke, just as Hartley's expression of innocence last night in San Jose was a joke, just as Brian Burke claiming to be 'perplexed' is a joke. And the one getting the last laugh is Burke, the very-much-hands-on team president who publicly stated recently that the Flames needed to get tougher, then gets to stay behind the curtain and watch it all unfold.
The argument being made in Hartley's favor is that, gee, how can you punish a coach for starting his fourth line?
That isn't the issue. The issue is that the fourth line initiated a line brawl. That's it. Two official seconds ticked off the clock before the fights began. And it doesn't take Scotty Bowman to determine which team is the instigator when the visiting team submits its opening lineup card first.
It's as simple and obvious as it gets. Unless, of course, you don't want to see it and would prefer to avoid Burke questioning your manhood.
>> Pitt doesn't get a chance to lament Syracuse with Clemson and K.J. McDaniels in the house tonight. Kevin Gorman previews.
Here's our full Pitt coverage.
>> Aaron Donald had a monster Senior Bowl practice, Jerry DiPaola blogs. And if you prefer proof before clicking, here he is destroying poor Cyril Richardson of Baylor …
>> Curtis Bray's cause of death revealed, by DiPaola.
>> Getting rid of the extra point? Wow, NFL, really?
>> The Browns get a sixth Pro Bowl player? Wow, NFL, really?
>> Richard Sherman's still being discussed? Wow, world, really?
Here are John Fedko and John Steigerwald having at the topic on TribLIVE Radio yesterday …
>> The Ford City girls' basketball team beat Leechburg, 56-0, last night. A shutout in hoops! Amazing under even the wildest, weirdest of circumstances.
My feeling on lopsided amateur athletics always has been the same: Get better or get out of the business. But don't put youngsters in a position to get publicly humiliated like that.
>> My TribLIVE Radio show is tomorrow at 2 p.m. I'll also be covering Penguins-Habs for the Thursday column.