By Dejan Kovacevic | Trib Total Media
Morning, Lunatics …
>> The TribLIVE Radio show today — 2-3 p.m. — will feature you. Again. We opened last week's show with a ton of calls, and really good ones at that. That's how I'd like to get started every week, by hearing from you and having a conversation about any topic at all.
So do it. Call 412-320-7925.
Feel free to email sportstalk@tribweb.com if you can't call. But I'd really rather hear from you.
What's more, at 2:30, we'll try to figure out what the Pirates are hoping to accomplish this offseason with Trib beat writer Rob Biertempfel. I'll catch you up on the latest from Consol after covering the Penguins-Canadiens morning skate. And, of course, more wit and wisdom from our @SuckMeter.
To listen, just click on the link up top. If you're mobile, try the TribLIVE Radio app.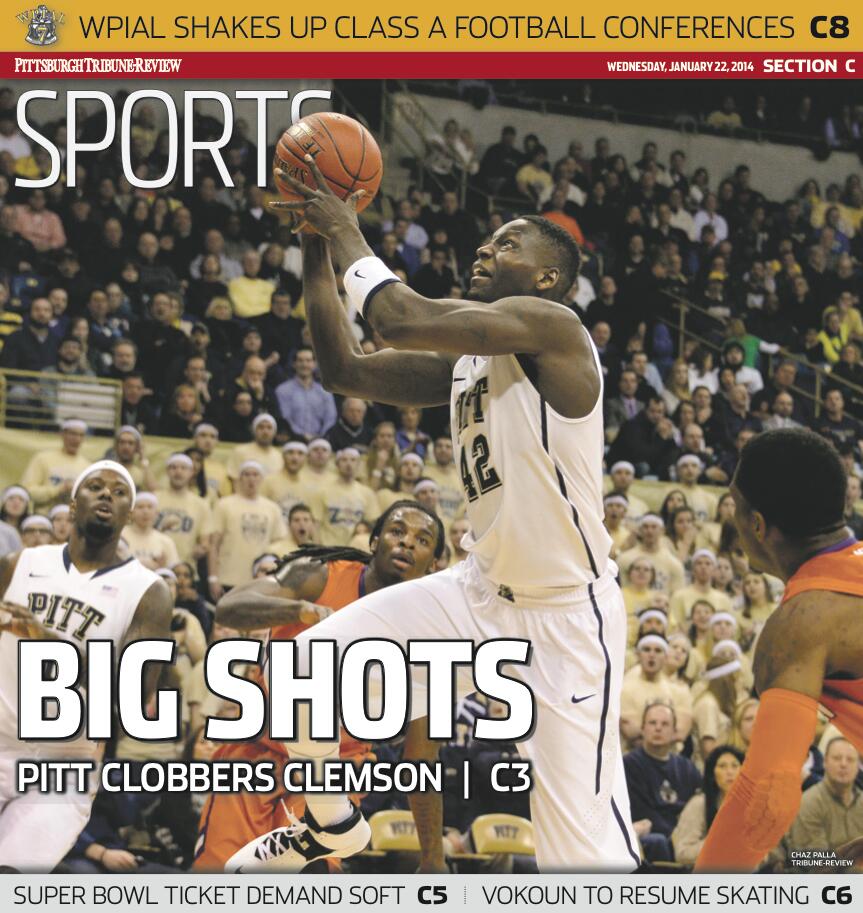 >> Pitt completely crushes Clemson despite both teams entering with 4-1 ACC records and despite Clemson having some superlative defensive numbers, by beat writer Kevin Gorman.
I was up there, as well, and here are some postgame questions I had for Talib Zanna, Jamie Dixon and Clemson coach Brad Brownell …
Random blogginess from the scene: Brownell described Pitt as having 'elite passers,' which isn't a term you hear much in basketball. He actually used it twice for emphasis, and he singled out James Robinson and Lamar Patterson. Found that striking. Maybe it's because we see them regularly or take what they do for granted. But Brownell isn't the only one to make such an observation. Some include Zanna in there, too. … Here's the thing: Someone's got to be doing something at an elite level to shoot 27 of 48 from the field and to have — get this 24 of those field goals attached to an assist. Brought this up in the Pistol Pitt column last week, but this team creates plays unlike any college team we've seen in these parts since … I don't even know. … Josh Newkirk coming up with 10 points and three assists is as dynamite a development from this game as any. Durand Johnson's absence was going to demand that someone step up sooner or later, and I've pegged Newkirk all along. … One ultra-cool play that summed up the game: Clemson's coaches were freaking out on their guys during a Pitt half-court set. Brownell's yelling and pointing. Another assistant doing likewise. A third assistant, too. And not one of them noticed Cam Wright sneak behind everyone for a back-door layup off a Patterson assist. Should have seen those guys just shut up and sit down. … One tiny negative? I really am not sure what Dixon is trying to get from Michael Young, but it's got to be more than watching everyone else play. Young wants no part of the offense. … Wonderful crowd. My goodness, if you've never seen hoops at the Pete, whether you're a grad or not, just go. Nothing like it in town.
Oh, and on a football note, the ACC will release its 2014 football schedule today at 3.
Here's our full Pitt coverage.
>> The Penguins got a pleasant surprise from Tomas Vokoun, by Josh Yohe.
Here's our full Penguins coverage., including all you need to know about tonight's visit from the Habs.
Here's Canadiens news from the Montreal Gazette.
Here are official game highlights from NHL.com, including Winnipeg — of all teams — ending Anaheim's amazing 22-game season-opening home winning streak.
>> The Steelers granted permission to running backs coach Kirby Wilson to interview for the Ravens' offensive coordinator vacancy, by Alan Robinson. Remember, Wilson was very much in line to replace Bruce Arians before his accidental burning. The granting of permission alone would strongly suggest management is feeling good about Todd Haley these days.
The NFL as flag football? Far from it, writes columnist Joe Starkey.
Here's what Ike Taylor had to say about fellow NFL corner Richard Sherman on TribLIVE Radio …
>> Pittsburgh's Olympic field finally appears set: Tom Wallisch, the Chartiers Valley grad and world champion freestyle skier, failed to make the U.S. Olympic team yesterday, Karen Price reports. That leaves our region with nine Olympians, the seven Penguins plus Rochester's Lauryn Williams in bobsled and Robert Morris' Brianne McLaughlin in women's hockey.
>> Really hope to hear from you today. The more callers, the more topics, the livelier the show. And thank you in advance.