By Dejan Kovacevic | Trib Total Media
Morning, Lunatics …
>> The Thursday column from Consol strikes up a conversation about trading Kris Letang. As always, very much welcome your thoughts on this. As the column attempts to make clear, this is anything but an open-and-shut case.
Meanwhile, on the ice …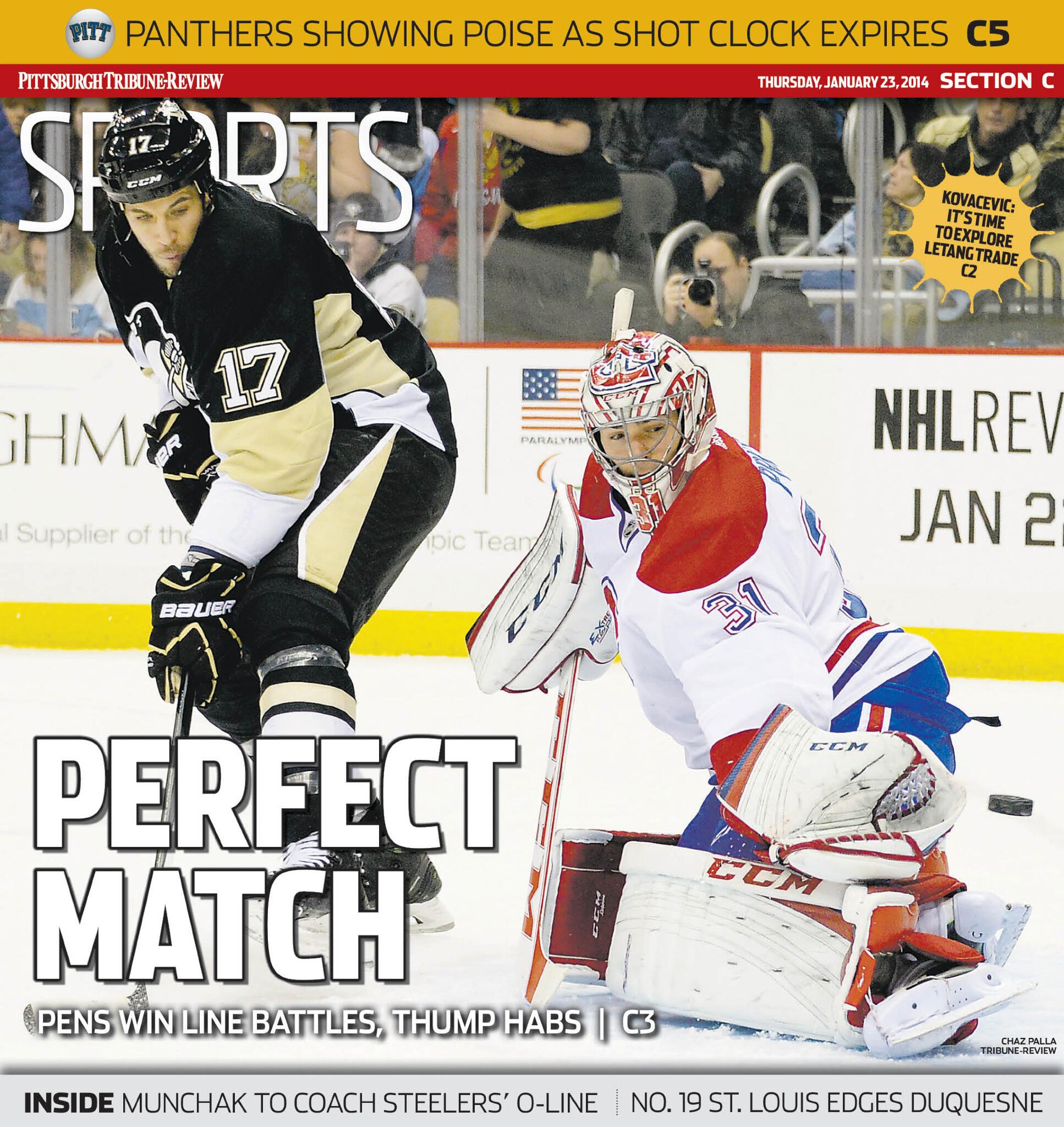 The Penguins embarrassed the Habs, by Rob Rossi. And then, in turn, the Habs embarrassed themselves.
Random blogginess from the scene: Really, Montreal generally has taken pride as a franchise not to instigate garbage like they did in the third period. But Marc Bergevin and Michel Therrien are at least somewhat old-school guys, and that's what we got from the bleu, blanc et rude. In particular, Brandon Prust's sucker punch of Brooks Orpik deserves scrutiny from the NHL office. … If you're wondering whether the behavior was born of frustration, you won't wonder after hearing from Rene Bourque that Evgeni Malkin 'looked like he was playing a video game out there every time he went around us.' Yeah, it did kind of look like that. … Malkin went around soon-to-be Sochi teammate Andrei Markov more often than anyone. Wow, was Markov awful. And that's actually about as gently as I can put that. … His partner wasn't much better: P.K. Subban was a minus-3 and took a couple dumb penalties. But in all candor, Subban was just cleaning up Markov's messes all night. … Marc-Andre Fleury was laughing about it afterward, but he had no business challenging Peter Budaj to a goalie fight. He's the very last player the Penguins can afford to lose for any span. … Fleury: 'If I'm going to fight, it's got to be now, not when I'm old.' Me: 'How old was Brent Johnson?' Fleury: 'Oh yeah.' … Give Kyle Rehman, the ref who chased down Fleury, tons of credit. Not only did he prevent injury — 'He was yelling, too, there was no way he was going to let me get hurt,' Fleury recalled — but he also made a fine recovery from being one of the two refs in that Flames-Canucks debacle the other night. Good for him. That's a damned tough job. … Has Jussi Jokinen's second goal hit the back of the net yet?
A little reaction from Letang to the team's defensive play …
And from Jokinen about striking early …
Here's our full Penguins coverage.
Here's Canadiens news from the Montreal Gazette.
Here are official game highlights from NHL.com.
>> The Steelers have chosen Mike Munchak as offensive line coach, Alan Robinson reports.
I'll get more into this myself as time passes, but I can share with you here that, based on some communication with the offensive line late last night, those guys are delighted with the move — Fernando Velasco played for Munchak with the Titans, obviously, and vouched for him to the others — but they're also concerned Munchak might not hang around. That's totally understandable, too. O-line coach is the last one you want to be turning over annually. Let's hope Mike Tomlin and Kevin Colbert made that a priority in their discussions.
Here's our full Steelers coverage.
>> Pitt's shooting at the shot-clock buzzer has been clutch, beat man Kevin Gorman writes.
The 2014 football schedule includes Thursday and Friday dates, by Jerry DiPaola.
Here's our full Pitt coverage.
>> Duquesne goes down by just four to No. 19 Saint Louis, by Chris Harlan at Palumbo. Jim Ferry commendably says afterward that he's 'disappointed' and that he 'expected to win this game.' This guy's good for the program.
>> THANK GOD THE YANKEES ARE OK. Our long national nightmare is over! The 'natural order' has been restored!
That and more in a ridiculous opening rant on my TribLIVE Radio show yesterday …
And later on, Rob Biertempfel and I talked Pirates …
>> I'll visit with TribLIVE Radio at 11:30 a.m., after which I'm planning to write a Friday column about the Pirates' offseason.