By Dejan Kovacevic | Trib Total Media
Morning, Lunatics …
>> The Friday column essentially collects a lot of thoughts about the Pirates' offseason to date — and no, I wasn't tempted to leave Page 2 blank in the Trib sports section — and it opens up with what I hope paints an enticing vision of what might be ahead one day this summer with a comparison to the Montreal Expos of the early '80s.
My thanks to Neal Huntington, Rene Gayo and others with the team for their help.
Here's video of beat man Rob Biertempfel and I going over a ton of baseball fodder on my TribLIVE Radio show …
Here's the new MLB.com Top 100 prospects list, which impressively includes six from the Pirates: Gregory Polanco (pictured above), Jameson Taillon, Tyler Glasnow, Austin Meadows, Alen Hanson and Josh Bell. The Meadows placement at No. 47 has to be the most pleasant surprise of all, for him to rocket up so quickly.
Here's a Bucco Blog entry about first base by Travis Sawchik.
Here's our full Pirates coverage.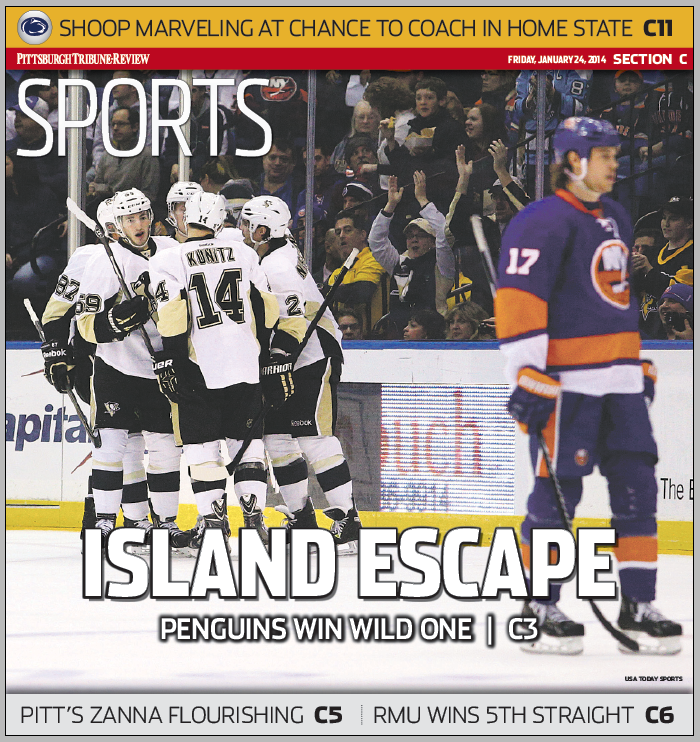 >> The Penguins and Islanders did that thing the Penguins and Islanders do, and the visitors eventually prevailed.
Here's our full Penguins coverage.
Here's Islanders news from Newsday.
Here are official game highlights from NHL.com.
>> Mike Tomlin says the Steelers are 'excited' to have Mike Munchak in the fold, Alan Robinson reports.
Here's our full Steelers coverage.
>> Talib Zanna keeps stepping up in his senior year at Pitt. Kevin Gorman writes.
Tickets for the Duke game are at a premium, by Bob Cohn.
Here's our full Pitt coverage.
>> I'll visit with TribLIVE Radio at 11:30 a.m., and shortly thereafter at noon, we'll have the weekly chat right here on this blog. When you see the post go up, you can submit entries right away. And please, place those in the actual chat field rather than the blog comments underneath.