By Dejan Kovacevic | Trib Total Media
Morning, Lunatics …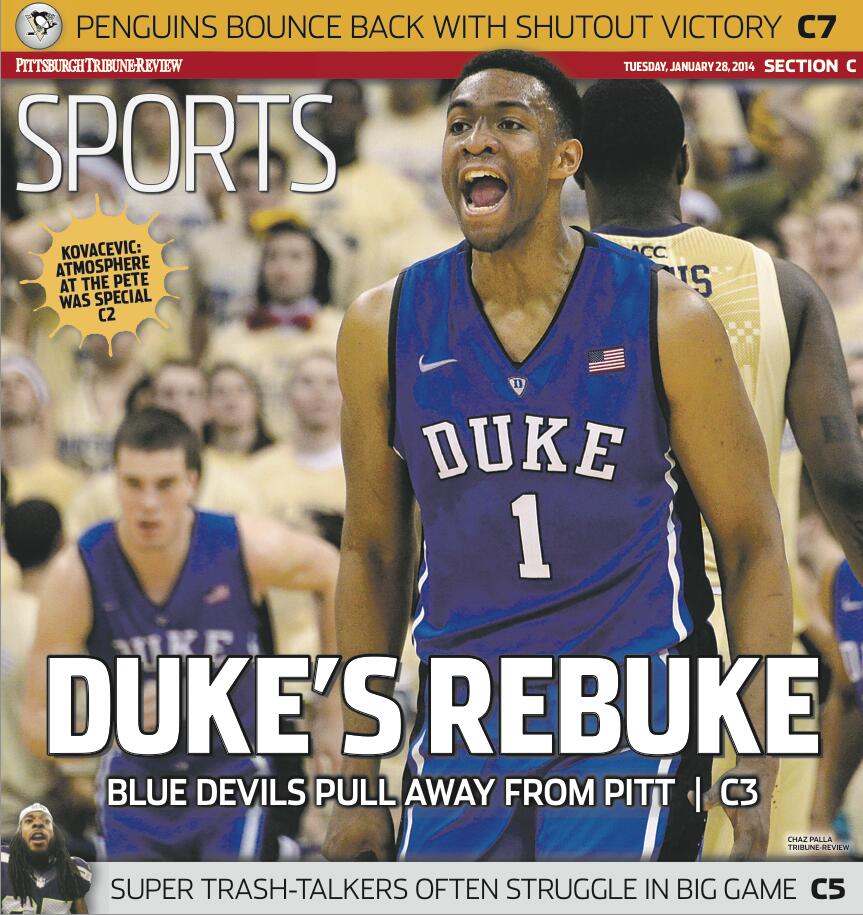 >> The Tuesday column from the Pete doesn't exactly defend Pitt's inability to defend Duke.
Here's a video I put together for the blog collecting questions I had for Lamar Patterson, Mike Young and Jamie Dixon …
The game story, by beat man Kevin Gorman.
Here's our full Pitt coverage.
Here's Duke news from the Raleigh News & Observer.
Random blogginess from the scene: There aren't many who have encountered Mike Krzyzewki without coming away impressed. I was that way after the London Olympics and that way again last night. And no, not just because he told a tale of his mother growing up near Uniontown by including an 'n at — for real! — like it just rolled off the tongue. Of the Pete, he said, "This is a spectacular venue. I was impressed with everything. It's a beautiful arena. There's a great spirit. What a great addition this is to the ACC." … Dixon scoffed at a question as to why Jamel Artis continues to play so little despite being productive — eight points in 12 minutes — while Young holds down a starting job while neither scoring nor really defending all that well. "This isn't about offense," Dixon said. … Just about the only Pitt player to perform to the quality level expected was Cam Wright. He had only nine points but also had four assists, three rebounds and a steal. Beyond that, he just looked comfortable the whole time. Not all of the Panthers did. … Legit question: How good is Pitt's roster at defending? Not the collective. The individuals. Other than Wright, who really stands out? … For the record, that was the most points, most field goals and most 3s allowed by Pitt in any game this season. … Dixon took a couple of fun jabs at Gorman during the press conference, and it was all in the right spirit. He tired of hearing questions about offense and said so. That said, the other facet of this game that went awry for Pitt was failing to take advantage of a Duke defense that had conceded an ACC-worst average of 36.7 points in the paint per game. Routine layups were missed and, coincidence or not, an ugly run of those early in the second half set Duke on its way. … Coach K was right: The building is fabulous, the atmosphere unreal. Can't even imagine what it would have been like had the game stayed close.
>> Deryk Engelland and Tanner Glass scored for the suddenly self-aware Penguins, and other assorted weirdness, by Josh Yohe a neighborhood away at Consol.
Here's our full Penguins coverage.
Here's Sabres news from the Buffalo News.
Here are official game highlights from NHL.com.
And here's what we had to say about the wisdom of trading Kris Letang on Sunday night's Subway Final Word on WPXI-TV …
>> Would Richard Sherman have been better off shutting up? History says yes, as it relates to the Super Bowl. Alan Robinson is in New York all week for the biggest event of all.
On that note, John Fedko and John Steigerwald had this neat talk on TribLIVE Radio about covering a Super Bowl for TV …
On the local NFL front, what really happened with the Steelers' recently departed assistants? Mark Kaboly gave the truth on his Monday TribLIVE Radio show.
Here's our full Steelers coverage.
>> I'm doing nothing today. Seriously, it might be less than nothing. I will, however, be back for my own TribLIVE Radio show tomorrow at 2 p.m. Assuming I wake up.