By Dejan Kovacevic | Trib Total Media
Morning, Lunatics …
>> The TribLIVE Radio show today — 2-3 p.m. — will feature you again. Call 412-320-7925. Feel free to email sportstalk@tribweb.com if you can't call. But I'd really rather hear from you.
What's more, at 2:30, we'll check in with Trib beat writer Alan Robinson at the Super Bowl in New York. And, of course, we'll have more wit and wisdom from @SuckMeter.
To listen, just click on the link up top. If you're mobile, try the TribLIVE Radio app.
>> A.J. Burnett will pitch in 2014, our Travis Sawchik reports in a Trib exclusive, and it won't necessarily be in Pittsburgh.
The Pirates look pretty bad right now, columnist Joe Starkey writes.
My thoughts on the team's offseason, expressed in last Friday's column, remain unchanged.
Here's our full Pirates coverage.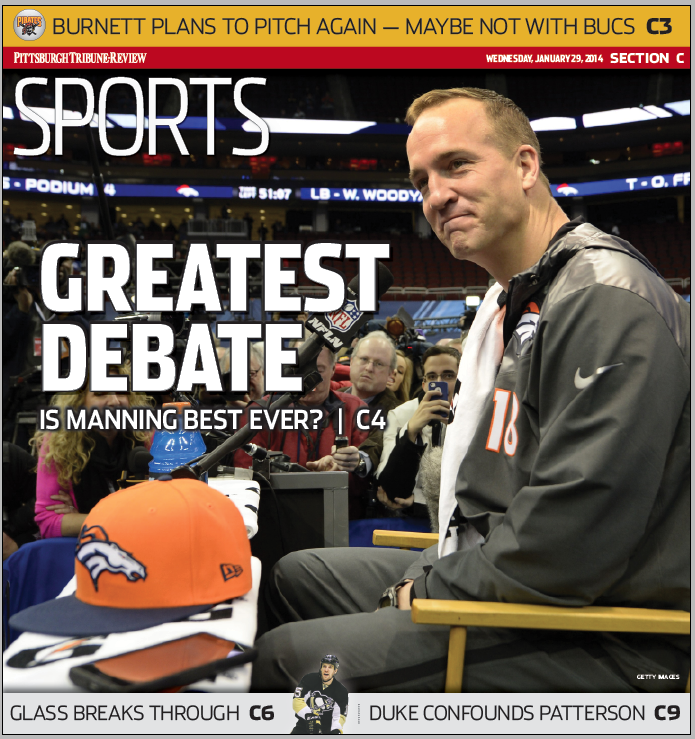 >> Peyton Manning, best of all time? Robinson writes that Sunday will go a long way toward furthering that debate.
On the local NFL front, the Steelers and Vikings essentially swap running backs coaches, by Robinson.
Ike Taylor talked Super Bowl on his TribLIVE Radio show …
Here's our full Steelers coverage.
>> Tanner Glass feels all the way back, by Josh Yohe.
Here's our full Penguins coverage, including Tomas Vokoun facing live shots at practice. What a boon his return could be.
Here's Kings news from the Los Angeles Times.
Here are official game highlights from NHL.com.
>> How Duke shut down Pitt's Lamar Patterson, by beat man Kevin Gorman.
Here's our full Pitt coverage.
>> Hope to hear from you on the show!