By Dejan Kovacevic | Trib Total Media
Morning, Lunatics …
>> The Sochi Olympics are only a week away, so I'll be spending most of the next few days preparing. Because of that and the extra Pitt-Duke game column Tuesday, there won't be another until an Olympics preview piece Sunday.
Seems as good a time as any to share what to expect from the coverage:
>> Column every day, beginning to end.
>> Emphasis, as ever, on Pittsburgh. It's kind of what I do. We've got seven Penguins, as well as Rochester's Lauryn Williams in the bobsled and Robert Morris' Brianne McLaughlin in women's hockey. Where they go, I go. At the same time, I'll also get around to some of the higher-profile events and look at broader issues.
>> Blog entries right here, including all the usual Morning Java fare, game threads for events over there and back home.
>> A daily video from the Olympic oval or the mountain snow venues, depending on the coverage that day. I have a new Trib Total Media jacket for this. It's sporty.
>> Weekday reports for TribLIVE Radio that will air during our morning show with Ken Laird and Guy Junker, as well as being made available through podcast. If you're mobile, try the TribLIVE Radio app.
>> One other thing. Can't talk about it yet.
The best way to enjoy any Trib stuff is in print, and this won't be an exception. Our staff will produce roughly a half-dozen pages a day that summarizes the Games as a whole in a terrific package.
There's nothing like covering an Olympics, and that holds true even if there are no Starbucks in the entire region, even if black widows are threatening to blow things up. It'll be my fourth Games, and I couldn't be more proud to represent our company there.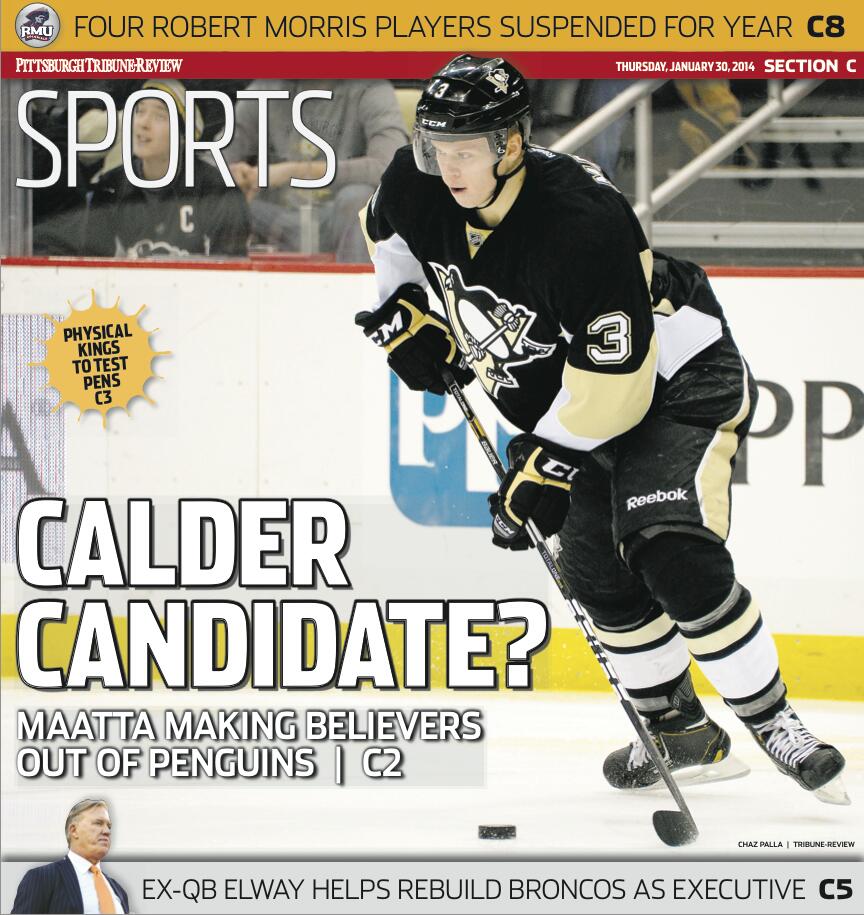 >> Olli Maatta for the Calder? Josh Yohe examines the field.
The NHL's top rookie almost always goes to the top scorer, and there's no reason to envision that changing anytime soon. Maatta won't have numbers, not even arcane stuff like plus-minus, so you'd have to count on voters watching a ton of games (not easy when traveling around on a beat) or word of mouth (conceivable, but not as powerful as numbers).
We'll see. The kid absolutely merits consideration.
Here's our full Penguins coverage, with Rob Rossi following the team on this two-game Western swing.
Here's Kings news from the Los Angeles Times.
Here are official game highlights from NHL.com.
>> John Elway is making another Super Bowl splash, by Alan Robinson in New York.
Here's our full Super Bowl coverage.
>> Penn State hoops rarely are all that great, but they do seem to come up with big upsets such as D.J. Newbill's OT buzzer-beater to put down No. 24 Ohio State last night in Columbus.
>> Duquesne rallies on the road past NJIT, by Aaron Bracy in spectacular Newark. Another big night for Ovie Soko.
>> Problems for Pitt beyond the defense, laid bare by beat man Kevin Gorman.
>> I'll check in with TribLIVE Radio at 11:30 a.m. The weekly chat will be tomorrow at noon.