By Dejan Kovacevic | Trib Total Media
Morning, Lunatics …
>> The weekly chat will begin at noon right here on the blog. Once you see the post, which is usually 8-9 a.m., you can submit entries. Just please be sure to do so inside the actual chat field and not on the blog comments.
>> I'll take the Broncos, 31-20, and I won't overthink it.
Seattle's defense is a statistical match for Denver's offense, at least in numerical rankings, but no defense is a match for this extraordinary level of Peyton Manning we've seen all year. You know, the one with 55 touchdowns and 10 picks. And double that factor when Manning gets two full weeks to prepare himself and his receivers for any single opponent.
Sorry, but barring injury, I'm not inclined to go a whole lot deeper than that. Manning is one of the great quarterbacks of all time, and this will cement that legacy — and silence his critics — with his second Super Bowl ring.
Enjoy the show. That'll be a master at work.
Our Alan Robinson is covering the Super Bowl, and he wonders this morning if the Seahawks' offense can keep up?
The NFL had a concussion drop, by Robinson.
Here's the Trib's Steelers page.
Here's the NFL's official Super Bowl page.
>> The Penguins were stirringly efficient in burying the Kings very late last night, thanks in large part to three rapid-fire points from Jussi Jokinen. Rob Rossi reports from Los Angeles.
Here's our full Penguins coverage, including a fun feature on the Kings' Dustin Brown, a player you might love in a couple weeks.
Here's Kings news from the Los Angeles Times.
Here are official game highlights from NHL.com.
Oh, and here's the cover of today's Sovietski Sport, Russia's premier sports section, with a familiar face out there …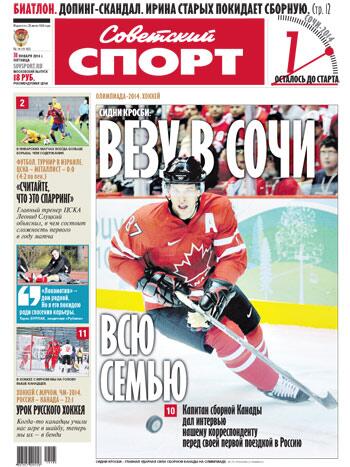 >> The Riverhounds' 2014 schedule opens where the last one ended, Orlando, and it's got a Highmark Stadium opener of April 12. Matt Grubba looks ahead.
Here's the full schedule from USLPro.com.
>> The Sochi Olympics are only six days away, and I'll have an extra-length column Sunday previewing the Games from all major angles.
>> I'll check in with TribLIVE Radio at 11:30 a.m. The chat will follow shortly thereafter.