By Dejan Kovacevic | Trib Total Media
SOCHI, Russia — Доброе утро, Lunatiks …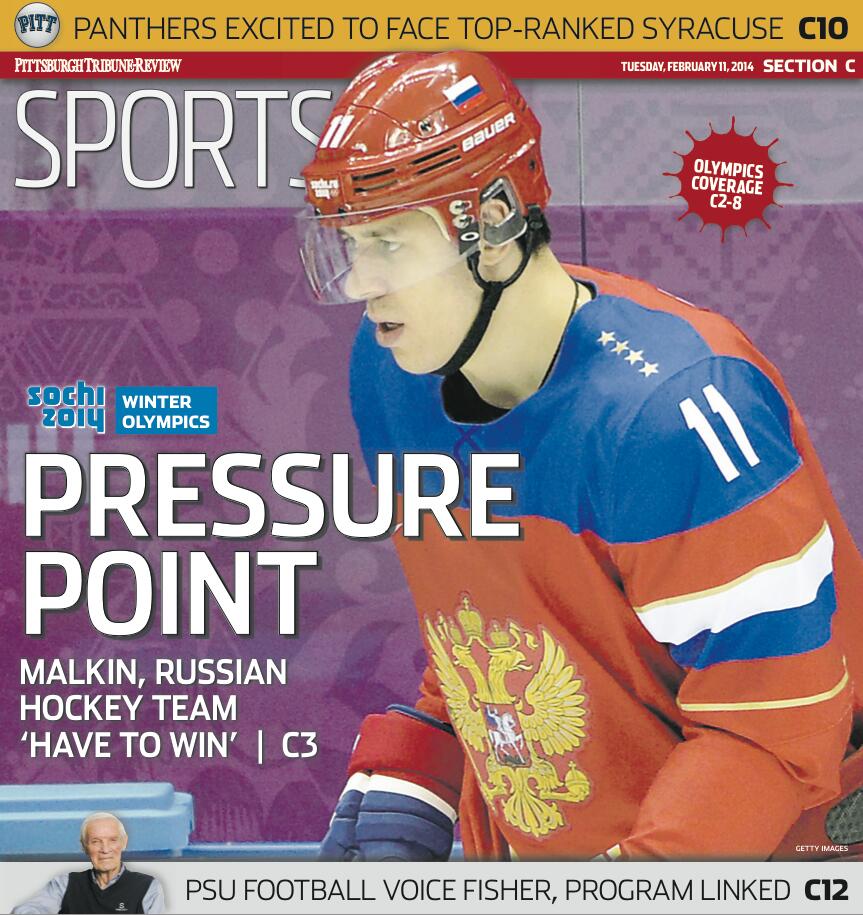 >> The Tuesday column wonders if Evgeni Malkin and his Russian mates have any clue as to what's in store for them here.
Sidney Crosby is ready to be Captain Canada.
The Sochi Hockey Notebook debuts with Ray Shero becoming acting GM, Brooks Orpik looking out of the picture and more. There will be one of these every day for the duration of the Games, written from a Pittsburgh angle.
Here are all four videos I've shot for Channel 11 News so far, including the latest about the Russian passion for winter sports …
The gentleman briefly interviewed there isn't identified graphically, but he's Maksim Krupin of St. Petersburg. When he saw my credential, he laughed and said people often confuse his city's name with Pittsburgh.
I'm also doing weekday audio-only reports for TribLIVE Radio, and the one yesterday was also about pucks. They'll all be about three minutes long.
Here's the Trib's Olympics page.
Here's the official Sochi 2014 page.
Here's the official U.S. Olympic team page.
Here's the official NHL Olympics page.
And here's NBC's Olympics page with all the highlights.
>> Not much is stranger here than the weather. At what's being called the Coastal Cluster of these Games, right along the Black Sea, temps have reached as high as 61 degrees. Up in the stunningly nearby Caucasus Mountains, or the Mountain Cluster that's home to the snow sports, it's dropped as low as 10 degrees.
Andre Belausev, a native Russian who attended Pitt and still lives in Oakland, joked: "We get to see snow one day, sun the next. I would tell my friends back in Pittsburgh, 'Guys, we have palm trees in Russia!' and they didn't think I was serious."
It's serious all right. As much as organizers forced the issue by planting palm trees all through the Coastal Cluster, they also can be seen in indigenous form about town.
>> Back home, Ben Roethlisberger is paying for a new Pittsburgh Police dog for the officer who lost Rocco, by Michael Hasch. There really was only one way for that story to end, huh?
>> There isn't much about Pitt's recent slide that wouldn't be cured by handing Syracuse its first loss. Tipoff is tomorrow night at the Pete. Kevin Gorman reports.
>> I'll have something else for you, non-Olympics related, today on the blog. It's regarding the Steelers.