By Dejan Kovacevic | Trib Total Media
SOCHI, Russia — Доброе утро, Lunatiks …
>> The Wednesday column is about Ray Shero, Dan Bylsma, their relationship and how the together with the rest of Team USA's management they've carved an encouraging identity for the Americans here.
This was not what I'd planned to write about for the day. But good material like this will trump the best of plans.
Bode Miller and now Shaun White have bombed out, and some others bowed out to injury. Can the U.S. find a hero?
The Sochi Hockey Notebook looks at Brooks Orpik moving up, Evgeni Malkin talking, line combos and more.
Here are all five videos for Channel 11 News so far, including the latest about palm trees vs. snow …
I'm also doing weekday reports for TribLIVE Radio, and the Tuesday podcast was comprised of questions I had for Sidney Crosby, Chris Kunitz and Jeff Carter of Team Canada.
Here's the Trib's Olympics page.
Here's the official Sochi 2014 page.
Here's the official U.S. Olympic team page.
Here's the official NHL Olympics page.
And here's NBC's Olympics page with all the highlights.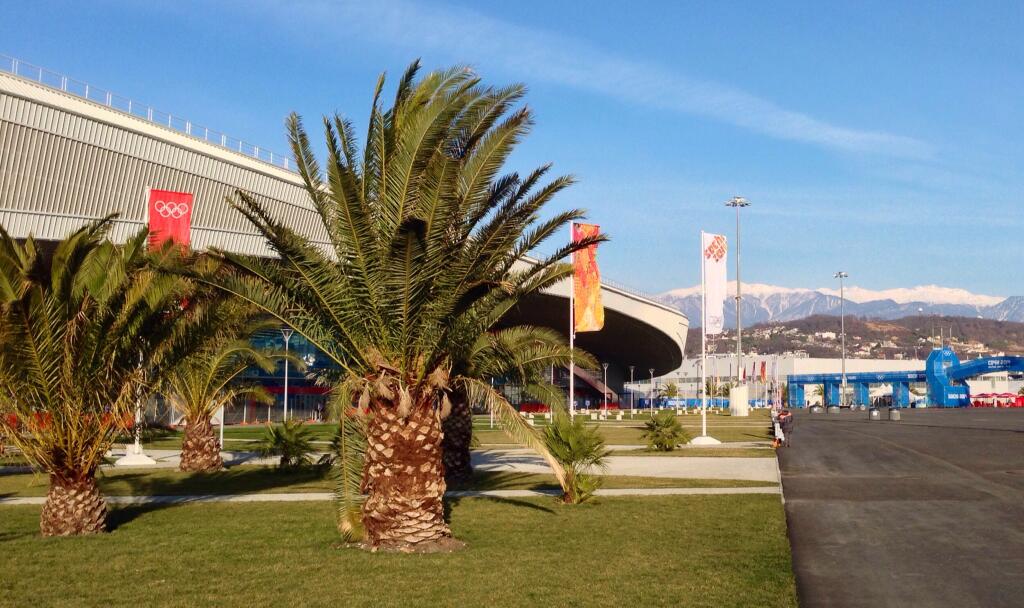 >> What, you didn't believe me about the palm trees and snow?
Shot that a couple days ago. Crazy, huh?
That long thing on the left is the speedskating oval, by the way. That's where I'll spend most of today.
>> Collecting pins has traditionally been a favorite pastime at any Olympics – I'm no exception — but it isn't an option here.
Oh, they exist. One can find them online, including at the Sochi Games' official site. But there are none at Olympic Park, not even the IKEA-sized main merchandise store. The usual independent merchants are trading pins, but even they have nothing from Sochi.
It's reached the point where Sochi spokeswoman Alexandra Kosterina was asked about it during one of the daily briefings. She expressed surprise but had no answer.
I'm pinning my hopes on an answer soon.
>> Back home, there's another chance for Pitt to knock off No. 1 Syracuse, this time at the Pete. Kevin Gorman reports.
>> Pitt is eyeing a former USC quarterback, by Jerry DiPaola.
>> Joey Porter's back? For real?
Oh, a great chance to resurrect this …
But seriously, Porter is now a defensive assistant, by Mark Kaboly. I dare say from seeing that video again, the current Steelers could use a bit of what some of the gentlemen pictured brought to the table.
>> There will, of course, be a Pitt-Cuse game thread up later.