By Dejan Kovacevic | Trib Total Media
SOCHI, Russia — Доброе утро, Lunatiks …
>> The Thursday column observes Shani Davis' speedskating bomb and wonders where all the American gold will come from now.
The Sochi Hockey Notebook looks at Evgeni Malkin not on Russia's top power play, Dan Bylsma not using the Penguins' system and more.
Here are all six videos for Channel 11 News so far, including the latest one explaining out loud my hockey medal picks …
I'm also doing weekday reports for TribLIVE Radio, and the Wednesday podcast included fresh stuff rom Bylsma and Ray Shero.
Here's the Trib's Olympics page.
Here's the official Sochi 2014 page.
Here's the official U.S. Olympic team page.
Here's the official NHL Olympics page.
And here's NBC's Olympics page with all the highlights.
>> Organizers report about 75 percent of tickets being sold out, and that's visible in the  higher-profile events being legitimately filled. But those that aren't filled are getting some help: Once an event has begun and seats remain empty in significant blocks, organizers usher volunteers to take their place. That way, the atmosphere doesn't appear as hollow to the participants or on TV. As a side benefit, it rewards volunteers for long hours of work.
Sounds like a practice worth praising, right?
Well, it is right up to the point that Sochi organizers deny that it's happening. They're adamant that Russian crowds are traditionally late arrivals.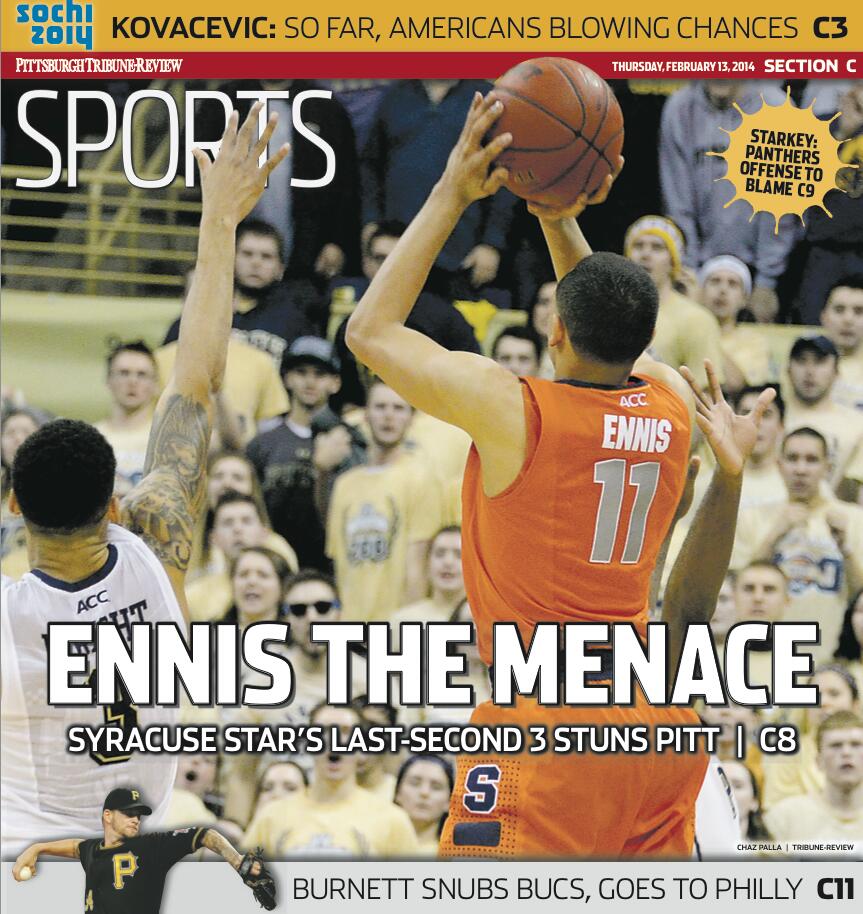 >> Back home, Pitt gets dropped by No. 1 Syracuse on a Tyler Ennis buzzer-beater. Kevin Gorman reports from the Pete.
The lame offense is to blame, writes columnist Joe Starkey, also on the scene.
>> A.J. Burnett signs with the Phillies, by Travis Sawchik. Cue the countless phony narratives about A.J. being some bad guy. This guy was a fierce competitor here. Some didn't get that, but they can get this: He changed the franchise.
The Pirates open camp for pitchers and catchers today. Rob Biertempfel is in Bradenton, and so is Andrew McCutchen for that matter …
>> It troubles me to have missed Kevin Colbert's annual media session, which brings you much more useful info about the Steelers' plans than you might think. Alan Robinson was there.
>> Talked a whole bunch of Olympic stuff with Mark Madden via Apple's FaceTime yesterday. Here's the full podcast from 105.9 the X.