By Dejan Kovacevic | Trib Total Media
SOCHI, Russia — Доброе утро, Lunatiks …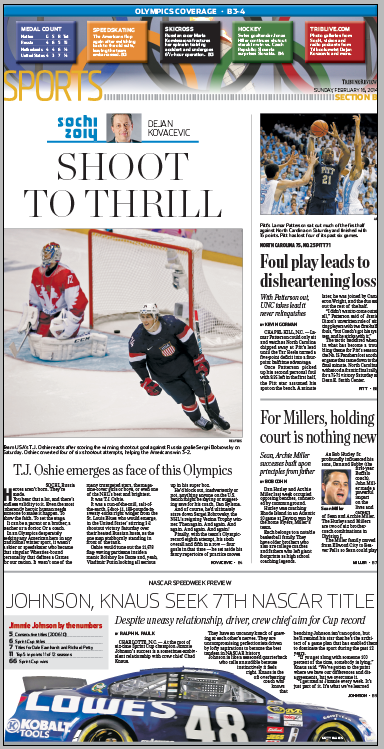 >> The Sunday column is about T.J. Oshie, who lived out the real American dream.
The Sunday news piece for our main cover looks at the Russians finally letting their hair down a bit. These Games and their surroundings are getting fun.
The daily Sochi Hockey Notebook looks at Evgeni Malkin's silence on and off the ice, plus much more.
Here are all eight videos for Channel 11 News so far, including the latest one on the variety of food available here …
I'm also doing weekday reports for TribLIVE Radio, and the Friday podcast was culled from a phone interview with Ken Laird. Used Apple's FaceTime, and it worked just fine.
Here's the Trib's Olympics page.
Here's the official Sochi 2014 page. This has all the schedules and results.
Here's the official U.S. Olympic team page.
Here's the official NHL Olympics page.
And here's NBC's Olympics page with all the highlights.
>> Oh, and if you missed it yesterday, the Wall Street Journal covered my continuing futility at trying to access the 'hidden Starbucks' NBC keeps to itself  here.