By Dejan Kovacevic | Trib Total Media
KRASNAYA POLYANA, Russia — Доброе утро, Lunatiks …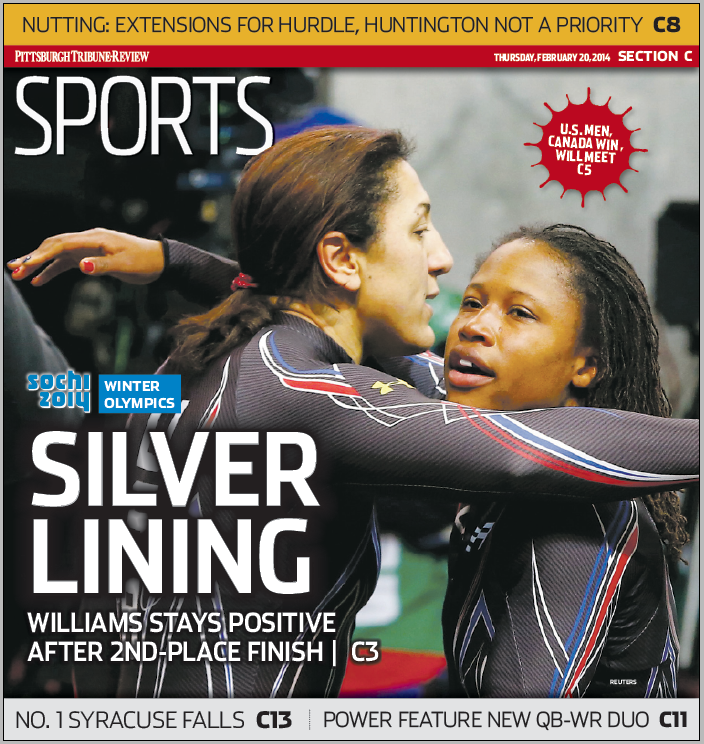 >> The Thursday column looks in amazement at Lauryn Williams' starcrossed career that just might have ended with this bobsled silver.
The hockey notebook focuses on Olli Maatta's excellence, with a twist of Evgeni Malkin's misery and much more.
Here are all 11 videos for Channel 11 News so far, including yesterday's stuff from up in the mountains …
I'm also doing weekday reports for TribLIVE Radio, and here's yesterday's edition interviewing Williams and her driver, Elana Meyers,  before their race.
Here's the Trib's Olympics page.
Here's the official Sochi 2014 page, with all the schedules and results.
Here's the official U.S. Olympic team page.
Here's the official NHL Olympics page.
And here's NBC's Olympics page with all the highlights.
>> The one Russian word pretty much every visitor here seems to have picked up is spasibo, or thank you. Stands to reason, too. The workers and volunteers have been, as with most Games, unfailingly helpful and polite. In a given day, the word gets used maybe a couple dozen times.
But it's also led to an unfortunate, if amusing, trend.
An awful lot of people, instead of spasibo, or saying placebo. Which, of course, means a simulated or otherwise medically ineffectual treatment for a disease or other medical condition intended to deceive the recipient.
Upon noticing maybe the millionth example of this with someone ahead of me in the cafeteria line, I asked the young lady at the register why she didn't correct the gentleman.
"Everyone does it," she said. "We think it's cute."
>> Back in that other hemisphere, Tomas Vokoun gets cleared to return to full action. That's great news, obviously, but it's uncertain what it means for the Penguins. Josh Yohe reports.
Here's the Trib's Penguins page.
>> Bob Nutting made his annual big entrance in Bradenton. Rob Biertempfel reports, and also shares this video snippet …
Here's the Trib's Pirates page.
>> Lots of storylines shaping up for the NFL combine, by Alan Robinson.
Here's the Trib's Steelers page.
>> The Dukes fall short of St. Bonaventure. Shawn Campbell reports from Olean, N.Y.
>> The weekly chat will be today at noon, rather than the usual Friday. Too much going on in the way of pucks to hold it at the usual time. As soon as you see the post go up, submit an entry in the chat field.