By Dejan Kovacevic | Trib Total Media
SOCHI, Russia — Доброе утро, Lunatiks …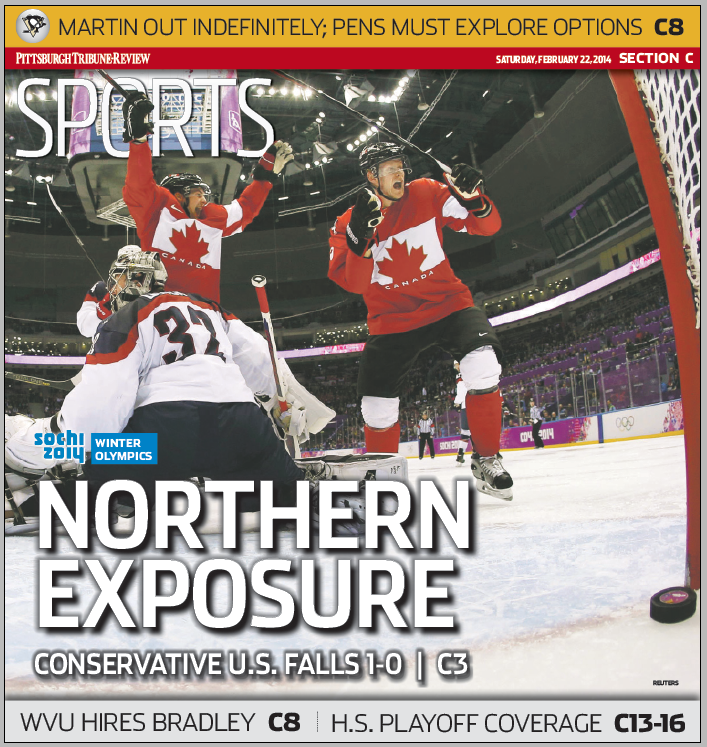 >> The Saturday column doesn't deal with the what of the U.S. loss to Canada as much as the how. Which is the part that should hurt most.
I've also got a Canada sidebar on Sidney Crosby and Chris Kunitz going for gold, not goals.
And a Finland sidebar on Olli Maatta and Jussi Jokinen.
And the latest on Paul Martin's hand injury.
The weekly chat again was all Olympics.
Here are all 13 videos for Channel 11 News so far, including yesterday's from inside the Bolshoy Ice Dome, where I tried to buy stuff …
I'm also doing weekday reports for TribLIVE Radio, and here's a bunch of audio clips from U.S.-Canada last night.
Here's the Trib's Olympics page.
Here's the official Sochi 2014 page, with all the schedules and results.
Here's the official U.S. Olympic team page.
Here's the official NHL Olympics page.
And here's NBC's Olympics page with all the highlights.
>> The security here, as I've been writing throughout the Games, has been subtle. It's there, and you can tell it's strong, but not in your face.
That's changed a bit these past couple days.
There's been more of an armed police presence, two officers walking side by side with clubs in black suits, looking all menacing and stuff. They're walking right in the common areas, too, not off to the edges. They want to be seen.
Patdowns have come into play, too. They were almost nonexistent early, then only when something would set off a metal detector, then only the men, and now it's everyone.
This isn't the sort of thing where you're going to get an explanation from the Russians, so don't expect one. If I had to guess, based on the timing, they'd like to finish strong. Only this weekend remains, with the Closing Ceremony on Sunday night. Not much left.
Why mess it up now?
>> I'll be at the bronze medal game today, gold tomorrow, Moscow the day after that, the good place the day after that.