By Dejan Kovacevic | Trib Total Media
Morning, Lunatics …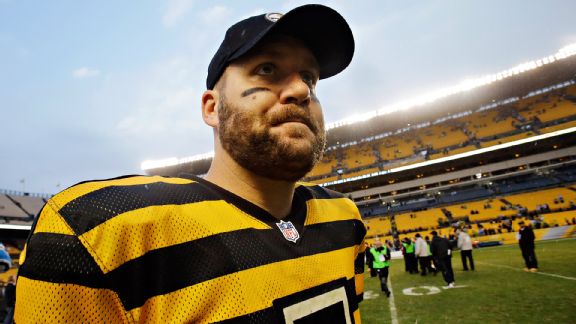 >> The Monday column rates No. 7 as the Steelers' No. 1 priority for this offseason, but it's tough to tell if they concur.
Very much looking forward to your feedback on this in the comments: What, to you, is the right time — if at all — to extend Ben Roethlisberger?
Free agency can be perilous, beat man Alan Robinson writes.
The Steelers have been timely with their farewells, columnist Joe Starkey wrote for Sunday's paper.
Here's the Trib's Steelers page.
>> The Penguins have some serious pucks ahead this week, beginning tonight in D.C. They go back-to-back with the Caps, then back-to-back with a team they hate even more over the weekend. It's compelling, to say the least, to see how they'll handle it as a collective.
Brandon Sutter has become a pivotal piece, Rob Rossi reports from Washington.
Beau Bennett returned to practice, if you can believe that.
Here's the Trib's Penguins page.
>> Edinson Volquez has been lousy in the very early going for the Pirates, Rob Biertempfel reports from Sarasota. It's crazy to take stuff like this too far, especially when it's expected that Ray Searage will make mechanical changes. Go easy.
Time for the pitching-heavy drafts to pay off, Travis Sawchik reports from Bradenton.
Tony Sanchez went deep again yesterday and discussed it with our guys …
Here's the Trib's Pirates page.
>> James Franklin's past in Pittsburgh is examined in-depth by Penn State beat man Chris Adamski. This is good stuff.
>> Pitt hopes the ACC Tournament can raise their profile, by Kevin Gorman. We'll see. What I wonder right now is how the NCAA people would react to the Panthers flaming out of the ACC in one game.
>> The Riverhounds keep adding pieces, Matt Grubba reports, and I'll keep advising caution on this.
It was no more or less a big deal than any exhibition, but the Hounds lost to Virginia, an NCAA final four team, by a 2-0 count Saturday at Highmark. That's telling about the importance of chemistry, if nothing else. The Cavs had played together. The Hounds keep adding and adding. At some point very soon, Jason Kutney, Justin Evans and crew need to quit scouring the globe for ringers, identify their roster and just go with it. The opener is 19 days away.
>> If you missed last night's Subway Final Word on WPXI-TV, we covered the Steelers, Penguins, Pirates, Pitt and probably the Ukrainian revolt somewhere along the way. I was on with Adamski, Mark Madden and Bill Phillips. We had lots of fun.
>> I'll visit with my friends at TribLIVE Radio today at 11:30 a.m.