By Dejan Kovacevic | Trib Total Media
Morning, Lunatics …
>> The Tuesday travelogue is a new feature that will begin a week from today right here on the blog, and I'd be lying if I didn't confess how much fun I'm expecting this to be.
Simplest way to explain is that'll be a two-minute video similar to those Sochi video reports I did for WPXI-TV. And it'll be an extremely informal form of travelogue that will tell a tale or two about a place, usually in Pittsburgh, sometimes on the road.
The pilot episode will be next Tuesday and, just to be sure it's not taken any more seriously than any pilot, it'll come from one of the least interesting places on the planet.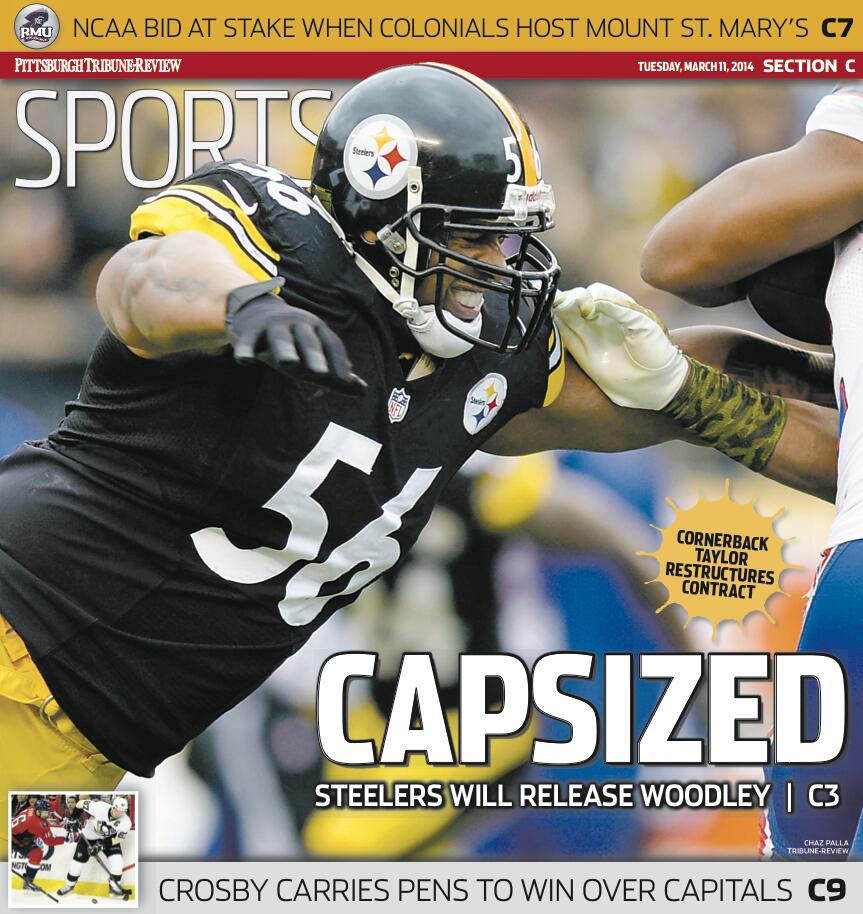 >> There goes LaMarr Woodley, but not Ike Taylor. Alan Robinson wraps it all up, then also takes a deep dive into the NFL's free-agent market that opens at 4 p.m. today.
I've had my say on Woodley and wouldn't change a syllable. As for Taylor, his salary was squashed way down from $7 million to $2.75 million, his cap hit by just about as much. Which is fine on its face. But with all the growing word that the Steelers have spent the weekend using the special contact period to reach out to corners, let's hope that they're more than open-minded about using that cap space at that position. Going into 2014 with Taylor and Cortez Allen as the only viable corners — or even as the starters — begs for a repeat. It won't be good enough. Another real corner, maybe a No. 1, is a must.
Here's the Trib's Steelers page.
>> Sidney Crosby and Chris Kunitz put up the offense and Jeff Zatkoff did that Zatkoff thing in making all those odd-looking saves as the Penguins took the front end of a home-and-home with the Caps. Rob Rossi reports from Washington.
Here's what our Subway Final Word panel had to say on the post-deadline Penguins' Cup hopes …
I'll be over at Consol tonight for the sequel.
Here's the Trib's Penguins page.
>> By now, everyone's heard about the horrific collapse of Rich Peverley last night in Dallas. If not, the Dallas Morning News has extensive coverage.
Not all heart ailments are alike, but Peverley should serve as a powerful warning of the caution that must be exercised by athletes, teams and all concerned. Mario Lemieux did his right, when his irregular heartbeat brought his final retirement. He's been blessed to be happy and healthy since and enjoyed everything about his family and children. Let's hope Kris Letang makes the best call for himself as a man rather than a defenseman, whatever that might be.
>> Jameson Taillon, the Pirates' top pitching prospect, is sent down early to minor-league camp. Travis Sawchik reports from Bradenton.
I'll join the baseball club tomorrow in Fort Myers.
Here's the Trib's Pirates page.
>> Robert Morris hopes to go dancing tonight, by Paul Schofield. The NEC championship against Mount St. Mary's will be televised on ESPN2.
>> Pitt can learn from ACC tourney history, by Kevin Gorman.
>> I'll visit with my friends at TribLIVE Radio today at 11:30 a.m.