By Dejan Kovacevic | Trib Total Media
FORT MYERS, Fla. — Morning, Lunatics …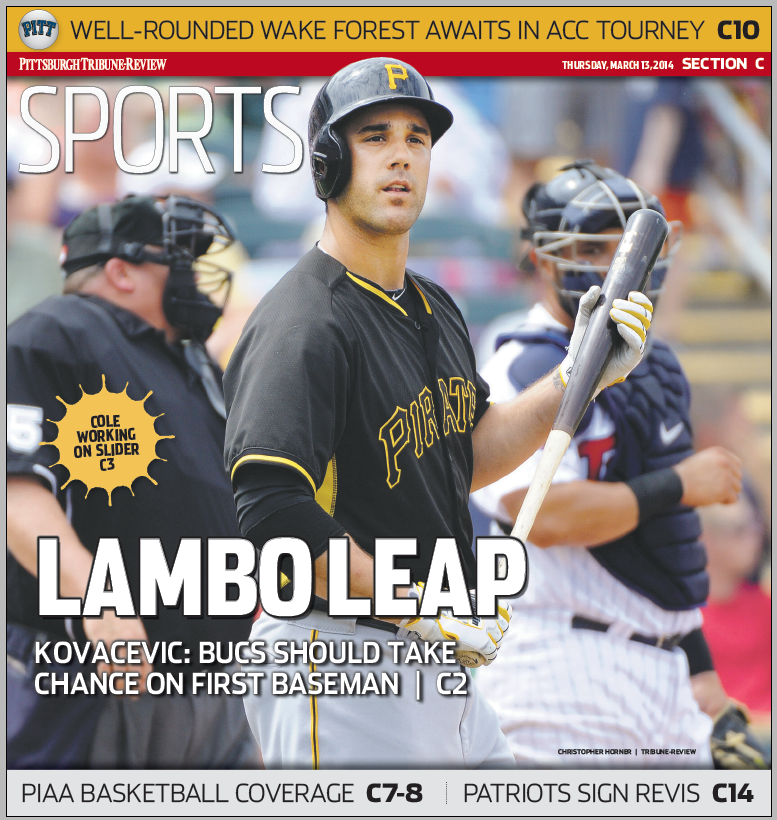 >> The Thursday column from the Pirates' spring training goes right after what's become Topic A of the offseason: Andrew Lambo and first base. I can promise some of the information will surprise.
Here's the more personal part of my extended interview with Lambo in the visitors' dugout at Hammond Stadium yesterday …
Gerrit Cole worked on some stuff in his three innings against the Twins, as beat man Travis Sawchik reports in a piece on his 2014 challenges.
I only wish that every baseball fan ever could have been in the clubhouse afterward to hear Cole tell me about the million differences in his approach to pitching a mid-March exhibition vs. a real game. Incredible detail. Fascinating discussion. No one would ever, ever take another spring stat seriously.
Here's one snippet of it: "If I'm out there with a plan against a specific hitter like an Alex Presley or Joe Mauer today, we're going to stick by it. But if I'm out here in a game like this and miss with a fastball, I'm coming right back with the fastball because I want to get it right. Mauer might know that. He probably does. But it's a lot more important to me to pound that fastball and get that feel. There's so much more you can do out here if all you wanted to do was get guys out. That's not what this is about."
When I came back by asking why he'd ever engage anyone in a serious discussion about a spring outing — as he'd just done with a pack of reporters a bit earlier — he laughed and replied, "I don't really know. I guess it's what we do."
Awesome.
Almost as awesome was this pic our Chris Horner grabbed of Cole right after his final pitch …
If Cole looks a bit thinner to you, that's because he is. "Lost some weight in the offseason. No idea how. They asked me what happened. No idea."
Here's TribLIVE's Pirates page.
>> The Steelers brought a couple back, lost a couple others on the second day of NFL free agency, Alan Robinson reports.
None of the moves struck me as terribly significant, not even losing Al Woods or Jonathan Dwyer. Really liked both, but their type — with all due respect — can be found without much difficulty. The time for that will come when the first wave of free agency passes.
In the meantime, how about Mike Mitchell randomly jumping on Twitter late last night and taking a ton of questions from Steelers fans?
Here's TribLIVE's Steelers page.
>> Ha!
>> Pitt tips off in the ACC Tournament today against Wake Forest. Kevin Gorman is covering in Greensboro, N.C.
Our Subway Final Word panel discussed whether the Panthers legitimately deserve to be in that little tournament the follows …
>> Duquesne gets going in the Atlantic 10 today against Richmond. Chris Harlan is covering in Brooklyn.
>> Derrick Pouliot means more to the Penguins than some spare trade piece, Rob Rossi reports. I think you'll appreciate some of Olli Maatta's observations in here.
Here's TribLIVE's Penguins page.
>> I'll visit with TribLIVE Radio today at 12:30 p.m., live by phone from Port Charlotte, (slightly more) southern home of the Rays.