By Dejan Kovacevic | Trib Total Media
CLEARWATER, Fla. — Morning, Lunatics …
>> The Monday column from the Pirates' spring training tries to take a realistic look at how they could improve over 2013, and all signs point to one area.
Here's a video done by the Trib's Chris Horner of my on-field interview with new hitting coach Jeff Branson before the game yesterday …
If you missed it, the Sunday column strung together a collection of tales and observations from down here. And in the news coverage, Gregory Polanco got the profile treatment from Travis Sawchik.
Here's TribLIVE's Pirates page.
Here's Chris Horner's updated-daily spring training photo gallery.
Here are official game highlights on MLB.com.
>> The short-handed Penguins get swept by the Flyers, who did quite well while being short-handed in a different sense. Josh Yohe reports from Consol.
Kris Letang was cleared to return to full practice, Rob Rossi reports.
Wait, what?
Six weeks after a stroke?
After being diagnosed with a hole in his heart that hasn't yet been repaired?
There's absolutely no doubt doctors did their diligence here, just as there's absolutely no doubt they know best. But what's medically clear and what's common sense aren't always the same. Rich Peverley does not have the same heart condition as Letang, but he was cleared — twice! — by doctors in Dallas to return. One of those clearances came just days before his collapse after he had a heart arrhythmia. Again, those might well have been exactly the right medical calls, but the lack of common sense with Peverley nearly got the guy killed. That's not my opinion. It's fact. He nearly died. And he nearly died as a direct result of the same condition for which he'd been cleared.
I wouldn't expect that common sense in this case to come from Letang, any more than I would any athlete. As is now famous from Peverley's tale, he asked to go back into the game after his incident. But I sure hope that there's a whole lot of adults in the picture helping Letang make the right call.
Here's TribLIVE's Penguins page.
Here are official game highlights on NHL.com.
Here's the latest on the Flyers from the Philadelphia Inquirer.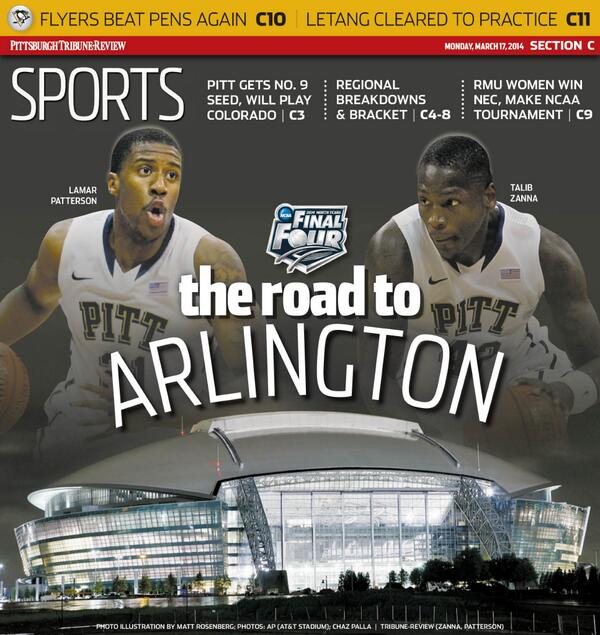 >> The Talib Zanna Show is headed down here, it turns out, as Pitt found itself a No. 9 seed and will open in Orlando against Colorado. Kevin Gorman has all that and much more.
This placement for the Panthers has changed my plans for the week, as I'll now stay down here and meet the team in mid-state at mid-week. I was going to fly wherever they went, obviously, but this simplifies things a ton.
Here's TribLIVE's Pitt page.
>> Jerricho Cotchery will visit Carolina on Tuesday, Mark Kaboly has learned. The Steelers don't want to lose him, but they're apparently willing to let him poke around a bit.
Columnist Joe Starkey gives the Steelers' offseason an A grade so far.
>> I'll call in to TribLIVE Radio from McKechnie Field at 11:30 a.m.