By Dejan Kovacevic | Trib Total Media
ORLANDO, Fla. — Morning, Lunatics …
>> The TribLIVE Radio show will return someday, I swear. But I've got to be in Pittsburgh to make it happen, and it's been a while since that's happened on the job, so we'll shoot for next Wednesday at 2 p.m.
>> Before turning full attention to Pitt and the NCAA Tournament — the Panthers practice here at noon at the fabulous Amway Center, home to the NBA's Orlando franchise pictured above on the left — I wanted to take one last look back at spring training by listing all four columns in case any were missed:
March 13: Who's on first? Don't worry about it
March 14: Pirates' 2013 tale ends 'NOW'
March 16: These Pirates have a spring in their step
March 17: This has to be Year of the Bat
There will be one more column — just finished it yesterday, actually — but it won't run until the Trib's March 30 baseball preview is published. As always, the print version is recommended. Nothing like it.
Thanks to all for the feedback on the spring stuff, especially as it relates to that third one up there. That's a fun one each year.
>> The Pirates are shopping Travis Snider, Jose Tabata and Vin Mazzaro, according to Rob Biertempfel.
Nothing makes me more despondent about sports fans than reading their reaction to trade stuff. The gullibility level of what can/should happen is almost too much to bear.
Works something like this: Rob's report goes out yesterday, and the immediate reaction is to the big name in there, which probably is that of Tabata. From there, it goes two ways, possibly both:
1. Great! Because Tabata stinks!
2. What do you think we can get for him?
As if those two concepts somehow are in harmony.
And never mind that the notion that a team is trying to trade a guy is very rarely rooted in punishment, no matter how much some fans will attach it to that. Fact is, trading a player at lowest possible value tends to be a really great way to devalue one's roster as a whole. Better to let that player bounce back, even if it's just for a spell. (See Justin Morneau's August with the Twins.)
OK, so some semblance of sanity sets in, and it occurs to someone that Tabata's contract is still pretty bad, with three years left on it and the two most expensive ones at the end. It's possible that maybe, just maybe no one will want that contract.
This is the most painful one of all …
Hey, throw in another player we don't want, you know, to sweeten the pot a little!
It's at this point that my forehead meets the desk. Because yes, the one sure way to entice a team to take a player that you don't want and they don't want is to add another player that you don't want and they don't want. Because that way, the other team can commit yet another roster spot and more salary!
Stop me if you've heard all of the above about a zillion times.
Well, how about if we throw in a draft pick?
This isn't limited to baseball, either. If I had a Canadian dollar for every time someone suggested the Penguins pick up Ryan Kesler by sending the Canucks, oh, Brian Dumoulin, Chris Conner and a third-round pick, I'd have … well, I'd have an American dollar.
Here's TribLIVE's Pirates page.
Here's Chris Horner's updated-daily spring training photo gallery.
Here are official game highlights on MLB.com.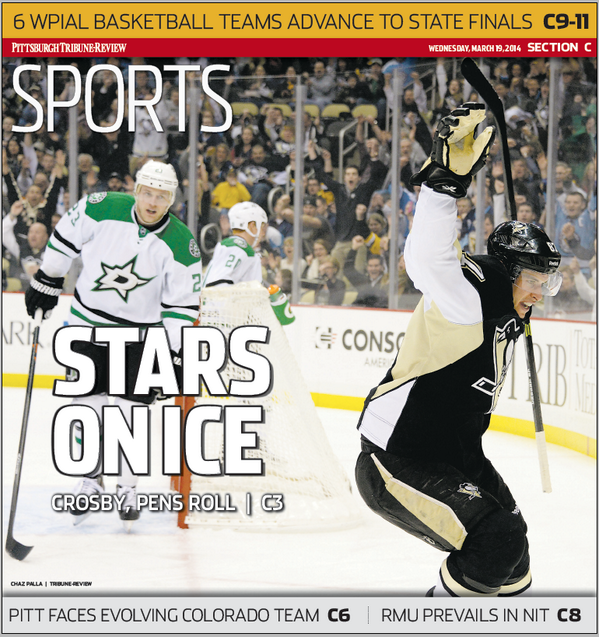 >> Sidney Crosby's line dominated Dallas. Rob Rossi reports from Consol on the Penguins' 5-1 victory, as well as Brandon Sutter's recent drought.
Kris Letang and James Neal made for hard decisions, columnist Joe Starkey opines.
Here's TribLIVE's Penguins page.
Here are official game highlights on NHL.com.
Here's Stars news from the Dallas Morning News.
>> Jamie Dixon's Colorado counterpart, Tad Boyle, has built the Buffs into a perennial NCAA participant. Kevin Gorman reports from elsewhere in this very hotel.
Mike Young isn't feeling all that great heading into the tournament. John Harris reports from the Panthers' last practice at the Pete.
Here are Pitt predictions from the panel of WPXI-TV's Subway Final Word …
Here's TribLIVE's Pitt page.
Here's Colorado news from the Boulder Daily Camera.
Here's the NCAA's official March Madness page.
>> Lance Moore is coming to visit the Steelers today, but Jerricho Cotchery just did that yesterday in Charlotte. Mark Kaboly reports on the latest wide receiver routes.
The NFL is spending like crazy, Alan Robinson reports.
Here's TribLIVE's Steelers page.
>> Last but most assuredly not least, Cheswick's Dan McCoy, a Paralympic gold medalist for the U.S. sled hockey team in Sochi, came home to a richly deserved hero's welcome. Karen Price reports.
I exchanged Twitter messages with Dan while he was still over there and can't say enough about the young man or his story. Look forward to shaking his hand sometime very soon.
>> I'll call in to TribLIVE Radio, live from Amway Center, at 11:30 a.m.