By Dejan Kovacevic | Trib Total Media
ORLANDO, Fla. — Morning, Lunatics …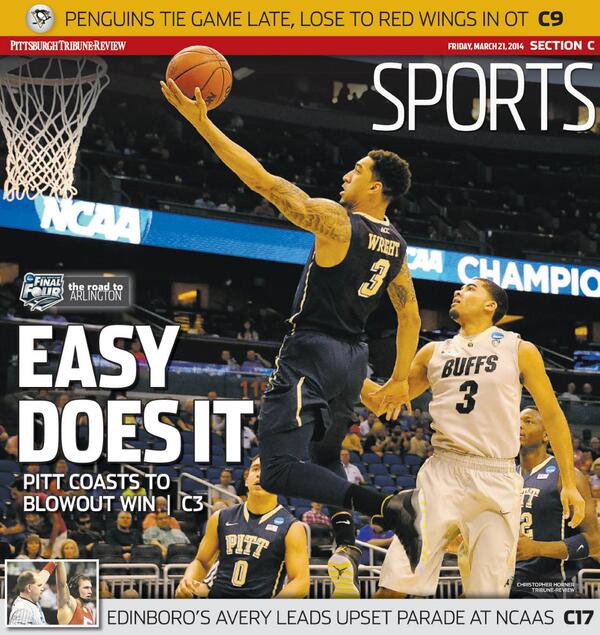 >> The Friday column is about Pitt peaking. Which I'm not sure they've done just yet.
The game story, by beat man Kevin Gorman.
Still haunted by Wichita State, by Gorman.
The Buffs' 'nightmare start,' by Greg Auman.
Here's some of my postgame talks with Cam Wright and Mike Young …
And some of what the seniors had to say …
Random bloggery from the scene: I really like this Pitt team, as players, coaches, staff and humans. They've been a joy to be around. Not sure why I'm sharing that, but there it is. … One of the many amazing things about that first half: Pitt took a 21-5 lead without getting a single point out of Lamar Patterson. There were eight each at that point from Talib Zanna and Cam Wright. … Young's a freshman, and he's started for Jamie Dixon all season. That doesn't even need a comment. … The column tells the tale of Durand Johnson, a sophomore, taking charge of the team. Jamie Dixon later called Johnson "our emotional leader." But never mind all that. Most injured players will hide, and some even get banished. Coaches have their reasons. This kid's front and center. … Pitt's defensive strategy was built on two principles: 1. Double the post and cut off big man Josh Scott — or anyone — daring to go underneath. 2. Cut off any ball screens. You saw the results. "We knew they'd do both of those things," Colorado coach Tad Boyle said. "It didn't matter." … What a welcome return Barry Rohrssen has had in the Pitt family. Should have seen the emotions between him and the players as each sprinted off the court. He's a great recruiter, too. … Brandin Knight, also an assistant: "This team is very business-like, for the most part. But yeah, you need to enjoy it, too." … Nothing quite like seeing Josh Ko, a walk-on and formerly the Hawaiian player of the year in high school, getting into an NCAA Tournament game. If that 3 had fallen, his teammates would have been anything but business-like. "It's just an honor to be part of this team," Ko said. … Last March in Salt Lake City, I re-booked my flight home at halftime of the Wichita State loss. Never crossed my mind yesterday.
Here's TribLIVE's Pitt page.
Here's Chris Horner's photo gallery from the scene.
Here's Colorado news from the Boulder Daily Camera.
Here's Florida news from the Gainesville Sun.
Here's the NCAA's official March Madness page.
>> The Penguins put three pucks in their own net and nearly won, anyway. Josh Yohe reports from Joe Louis.
Here's TribLIVE's Penguins page.
Here are official game highlights on NHL.com.
Here's Red Wings news from the Detroit Free Press.
>> Jerricho Cotchery is off to Carolina. Alan Robinson reports.
There's nothing good about this for the Steelers, and don't let anyone spin it otherwise. Cotchery's older, sure, but 10 touchdowns in limited action is 10 touchdowns in limited action. Fact is, he and Ben Roethlisberger had a significant trust and connection. That won't be easily replaced, certainly not with the $2.1 million in cap room Kevin Colbert has.
Time to restructure more contracts and, to repeat myself, extend Roethlisberger. Find some money, and find it now, not in August and certainly not next summer.
On the bright side, it turns out the NFL won't dock a draft pick for the Mike Tomlin/sideline fiasco in Baltimore. Robinson has that.
Hate to say I told you so, but I told you so. This was stupid from the outset.
Here's TribLIVE's Steelers page.
>> Francisco Liriano left the mound with an injury last night, Rob Biertempfel reports from Bradenton.
Here's TribLIVE's Pirates page.
Here are official game highlights on MLB.com.
>> I'll call in to TribLIVE Radio, live from Amway Center, at 11:30 a.m.
>> The weekly chat will come at noon, as always. All topics are welcome, but obviously the NCAA Tournament will take priority.