By Dejan Kovacevic | Trib Total Media
Morning, Lunatics …
>> Off for a couple days after returning from 12 in Florida, but the rest of the week — and, of course, the blog — will go on as scheduled.
>> The Steelers' brass has this regimen for when they do and don't speak, and it sure is a lot more of the latter than the former. So when three or so months go without a peep from Mike Tomlin and Kevin Colbert, it can be pretty jarring each year at the opening of the NFL owners' meetings when tons and tons and tons and tons of stuff spills out, as it did yesterday with our Alan Robinson in Orlando reporting it all via three news articles and a blog entry.
What struck my interest most was Colbert's stated openness toward extending Ben Roethlisberger this summer, a point I kind of pounded in the March 10 column. Oh, Colbert reiterated Art Rooney II's recent comment that they might wait until next year, but Colbert also said, "We'll get through free agency, get through the draft and see where we are." Those were the strongest remarks yet from anyone with the Steelers indicating at least an approach will happen before the coming season.
Honestly, not sure why even have that charade. It's got to happen.
James Harrison should be welcomed home, writes columnist Joe Starkey.
Here's TribLIVE's Steelers page.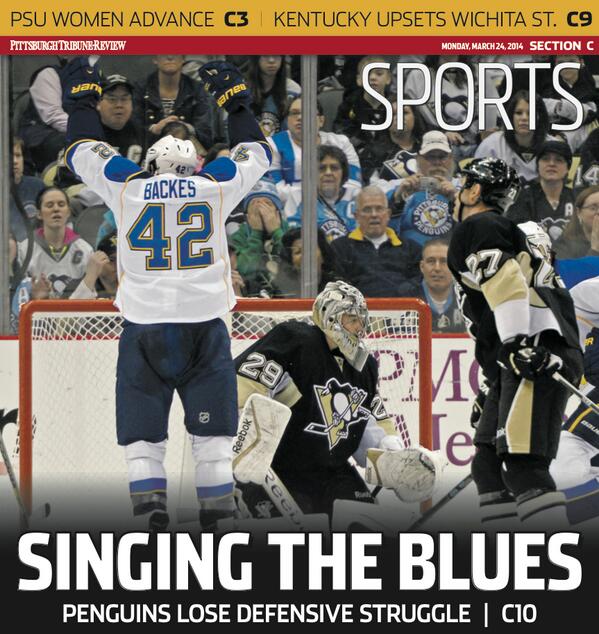 >> The Penguins lost by a goal to the best team in hockey. Rob Rossi reports from Consol.
And yeah, I know the Blues are tied atop the NHL's overall standings with the Bruins, just as I know the Sharks, Ducks or Blackhawks might be better than either of them. But what that sentence right there tells me is that the local team needs to carve out a playoff-type identity here in a hurry to not get left out once the real games get going. Matt Niskanen's quotes in the above article spell that out quite nicely.
A terribly sad stat from our weekly AHL report by the Wilkes-Barre Citizens Voice's Jonathan Bombulie: The Baby Penguins' leading scorer is 35-year-old Tom Kostopoulos, and their top scorer among all of the young forwards — and, yes, those apparently exist — is Jayson Megna, with nine goals in limited action.
I don't care that defensemen are always prioritized in the first round. That's perilously close to scandalous.
Here's TribLIVE's Penguins page.
Here are official game highlights on NHL.com.
Here's Blues news from the St. Louis Post-Dispatch.
Here's Coyotes news from the Arizona Republic.
>> Jameson Taillon, the Pirates' top pitching prospect, was shut down yesterday by a sore elbow — always the reddest of red flags in baseball — and will miss the start of the Triple-A season. Rob Biertempfel reports from Sarasota.
Jeff Locke is set for a step back, by Biertempfel.
If you missed it, Biertempfel broke news Sunday about the Pirates making Starling Marte a multiyear offer. Marte, to his infinite credit, rejected it.
Can't help but wonder: Would the Pirates ever make Gerrit Cole such an offer? Or would they presume that Scott Boras, unlike Jose Tabata's agent, isn't brain-dead? Or will only the Latin American players be approached in such a manner?
Here's TribLIVE's Pirates page.
Here are official game highlights on MLB.com.
The Pitt column is about Pitt peaking. Which I'm not sure they've done just yet.
>> Pitt was left wanting more from its first ACC season, by beat man Kevin Gorman.
If you missed it, my Sunday column broke down facts vs. narrative about Jamie Dixon and his program's progress.
Here's TribLIVE's Pitt page.
>> I'll call in to TribLIVE Radio at 11:30 a.m.