By Dejan Kovacevic | Trib Total Media
Morning, Lunatics …
>> The TribLIVE Radio show today — 2-3 p.m. — will feature you. It's been six weeks since I've had a show, and there are acres of ground to cover, so I'll open by taking your calls on any topic. Undisciplined Penguins. Pitt hoops going down. The Steelers' signings. The Pirates' first-base puzzle. You name it.
So do it. Call me at 412-320-7925.
Feel free to email sportstalk@tribweb.com if you can't call. But I'd really rather hear from you.
At 2:30, we'll have an in-studio visit from Justin Evans, coach of the Riverhounds, who open their 16th season Saturday in Orlando.
At 2:44, we'll have more wit and wisdom from our @SuckMeter.
And at 2:45, we'll be visited by our station's newest feature attraction, Chris Peak of Panther Lair. His show airs tomorrow at 2 p.m., but he'll jump on with us today to talk all things Pitt.
To listen, just click on the link up top. If you're mobile, try the iPhone version of the TribLIVE Radio app, or the Android version. Both are free and ridiculously easy to use.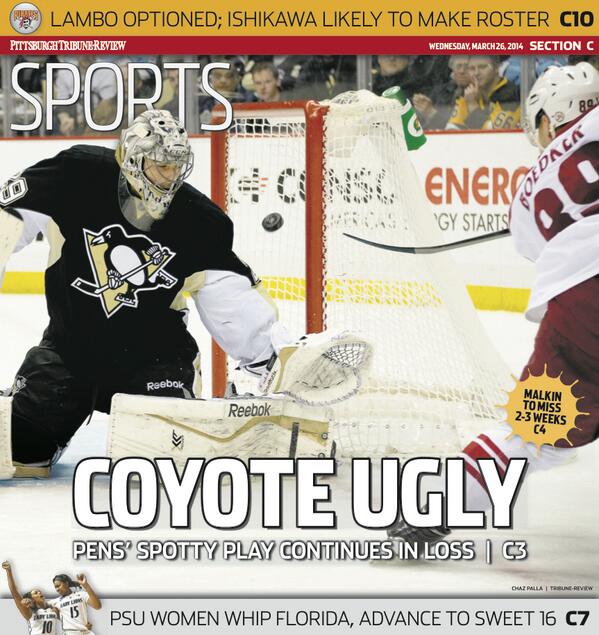 >> The Penguins did absolutely nothing to deserve anything other than a loss to the Coyotes last night. Rob Rossi reports from Consol.
But hey, everyone! Good news! Moments after Dan Bylsma questioned his players' effort, the team announced that its scheduled practice for today was canceled. A day off!
Evgeni Malkin is out 2-3 weeks, by Chris Adamski.
Kris Letang tells Josh Yohe he's cleared to return when he feels ready.
Here's TribLIVE's Penguins page.
Here's Coyotes news from the Arizona Republic.
Here's Kings news from the Los Angeles Times.
Here are official game highlights on NHL.com.
>> Robert Morris hockey's first foray in the NCAA Tournament is wonderfully documented by columnist Joe Starkey. For those unfamiliar at all with the story, this is the place to start.
A former Robert Morris player who fought off cancer is now fighting his way up the pro ranks in Las Vegas, by Bob Cohn.
Here's TribLIVE's Robert Morris page.
>> Andrew Lambo is sent to the minors after the Pirates gave him every reasonable chance to stick. Rob Biertempfel reports from Bradenton.
I gather I'm in the minority here, but I have no problem with how the team has handled any aspect of this, if only because, as I wrote in the March 13 column from Fort Myers, Lambo's got to get his chance. At least as long as he shows that he's hitting his head on the Triple-A ceiling and showing the kind of power he did in 2013, he's got to get his 400-500 big-league at-bats. That simply must happen for all the reasons outlined in that piece.
Besides, who needs a first baseman at all when you can score 22 runs?
Here's TribLIVE's Pirates page.
Here's Cubs news from the Chicago Tribune.
Here are official game highlights on MLB.com.
>> 'That doesn't dance in Western PA,' Mike Tomlin responds to reporters at the NFL owners' meetings asking about the Steelers' 6-2 finish. Alan Robinson reports from Orlando.
Still seeking a running back, by Robinson.
How six trophies influenced Lance Moore, by Robinson.
Our WPXI-TV Subway Final Word panel tackled the NFL's new rules:
Here's TribLIVE's Steelers page.
>> Thank you, as always, for reading. Hope to hear from you on the show.