By Dejan Kovacevic | Trib Total Media
Morning, Lunatics …
>> The Thursday column is the first I've done on the Penguins,  Sochi notwithstanding, in a couple months. This team has lost its edge. There will be more to say on this, too, in the days and weeks ahead, barring some significant change.
That said, I'd like to stress here that one can end just about any argument related to a professional sports team by discussing the draft.
Why is a team good?
The draft.
Why is it bad?
The draft.
Maybe the one exception would be Major League Baseball, where the lack of a salary cap still allows teams to buy up what they don't have, but even there, the draft can be something of a tiebreaker. In the NFL and NHL, it's close to everything.
The Penguins' drafts have been lousy. And I'll call special attention this morning to a recent exhaustive study by the guys at Pensblog about Ray Shero's history of player acquisition. It takes some time to digest, in more ways than one.
Fatigue is a real factor for the Penguins, beat man Josh Yohe writes.
Here's TribLIVE's Penguins page.
Here's Kings news from the Los Angeles Times.
Here are official game highlights on NHL.com.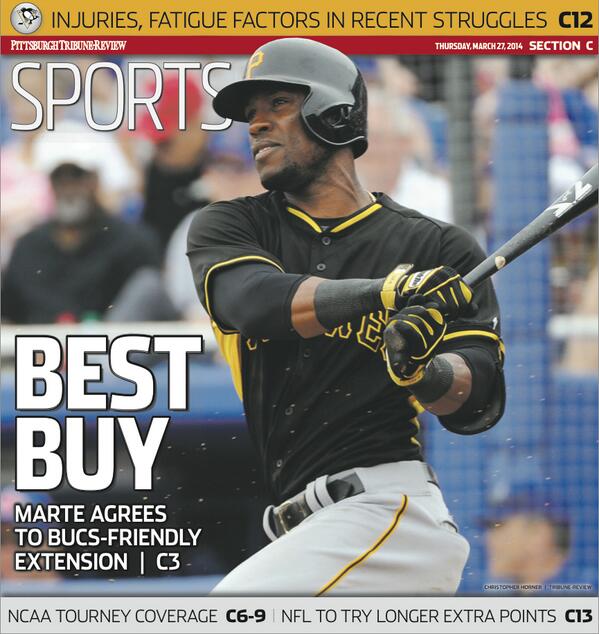 >> Starling Marte is set to sign a deal that would keep him with the Pirates for a very long time. Rob Biertempfel reports from Bradenton.
We might never know details of the Pirates' original offer to Marte, the one that was summarily rejected, but this one wound up in the range of a very similar deal between the Braves and pitcher Julio Teheran. People who don't understand the progression of Major League Baseball contracts will look at Marte's deal and call it a bargain because they'll compare his figures to those of veterans. Fact is, this deal is market value, no more, no less.
So good for the Pirates for paying market value to keep a highly skilled player into his free-agent years, and good for the player for hanging on until the deal was a fair one.
Francisco Liriano had a good day, by Biertempfel.
Here's TribLIVE's Pirates page.
Here's Cubs news from the Chicago Tribune.
Here are official game highlights on MLB.com.
>> The Steelers' staff has impeccable credentials. Alan Robinson reports from the NFL owners' meetings in Orlando.
Longer extra points will get a look, by Robinson.
A 3-4 defense is seldom what it appears, by Robinson.
I opened my TribLIVE Radio show yesterday with a phone call about the Steelers' signings:
Here's TribLIVE's Steelers page.
>> The ACC basketball tournament will move to Brooklyn in a couple years, and Jamie Dixon is fine with that. John Harris reports.
>> Cody Wydo is setting the standard for the NCAA Tournament-bound Robert Morris hockey team, by Joe Sager.
Here's TribLIVE's Robert Morris hockey page.
>> I'll be with the hockey team all day, including for the game with the Kings tonight, and write a Friday column from Consol. I'll also check in with TribLIVE Radio at 11:30 a.m. from the teams' morning skates.
>> Thank you, as always, for reading.