By Dejan Kovacevic | Trib Total Media
Morning, Lunatics …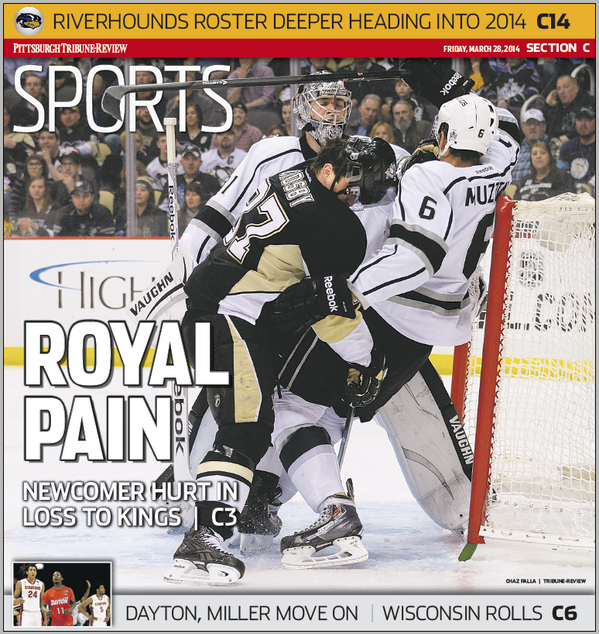 >> The Friday column weighs the Penguins' loss to the 'heavy' Kings.
Random bloggery from the scene: I'm going to say this now, only because he's scored each of the past two games so it won't look like I'm cherrypicking: There is nothing I like about Taylor Pyatt's game as it relates to what the Penguins need from their third and fourth lines. … Anze Kopitar is the sun, the moon and the stars. Darryl Sutter had no business putting him into Sidney Crosby's category yesterday, but that's his player, so I get it. But Kopitar is special, one of those rare talents you can't take your eyes off. … Olli Maatta needs a day off. … Next time you complain about any left-side defenseman getting torched — and that includes Maatta — do a double-take at the Penguins' neutral-zone system. That's all I'll say on that for now. … If you're keeping score at home on the Bench-Jussi meter, Craig Adams and Tanner Glass each took an ill-advised, non-defensive-zone penalty without being benched by Dan Bylsma. … The NHL's officiating is … aw, you know. … I'd like to see the league watch video for acts of blatant embellishment, such as Jayson Megna's embarrassing dive to draw an interference whistle. Suspend, fine or both. … Hang onto your Beau Bennett receipts. If he plays tonight in Columbus, he might break again.
Down goes Marcel Goc, by Rob Rossi in the game story.
Beau Bennett sounds imminent, by Chris Adamski.
Here's TribLIVE's Penguins page.
Here's Kings news from the Los Angeles Times.
Here's Blue Jackets news from the Columbus Dispatch.
Here are official game highlights on NHL.com.
>> Starling Marte signs his deal. Rob Biertempfel reports on the ramifications on his final day in Bradenton.
Here's TribLIVE's Pirates page.
Here's Cubs news from the Chicago Tribune.
Here are official game highlights on MLB.com.
>> The Steelers eye LeGarrette Blount to team in the backfield with Le'Veon Bell, Alan Robinson reports.
Here's TribLIVE's Steelers page.
>> The Riverhounds file for bankruptcy protection, the result of going entirely private with financing of $10 million Highmark Stadium. Adam Smeltz reports.
All I'll add here is that, in calls I made yesterday, I was assured up, down and sideways that this will have no impact whatsoever on the schedule or the team's future. If anything, the financing of Highmark's construction over a long period will actually strengthen that.
People who hate soccer will point to this as some kind of failure of the sport, but the facts won't back that. The stadium was almost entirely filled last season and will be again this season. Moreover, the youth programs that help fund the Riverhounds' overall operation are at record levels. Plain and simple, they were either going to build the stadium themselves or not have it built at all. You'd never convince a public entity in our region to help. So they tried to build it themselves and bit off more than they could chew. That's it.
On that note, here's the Trib's Riverhounds season preview, by beat man Matt Grubba. It starts tomorrow in Orlando.
>> I'll check in with TribLIVE Radio at 11:30 a.m. After that, we'll have the weekly chat at noon, right here on the blog. As soon as you see the post go up, entries can be submitted.
>> Thank you, as always, for reading.