By Dejan Kovacevic | Trib Total Media
Morning, Lunatics …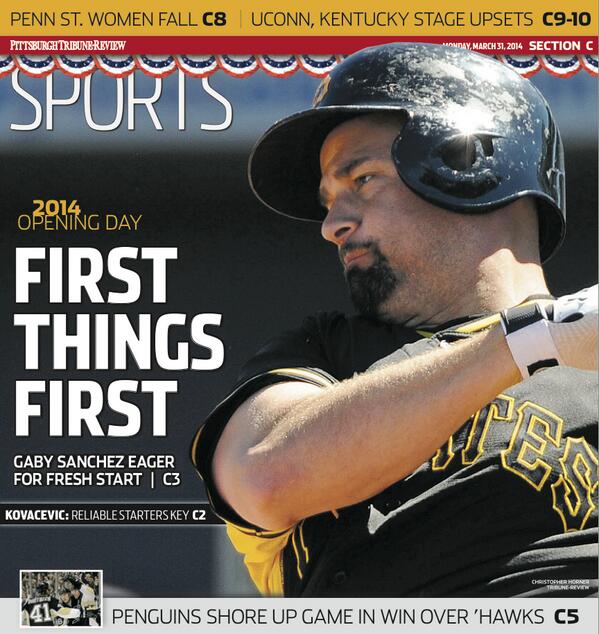 >> The Monday column sets up the Pirates' start with a look at their starters … and whether or not they can finish. I'll cover the game today, as well, for an extra Tuesday column.
I'll also join TribLIVE Radio at 11:30 a.m. as part of an all-day setup for the opener on our station that also includes Frank Coonelly at 9:30 a.m. and Neal Huntington at 10:05 a.m. Ken Laird and Guy Junker are the hosts.
Gaby Sanchez is on the hot seat, by beat man Rob Biertempfel.
Andrew McCutchen keeps raising his profile, by Travis Sawchik. Here's the actual ESPN commercial if you're interested.
I'll also call attention to our 2014 Baseball Preview section that ran yesterday, including the Sunday column on the Pirates' new generation.
Here's TribLIVE's Pirates page and our Bucco Blog.
Here's Cubs news from the Chicago Tribune.
Here are official game highlights on MLB.com.
>> The Penguins let it all hang out to beat the Blackhawks, as reported by Rob Rossi at Consol.
Here are both of the first-period goals, both really pretty:
Here's a bit of what Brooks Orpik had to say afterward:
Random bloggery from the scene: I try to be open-minded. I really do. But anyone even remotely critical of Orpik's hit on Jonathan Toews last night is either willfully ignorant or unwillingly ignorant. Either way, same result. Let's hope Toews is OK. One of the game's top five players, in this view. But let's also not deliberately distort what is and isn't a clean hit. … So, if all Robert Bortuzzo does is drive other teams to the point of distraction and draw hatred away from the Penguins' stars and play at least decent defense … nah, never mind. Scratch him when playoffs start. … Mike Milbury's an idiot. … That's as good an all-around hockey game as James Neal has played in a spell. Jussi Jokinen, too. Skated with purpose. … Funny, but Sidney Crosby didn't exactly have his best overall game, and none of that mattered when he buried that wrister on the two-on-one late. The great players always have that escape hatch. … I asked Dan Bylsma about the Penguins' uptick in physical play the past two-plus games: Bylsma: "I thought this was one of our most physical games of the year, one of our most hard-fought." … Orpik, with a possible explanation: "There's been a lot of negativity about us outside the locker room. We just try to stick together no matter what anyone says about us." … Marc-Andre Fleury is playing so, so much better than most seem to realize right now. And yeah, I know why. … See this picture below? That's photographer's gold right there. Our Chaz Palla just happened to be in the right corner at the right moment — there's an assigned rotation — for the big hit. Chaz, who had the best view of anyone anywhere, told me he couldn't believe Toews wasn't reacting and that Toews never did until actual contact. Amazing for a player so highly skilled, as they're generally super-aware of their surroundings. Anyway, give it up for our guy for nailing the shot.
Brandon Saad comes home to the place where he should have been drafted, by Josh Yohe.
Olli Maatta appreciated his game off, by Yohe.
Here's TribLIVE's Penguins page.
Here's Blackhawks news from the Chicago Sun-Times' Mark Lazerus, a fellow Sochi survivor.
Here's Hurricanes news from the Raleigh News & Observer.
Here are official game highlights on NHL.com.
>> The NFL's expanded replay draws mixed reviews, by Alan Robinson.
>> Our panel on WPXI-TV's Subway Final Word last night tackled — with no small amount of gusto — the Pirates' opener, Barry Bonds' participation, the Penguins' big W, the Steelers' signings and the unionization of college football.
>> Thank you, as always, for reading. See you at the yard.