By Dejan Kovacevic | Trib Total Media
Morning, Lunatics …
>> The Friday column celebrates one of the great regular seasons by any athlete in the history of Pittsburgh sports.
And here's some of my talk with Sidney Crosby:
The Penguins want the D to create some O, by Josh Yohe.
Here's TribLIVE's Penguins page and our Chipped Ice blog.
Here's Flyers news from the Philadelphia Inquirer.
Here are official game highlights on NHL.com.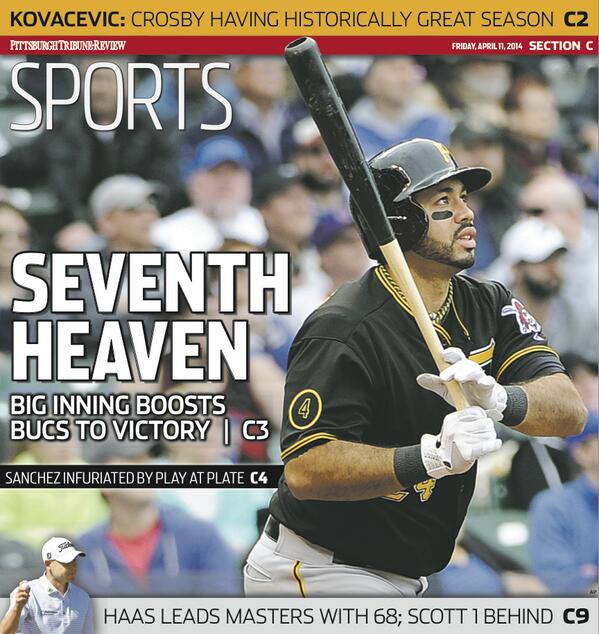 >> Pedro Alvarez gets big hits. Really big hits. Rob Biertempfel reports from Wrigley.
Tony Sanchez was miffed about that play at the plate, by Biertempfel.
Here's TribLIVE's Pirates page and our Bucco Blog.
Here's Cubs news from the Chicago Tribune.
Here's Brewers news from the Milwaukee Journal-Sentinel. Because the House of Horrors is up next, and the Crew is coming off a 6-0 road trip.
Here are official game highlights on MLB.com.
>> I'll check in with TribLIVE Radio at 11:30 a.m.
>> The weekly chat starts at noon, right here on this blog. You can submit entries as soon as you see the post, but please be sure to put them in the chat field and not the blog comments.
>> I'll split the coming weekend between the Riverhounds' home opener and the Penguins' regular-season closer. Each will get a column. Thank you, as always, for reading.